MOMA: Experiencing Museum of Modern Art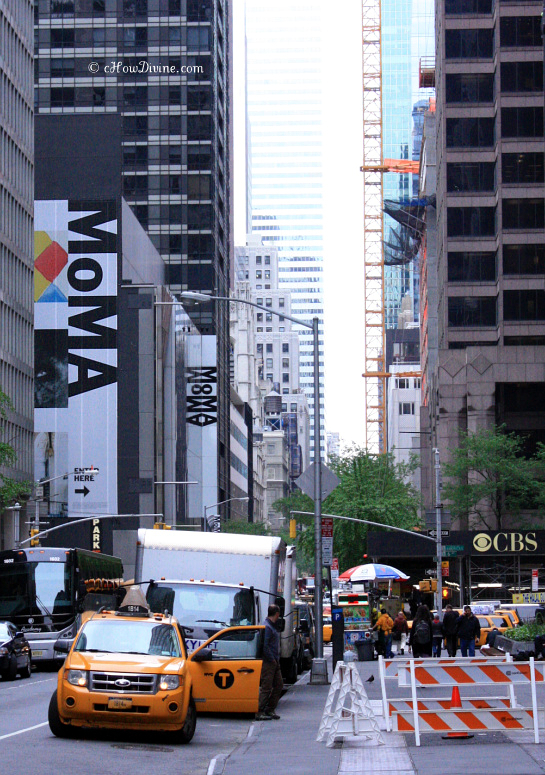 Living in New York City, we are spoiled. Great restaurants, great theatre, great sports (or so says my husband). But perhaps most telling of all may be the riches of New York City's art museums, which for many reflect the city's history and temperament: the Metropolitan as august and grand, the Whitney as modern and rebellious, the Natural History as nerdy and different (remember Holden Caulfield?). But in its way, the Museum of Modern Art (MOMA) stands out on its own. You probably know all the facts: home of the largest collection of artwork created between 1880 and the present; home to grand masterpieces that even my husband knows, like Monet's Water Lilies,or Van Gogh's Starry Night(housed in MOMA's permanent exhibits on floors 4 and 5); home to what most consider the finest collection of film, photography, and architecture in the world.
Above is my husband's favorite painting by James Ensor. He doesn't know his Monet from Manet, but he told me that this was his favorite painting without hesitation. That's what's great about art. You don't have to have oodles of knowledge on the subject; but you know what you like when you see it. Yes. You can take pictures in the museum, but NOT in the special exhibits.
But here's what you may not know, and for many, what stands MOMA apart from its counterparts:
That MOMA's temporary exhibits are truly unique and inspiring. Three, in particular, have stood out. We saw a Pixar exhibit that captured 20 years of animation at the iconic studio, including paintings, pencil drawings, and digital installations behind Pixar's iconic films. We viewed a Tim Burton exhibit that traced the director's visual imagination from early childhood drawings through his work in films such as Edward Scissorhands, Batman, Mars Attacks!, Ed Wood, and Beetlejuice. And we saw a wonderful Munch exhibit that showcased, of course, "The Scream", but also other notable paintings from the Norwegian artist. Where else, but MOMA, would you see such unique, and different, exhibits ranging from a Norwegian artist to renderings of Cars and Beetlejuice?
That MOMA has 3 restaurants/cafes (after all, this is a food blog). Cafe 2 is a full-service cafe offering an array of seasonal Italian food. Terrace 5, also a café, offers a seasonal menu of à la carte selections. Terrace 5, however, does not have a full kitchen. But most notable is The Modern, which offers French-American cuisine and recently received one Michelin star and a 3-star review from the New York Times. And what ties these restaurants/cafes together? All were created and are operated by Danny Meyer's acclaimed Union Square Hospitality Group, which also operates other notable restaurants like Union Square Café, Gramercy Tavern, and Shake Shack.

That the architecture of MOMA is nearly as well known as the art inside. Redesigned in 2004 (by the Japanese architect Yoshio Taniguchi), the redesign opened to both critical acclaim as a model example of contemporary architecture, and criticism with the flow of the space. Regardless of one's view, here's a fact: it nearly doubled the space for MOMA's exhibitions and programs, overall a good thing.
That an annual membership, at $85/individual and $140/dual annum, is worth it. A visit to MOMA, at $25, doesn't come cheap. But as a member, you get unfettered (free!) access to the museum. And membership comes with other benefits: discounts at MOMA and nearby restaurants, and the gift shop; free films; early membership-only hours; $5 guest passes; and an whole host of other benefits. Whenever I have some free time, I visit the museum in the morning during member-only hour (9:30am-10:30am). It's a great and peaceful way to start the day, especially if you know a stressful day is ahead. If you plan to visit MOMA often, an annual membership is absolutely worth it.
That you can visit the museum for FREE on Fridays 4:00pm-8:00pm courtesy of UNIQLO. The lines will be LONG. Tickets cannot be picked up in advance for Free Friday Nights. (But if you are a member, you never have to stand in line for tickets.)
As you can probably guess, I highly recommend a visit to MOMA (and for that matter, all the other major museums in New York City). You're guaranteed to see something interesting, and often, provocative. Plan accordingly, know what exhibits are showing, and show up early. You won't be sorry.
Tickets are available online (moma.org) at a reduced price. Tickets to MoMA also include free admission to its affiliated PS1 in Queens. Don't worry; you won't need to trek out to Queens on the same day. Save your ticket and you can go in for free any time within 30 days of your original purchase.
Nope, I'm not in any way affiliated with MOMA nor am I receiving any benefit for this post. I'm just an art-lover. And as you know, I'm also a food lover. I'll be back with a recipe next week!
Contact Information
• Address: 11 W. 53rd St., between 5th and 6th Ave.
• Phone: 212-708-9400
• Cost: $25
• Hours: Sat – Thurs 10:30am-5:30pm, Fri 10:30am-8pm.
• Website: www.moma.org