Asian Salad with Carrot-Ginger Dressing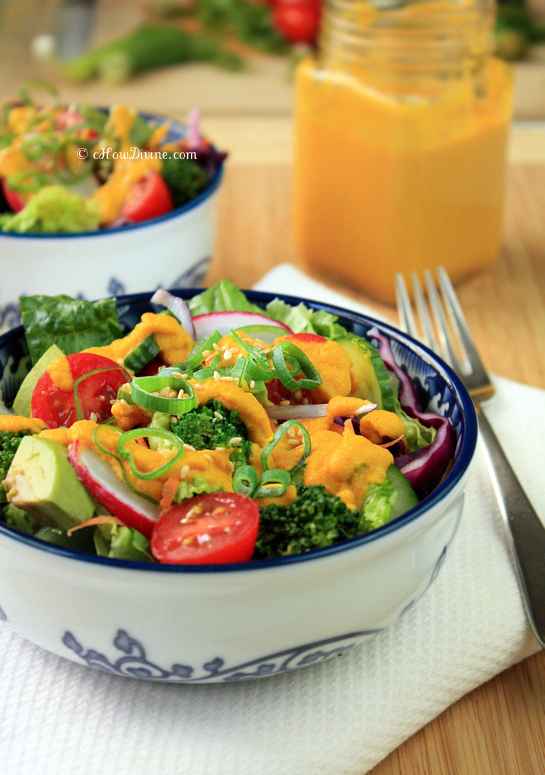 I hope mother nature has been kinder to you than New Yorkers this summer. The heat has been unrelenting. The heat and the humidity has been unbearable. And if you are a fellow New Yorker trudging through the subway system, I empathize. It can feel like you are simmering in stew. And if you are visiting NYC on vacation, don't get too happy if you spot a relatively empty train car when the others are packed to the gills. The air conditioner is likely broken in that car. 😉
This summer has also been especially busy. Compound that with the weather, and I didn't cook much this summer. Making anything that involved the stove(top) didn't/doesn't appeal to me. We've also been drinking more wine (white wine and sangria) to fight the heat and, let's face it, because it tastes good. As a result, my husband's psoriasis has flared up.
I didn't know anything about psoriasis until I met my husband. But apparently millions of people suffer from this. And although most doctors believe that there is no connection between diet and flare-ups, we've noticed otherwise. His doctor says that he has a mild case and shouldn't really worry much about it. And if it bothers him, he can always take prescription medication. But we would prefer not to go that route, especially with the scary side effects.
So we're trying a program recommended by a doctor who specializes in healing through food. The program closely mirrors a vegan diet, but it allows the occasional fish and eggs. It's a pretty strict, but a healthy and clean, eating program. Needless to say, we'll have to cook and eat at home more often this summer to adhere to the guidelines. In case you are interested, I will keep you posted on my husband's progress.
It's still crazy hot; so I decided to make a huge salad with carrot-ginger dressing. Carrot-ginger dressing is one of my favorite dressings. It's simple to make; and it can easily be modified to fit your taste and needs; AND it's so much healthier than what you'd get at Asian restaurants. You'll be surprised by how rich this dressing tastes.
This ended up being a fridge-clean-out salad for us with lots of greens, avocado, tomatoes, red onions, radishes, steamed broccoli, etc. But you can make it as simple (or as complicated) as you want. We had this as an appetizer. But add some tofu or tempeh, and make it a main dish. It will taste delicious either way. The dressing makes all the difference!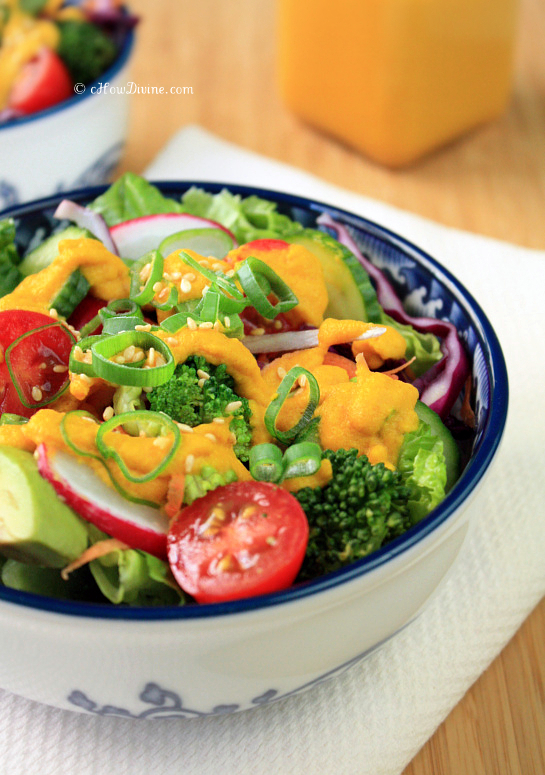 Asian Salad with Carrot Ginger Dressing Recipe
Ingredients
Dressing
Makes about 1 cup
2 small carrots or 1 large carrot, roughly chopped
~ 1 inch ginger, roughly chopped
2 TB shallot, roughly chopped
2 tsp tamari (gluten-free soy sauce)
3 TB rice vinegar*
2 large dried dates (optional)*
1/4 cup canola oil or other neutral oil
1-2 tsp toasted sesame oil
~ 3 TB water
salt to taste
Salad
any type of cut greens (romaine, red leaf, butter, etc.)
tomatoes (grape or cherry)
avocado, cut into bite-sized pieces
red onions, sliced thinly
cucumber, radish, red cabbage, or lightly-steamed broccoli (optional)*
1 green onion, chopped green parts
Add carrots, ginger, shallot, tamari, vinegar, and dates, if using, to a blender. Pulse the contents until they are finely minced or pulverized. Slowly turn up the speed (to prevent splattering) of the blender. While the blender is on, slowly add the oils and water. Blend until the contents are smooth and emulsified. Salt to taste.
Combine the salad ingredients in a bowl. Drizzle with dressing.
*Cook's Note
Use about the same amount of shallot as ginger. The 1-inch piece of ginger I used had a circumference of about 1 inch (thick piece of ginger). Remember, they both have a spicy kick. You can decrease or increase accordingly depending on your tolerance.
1 TB of the rice vinegar can be replaced with fresh lemon juice if desired.
Dates are totally optional. Additionally, if you don't have dates available, 1 TB of honey or agave nectar can be used in lieu of dates.
Try to use sweet carrots. It will make a difference in the flavor.
Make sure to use toasted sesame oil. The lighter sesame oil will not result in the desired Asian flavor.
If you are using cucumbers, radishes, or red cabbage, lightly salt them for a few minutes. Give them a quick rinse and pat them dry before adding them to the salad. This will draw out some of the water to reduce the pool of liquid that often ends up in the bottom of the bowl. This will also improve the texture of these veggies.