Easy Vegetable Bibimbap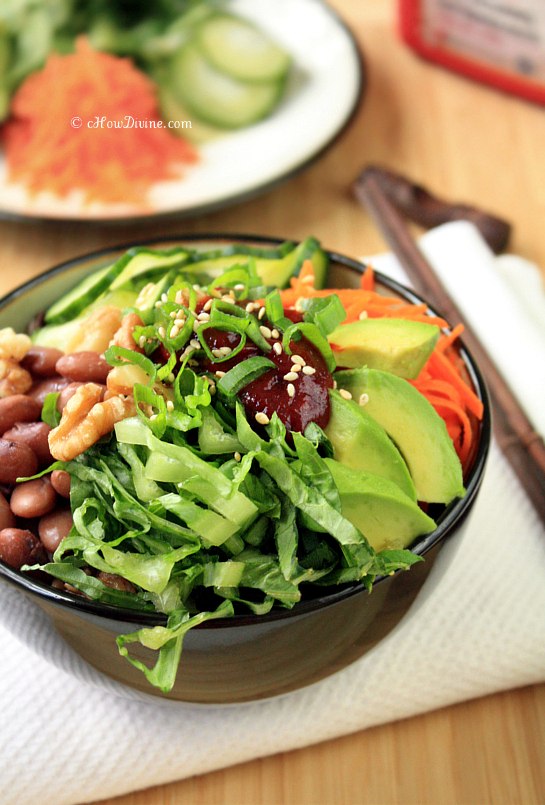 Bibimbap is one of the most popular Korean dishes. Traditionally, it is made with bulgogi, fried egg, and cooked vegetables atop steamed rice. I make the traditional bibimbap from time to time, but I make this "no-cook" version when I'm so busy that I want to clone myself (which is all too often). It's super fast and easy to make. And everyone's satisfied at the end of the meal. It will take less than 15 minutes to put together, but it's as satisfying to the palate as a dish that will take hours. I posted a slightly different version of this dish when I first started this blog, but I thought I would revisit it considering how often this bibimbap shows up on our dinner table.
I call this my "no-cook" bibimbap knowing full well that it is built on a foundation of cooked grains. This is because I always have hot, steamed rice in my rice cooker. So, for me, it's "no-cook." 😛 And if you love Asian cuisine as much as I do, you should really invest in a good rice cooker that can keep rice warm for a few days without changing the flavor. But if you are on a grain-free eating program, you can make veggie "rice" by pulsing cauliflower in a food processor until it is broken down to grain-sized pieces; then it will truly be "no-cook!"
I usually make this bibimbap with avocados (a MUST), lettuce (any variety), carrots, cucumbers, beans (for protein), and cooked grains. For this particular occasion, I used a mixture of steamed wild rice, forbidden rice, and two different types of brown rice. Of course, you can use white or sushi rice. But please use any type of grain you want: quinoa, farro, barley, etc. Use whatever you have on hand. I'm a stickler for using things you have, if you can, before you go out and purchase something new. Additionally, add walnuts and/or dried dates to the dish if you have any on hand. Although they aren't traditionally used as toppings for Korean rice-bowl dishes, they really add to the flavor.
Lastly, I can't write a bibimbap post without talking about gochujang (Korean red chili pepper paste). Let's face it. It's the gochujang that brings all the flavors together in a bibimbap. Traditionally, gochujang sauce – made in some combination of gochujang, sesame oil/seeds, sweetener, garlic, and vinegar – is used for this dish. But gochujang that are readily available in Korean markets nowadays already comes "flavored" with sweeteners and other seasonings. So, I just use the store-bought gochujang as-is. If you, however, want to make the gochujang sauce, you can use this recipe from one of my old posts. It'll take a short amount of time to make. And it does taste better. I'm just too lazy or too busy to make it.
I probably make bibimbap with raw vegetables on a weekly basis during the warmer months. It is packed with nutrients, has amazing texture, and takes mere minutes to make. And did I mention amazingly delicious? Try it in place of your salad. It's a salad and rice bowl in one!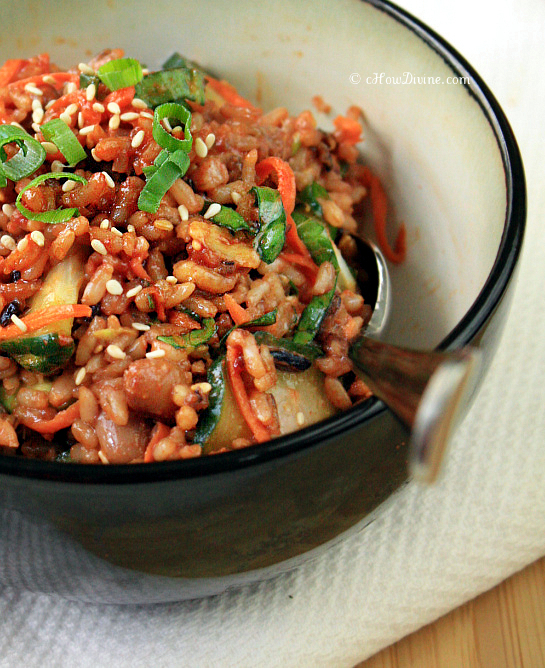 Bibimbap with Raw Vegetables Recipe
Serves 2 people
Ingredients
3 cups of steamed rice
1 avocado, sliced or cubed
1 carrot, shredded
1/3 – 1/2 cup beans (pinto or black)
lettuce (romaine or red/green leaf), shredded
6 oz. (1 cup) seedless cucumbers, sliced thinly
1 TB rice vinegar
2 tsp agave nectar, honey, or sugar
gochujang*
toasted sesame seed oil
salt
Optional Toppings
walnuts, chopped
dried dates, chopped
green onions, chopped
toasted sesame seeds
Place sliced cucumbers in a bowl. Lightly salt the cucumbers and set it aside for at least 10-15 minutes. Once the cucumbers are pliable (bend without breaking) and liquid has been drawn out, give them a quick rinse and drain well. Give them a light squeeze to further expel any water and pat them dry. Add 1 TB of rice vinegar and the agave nectar (or honey) to the cucumbers. Mix well and refrigerate until ready to use.
Prep the other vegetables. Divide the rice and the vegetables among 2 bowls. Add gochujang to each bowl. Add a drizzle of sesame seed oil if desired. Mix well using a spoon, ensuring that the avocados are mashed and mixed into the rice. Add chopped walnuts and/or dates, if using, and mix. Top with green onions and sesame seeds if desired.
*Cook's Note
If your tolerance to spicy foods is low, start with one tablespoon and add more if necessary. You can also DILUTE the gochujang with a little bit of water to temper the spiciness. Diluting the gochujang will allow you to use less gochujang and will also make it easier to mix. Making a gochujang sauce will also temper the spiciness. The recipe can be found here (one of my old post).
Make sure you only give the cucumbers a quick rinse. You want the cucumber pieces to retain some of the salt for flavor. Additionally, make sure to give them a squeeze to further draw out any water/liquid and pat them dry. This will allow the cucumber slices to readily sop up the vinegar and agave nectar (or honey).
Toasted sesame oil is not a must for this dish. But it will add flavor to the dish. A little bit of this oil will go a long way. Just a drizzle will do.
Trick to achieving a good, authentic tasting bibimbap is elbow grease. Really! Don't lightly toss it or mix it. You really need to get in there and put some muscle into it.
~ Gomo