Cheap Eats in NYC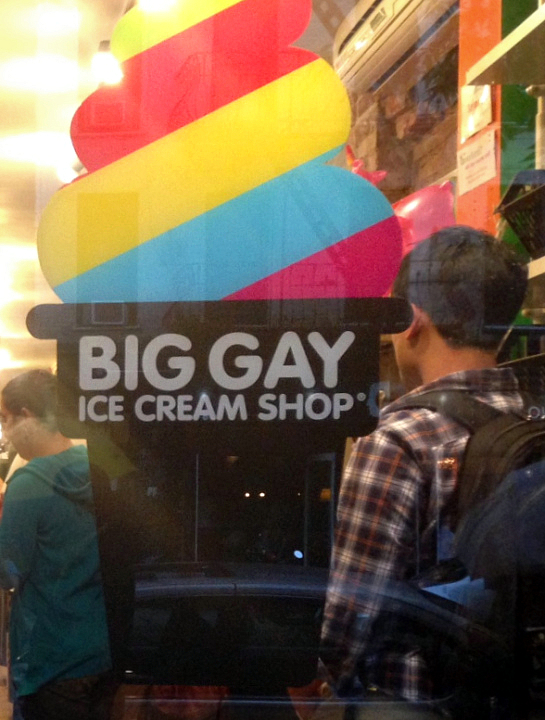 I've been neglecting one of my favorite neighborhoods as of late. When I was in my early twenties, my job required me to be in New York City up to 3 weeks out of the month. And in my down time, I spent all of my time downtown – much of it in the East Village and Soho. Now that I actually live in the City – not in downtown obviously – I have a difficult time venturing out of my neighborhood.
One good (and bad) thing about many Manhattan neighborhoods is that you never have to leave it. Each is like a self-contained universe with everything you need within walking distance. But my brother and my sister-in-law have been in town. So I knew I would have to leave the confines of my neighborhood. My brother and SIL are very low-maintenance. And they are not into fancy fare. I don't think my brother brought anything to wear besides shorts, T-shirts, and sneakers! But they love food. So I thought the East Village and the Lower East Side would be perfect for them for casual grub that are on the must-hit list of many tourists.
AFFORDABLE EATERIES in EAST VILLAGE and LOWER EAST SIDE
Big Gay Ice Cream, 125 E 7th St: About $5 for a soft serve on cone
I think they have the best soft serve in the City. I'm not crazy about soft serve. I actually hate the soft serve from the ubiquitous Mr. Softee trucks. How un-New-Yorker of me! But BG Ice Cream's soft serve tastes like frozen custard. And my favorite is their "Salty Pimp." I love how they inject the caramel into the ice cream. Remember, I'm lactose intolerant. It takes a lot for me to eat real ice cream.
Mark, 33 St Marks Pl: Very inexpensive, $3-6/slider
Truthfully, we ate here because our first two options didn't pan out: one was too crowded and the other was not air-conditioned. It, however, turned out to be a blessing in disguise. They serve sliders, different types of fries, beer, wine, soft drinks, and not much else. We tried their regular, pulled pork, and veggie sliders. The regular and pork sliders were delicious, but the veggie sliders were NOT good at all. They were greasy – as in dripping with oil. The sliders are pretty-good-sized for sliders. 2 should be sufficient for most people. The fries were yummy. Apparently, their Guinness shakes are pretty awesome.
Crif Dogs, 113 St Marks Pl: Very inexpensive, under $10/person
They are famous for their fried hotdogs with unique toppings and tater tots. Yup. Tater tots. But they aren't your grade school cafeteria tater tots.
Momofuku Noodle Bar, 171 1st Ave: Under $20/noodles and ~$10/bun
David Chang's famous restaurant that specialize in noodles and pork buns. Need I say more? My brother waited only about 10 minutes on a rainy Sunday night.
Alternatives: Ippudo (ramen) or BaoHaus (Buns)
Katz's Delicatessen, 205 E Houston St : $15-18 for sandwich
There's usually a long line. Pastrami is not my thing; but if you are tourist, swing by for a sammy. It's a New York institution ("I'll have what she's having" restaurant from When Harry Met Sally).
Clinton Baking Company, 4 Clinton St (very close to Katz's): $12-18 for savory or sweet breakfast item.
Be ready for a long wait. Their pancakes are the fluffiest in NYC. I'm not so sure if it's worth the 2-hour wait. But they do have great soft, fluffy pancakes. I'm not a fan of the chocolate chip pancakes though. It's way way too sweet. Banana walnut pancakes are super yummy.
The Organic Grill, 123 1st Ave: Under $15/entree
This is a vegetarian/vegan-friendly restaurant. They also serve gluten-free pancakes and fresh-squeezed juices.
Lula's Sweet Apothecary, 516 E 6th St: ~$9 sundae and $4-5 for cones
This is a vegan ice cream place. I LOVE LOVE LOVE Lula's. Their coconut/soy/cashew-based ice cream is heavenly. They have fun flavors, like cake batter and bubble gum. Gluten-free flavors are available, but available flavors vary. I think they are still on their winter schedule, which means they are closed Monday-Wednesday. Check before you go. Their sundaes are fabulous.
Babycakes, 248 Broome St: Inexpensive, BUT expensive for a bakery $4-5 for a slice of bread or cupcake
I can't say this is my favorite cupcake place in NYC. But they offer wheat, gluten, dairy-free cupcakes and other baked goods. Not all of their offering are gluten-free however. Check the signs or ask about any allergens that concern you.
We finished off their trip with a visit to the NYC Google office in Chelsea. And of course, I had to see the Zagat offices.
*Shake Shack is not in the neighborhoods above. But you should visit one of their locations in the city. I prefer their burgers to the burgers from the popular burger joint In-n-Out in the west coast. So did my brother! (Very inexpensive, under $10 for single-patty burger and fries)