Bulgogi Gimbap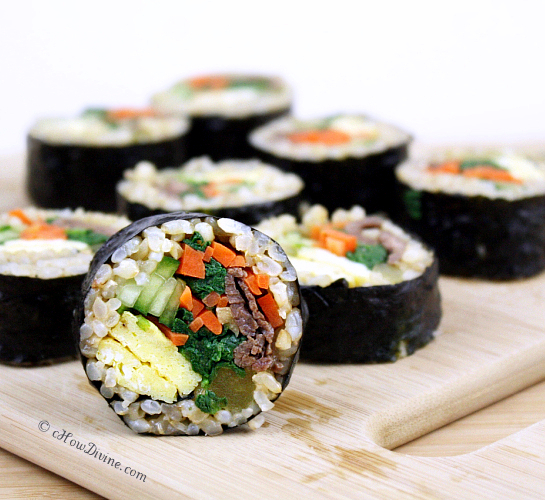 I try to make a lot of banchan (Korean side dishes) on the weekends. During the week, I can just eat them cold right out the fridge with some steamed rice that's always waiting for me in my trusty rice cooker. If I'm feeling a little more ambitious, I would fry up an egg and make bibimbap. And if I'm feeling even more ambitious, I would make gimbap. It doesn't happen too often, but often enough for me to sate my occasional gimbap cravings. On a side note, you may also know gimbap as Korean "sushi" because of its similarities with the Japanese Futomaki.
This week, I had plenty of vegetable banchan in the fridge that I needed to finish. And I also had some top sirloin in the fridge that I didn't want to freeze. So I decided to make some bulgogi gimbap. I guess I was feeling ambitious this week…
I know some people are intimidated by the "roll." But truthfully, it's not that difficult. Just to prove the point, I asked my husband to roll one. The image below is my husband rolling his gimbap. Believe me, if he can do it, it's pretty much foolproof. As bright as he is, he is pretty much useless in the kitchen. Luckily he does the dishes and cleans up. So I guess I'll keep him around. 🙂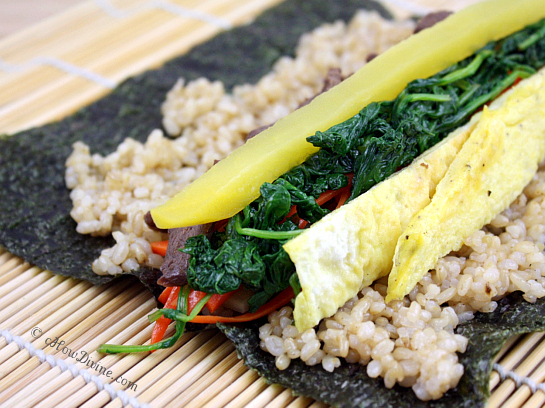 Bulgogi Gimbap Recipe
Makes 3-4 Rolls
Ingredients
For Gimbap Rice
3 1/2 – 4 cups short-grain rice
2 tsp toasted (dark) sesame oil
1 tsp rice vinegar (unseasoned)
1 tsp sugar or agave nectar
1/2 tsp salt
For Bulgogi
1/2 lb very thinly sliced beef (sirloin or rib-eye)
1 garlic clove, minced
3 TB tamari
1 1/2 TB sugar or agave nectar
1 TB toasted (dark) sesame oil
1/4 tsp ground black pepper
Other Fillings
2 medium carrots, julienned
10 oz baby kale or spinach
kirby or english cucumber, julienned (optional)
3 eggs, beaten
danmuji or takuan (pickled radish), cut into long strips
salt and pepper
Marinate the beef by combining sliced beef, garlic, tamari, sugar/agave nectar, sesame oil, and black pepper. Cover and set aside. While the beef is marinating, prep the vegetables.
Sauté carrots until crisp tender. Add a pinch of salt and mix well. Set aside. Sauté kale until it just wilts. Add a tablespoon or two of water to speed up the process. Add a pinch of salt and mix well. Set aside.
Add a pinch of salt and pepper to the beaten eggs. Pour the eggs into a heated, well-oiled pan. Pan fry in the shape of a pancake/omelette. Remove from heat and cut into 1/2-3/4 inch strips.
Heat a pan on moderately high heat. Add 1/2-1 TB oil and swirl. Take the beef out of the marinade and add it to the pan. Sauté until cooked through. This should happen within minutes due to the thinness of the beef.
Spread out the rice in a thin layer to let it cool until it's comfortable to touch. Once cooled, mix the rice and the rest of the ingredients for the gimbap rice in a bowl. Mix gently being careful not to crush the rice.
Place a piece of dried laver on a bamboo mat. Spread out 3/4-1 cup of the gimbap rice over 3/4 of the laver, leaving the 1/4 of the laver farthest from you empty. Place a layer of carrots, cucumbers, kale, bulgogi, pickled radish, and a strip (or two) of eggs on the rice. Try to stack the filling ingredients on top of one another. Roll away from you by pulling up on the edge of the bamboo mat closest to you, and folding the rice and laver over the filling. Squeeze and roll again creating a nice round cylinder, peeling back the bamboo mat as you roll (see image above). Roll tightly. Repeat with rest of the rice and laver.
Cut the gimbap into 1/2-3/4 inch pieces with a sharp knife. Wipe the knife as necessary with a paper towel soaked in some oil. Serve on a plate or in a bento box. Enjoy your gimbap! You will have some filling ingredients left over. You can store the leftover fillings in the fridge for a few days. With the leftovers, make some bibimbap or bibim guksu with some gochujang sauce.
Cook's Note:
When making gimbap, make sure the rice you are using is short grain. Short-grain rice is stickier which is necessary for the sushi to keep its shape. Some markets carry "sushi rice," which is just short-grain, white rice. "Sushi rice" is a safe option. And you can use as much or as little vegetable fillings as you want. It's up to you. However, use less filling if you are a novice. It will be much easier to roll.
If you want to make Vegetarian or Vegan (adaptable) Gimbap, you can find it here.
Other options for fillings include (but not limited to) kimchi, fish cakes, cheese, imitation crab, and perilla leaves.