Simple Gluten-Free Apple Crumble
I hope everyone had a lovely Valentines day. Mine was a mixed bag. We had a nice, no frills dinner at one of our favorite sushi joints and had a great time. Now for the bad: my mom threw away my keepsakes, including a small antique headpiece I wore at my wedding and a broken plastic music box my dad gave me on my 7th birthday.
I probably should have brought them with me when I moved, but storage is a huge issue here. And they were only occupying a small space in the closet in my old room. It makes me so sad that it was taken out to the curb along with the trash, treated like trash. I know it's just stuff. But they can never be replaced. I can never go back in time to recreate my wedding. And no fancy music box would carry the same meaning as the one given to me by my dad years ago. I always considered myself a pragmatist. What do you know? I'm a bit of a sentimentalist after all…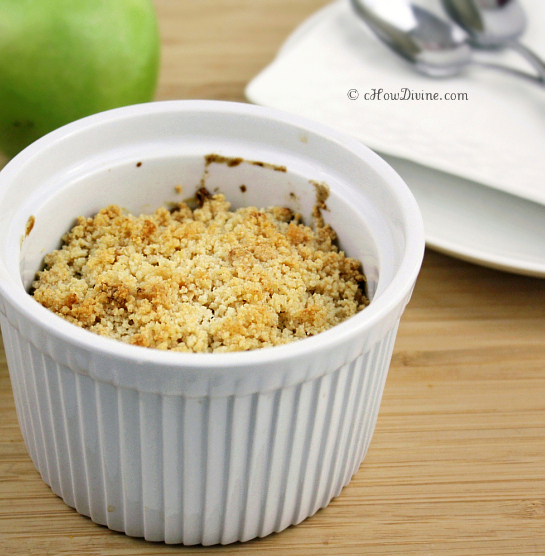 When I'm sad, I tend to bake. The smell and the warmth somehow lifts my spirits. It's quite therapeutic. I can't say it worked completely. Luckily, my husband was around to play court jester to give me a few chuckles.
So I baked a lot this week. Mostly things that can be made with little to no fuss. Mostly things that required little to no patience. And mostly with apples. I have a lot of apples in my fridge at the moment. I have to say my favorite was the apple crumble. It is so simple to make and it's much healthier than the traditional crumble.
Traditional crumble, whether apple or other types, are way too sweet for me. I can't have more than a couple of spoonfuls. My version of the crumble is sweet, but not cloyingly sweet. It contains little or NO granulated sugar depending on your preference. And sautéing the apple pieces – prior to baking them – gives the crumble a deeper flavor. It also allows some of the moisture from the apple to evaporate. This prevents the pool of liquid from forming at the bottom of the crumble once it's done baking.
Additionally, it's grain-free, gluten-free, and dairy-free. If you aren't bothered by dairy, you can use regular butter instead of coconut butter. I know some people don't like the smell of coconuts. Either way, it's so delicious.
It's great dessert for two… or for one if you so desire.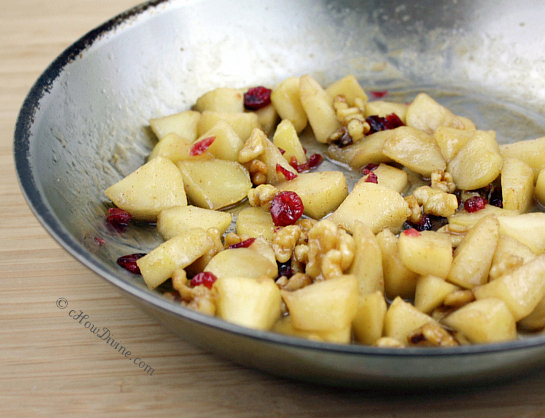 Simple Apple Crumble Recipe
Serves 2 people
Ingredients
For Filling
1 large granny smith apple, peeled, cored, cut into bite-sized pieces
1 – 1 1/2 TB pure maple syrup
cinnamon
2 1/2 TB walnuts, toasted and chopped
1 – 1 1/2 TB dried cranberries or raisins
~ 3 TB apple juice
2 tsp fresh lemon juice
pinch of salt
canola or grapeseed oil for cooking
For Crumble
1/2 cup of almond meal/flour
1 TB coconut oil (heaping TB if using sugar, level TB if using honey)
1 TB sugar or 2 tsp raw honey (see Cook's note if using honey)
pinch of salt
Preheat oven to 375 degrees.
Heat a pan over medium heat. Add about a tablespoon of oil to the pan and swirl to coat evenly. Add apple pieces to the pan and sauté. When the apples start to soften (2-3 minutes), add maple syrup and cinnamon. Stir until the apples are softened, another 2-3 minutes.
Add apple juice and let it come to a boil. Stir until it reduces to a syrupy consistency, making sure to scrape all of the sugar stuck to the pan from the apples. Once syrupy, add the walnuts, dried fruit of your choice, and lemon juice. Once the pan is almost dry, remove from heat. Add a pinch of salt and stir.
Add all of the ingredients for the crumble – flour, oil, sugar/honey, and salt – in a bowl or in a small processor (I used a small handheld processor). If you are using a processor, pulse until the mixture become crumbly. If doing it by hand, stir and rub with your fingers until the mixture becomes crumbly.
Add the apple mixture into a (16-ounce) ramekin. Evenly add the crumble on top of the apple mixture. Bake for about 17-20 minutes until the top becomes golden brown. Allow it to cool for a few minutes. It will be very hot!!! Enjoy as is or with some vanilla (soy) ice cream.
Cook's Note:
If you are using honey, use raw honey that is thick in consistency. The regular honey is too runny and will make the crumble doughy. I used Trader Joe's organic raw honey and Bob's Red Mill Almond meal/flour.
If you are using honey instead of sugar, use a processor. It's going to be difficult to do it by hand. But don't over-pulse. Only pulse enough times to see the crumbles. If you over-pulse, it will become a dough-like concoction. Additionally, make sure to leave it in the oven for 5-7 minutes longer and bake at a lower temperature (375 degrees). You want the added moisture from the honey to "bake-off," leaving the crumble – for lack of a better word – crumbly.
Don't worry if the apples aren't completely softened after sautéing. They will have a chance to further soften in the oven.
If your coconut oil/butter is runny, put it in the fridge or the freezer for a short period to get it to harden until it has the texture of room-temperature butter.
Use regular butter if you aren't bothered by dairy. However, my husband who declared he hated coconuts loved the crumble with coconut oil.