Bulgogi Japchae {Stir-Fried Noodles with Bulgogi}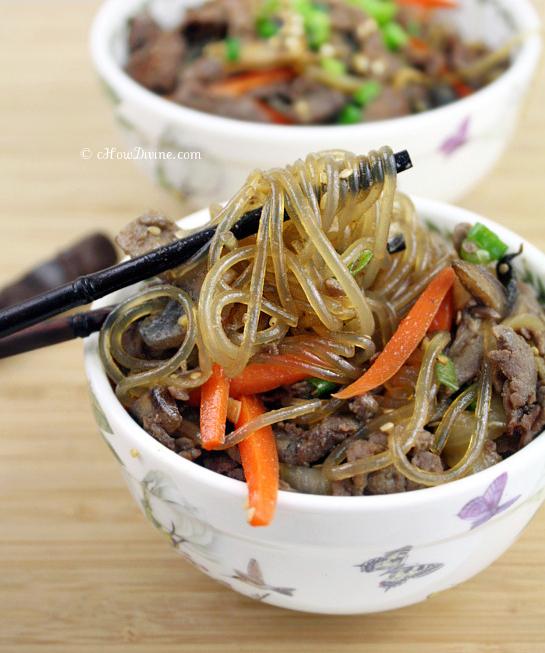 cHow Divine is now on Facebook. I know. I know. I've been living in the dark ages. I swore I wouldn't sign up for it. I remember uttering something about the value of privacy, all the while shaking my virtual cane at the kids these days. But resistance is futile with certain things in life. I'm learning that Facebook just might be one of them. Since cHow Divine is a small extension of who I am, I guess I am also on Facebook. So stay connected with us on Facebook. 🙂
I decided to celebrate this occasion with some Bulgogi Japchae (Stir-Fried Sweet Potato Noodles with Bulgogi). Japchae is usually served at birthday celebrations. It's a birthday of sorts. So it was perfect for the occasion. This version of japchae is incredibly easy and quick compared to the traditional version. And it's adaptable depending on the veggies you have in the fridge. I know how much I hate wasting food. It's nice to have a dish you can cook, while cleaning out your fridge at the same time.
Use what you have. I used carrots and mushrooms, because that's all I had. You can use colorful bell peppers, Shiitake or enoki mushrooms, spinach… whatever vegetable you want to use up. Just make sure you don't use too much. Too much will dilute the flavor of the dish. If you decide to use more than what's recommended in the recipe, increase the marinade/sauce accordingly. Additionally, if you don't have dangmyeon (sweet potato noodles) readily available in your area, try Thai rice noodles. Both – dangmyeon (sweet potato noodles) and Thai rice noodles – are theoretically gluten-free; but if you have celiac disease, make sure that it is certified gluten-free.
It's truly a delicious dish. There's a reason why it's one of the most popular items on the menu at Korean restaurants.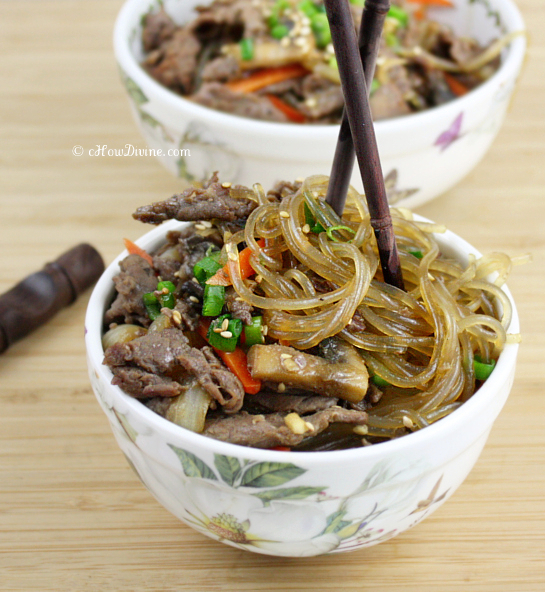 Bulgogi Japchae Recipe
Serves 2 people
Ingredients
For Bulgogi
~ 1/2 lb beef (sirloin or tenderloin), sliced very thinly
1/4 large onion, sliced thinly
2 cloves garlic, minced
3 1/2 TB tamari (gluten-free soy sauce)
1 1/2 – 2 TB agave nectar (or sugar)
1 TB toasted sesame oil
1 TB mirin
1/2 tsp black pepper
For Vegetables
1 small carrot, julienned
5 mushrooms
1 clove garlic, minced
4 oz dangmyeon (sweet potato noodles) or Thai rice noodles
canola or grapeseed oil for cooking
chopped green onions and toasted sesame seeds for garnish (optional)
Stir together all of the ingredients for the marinade. Reserve about 1 tablespoon of the marinade. Add rest of the marinade to the sliced beef and onions. Mix well to ensure that all of the beef is well coated in the marinade. Set it aside and allow it to marinate.
Transfer sweet potato noodles to a bowl of hot water*. Let it sit for about 15 minutes. While the noodles are softening, prep the vegetables.
Heat a pan or a wok over medium-high heat. Add canola oil to coat the pan. Once the pan is heated, add the vegetables – clove of minced garlic, mushrooms, and carrots – to the pan. Stir-fry for about a minute or two until the mushrooms start to turn golden; then add the marinated bulgogi (marinade and all) to the pan. Stir fry until the meat is just cooked through (~3 minutes).
Drain the noodles from the water. Add the noodles and the reserved tablespoon of the marinade to the pan, and mix well*. Stir fry until the noodles are heated through. Remove from heat. Add salt to taste, IF necessary. Garnish with some chopped green onions and toasted sesame seed if desired. Serve warm as is or serve over steamed rice.
Cook's Note*:
For the hot water I use for the noodles, I always heat cold water in a stainless steel pan I am using to prepare the dish. The reason is two-fold. (1) Less dirty dishes/pans the better. But more importantly, (2) Hot water from the tap can contain hazardous metals – in particular lead – from the pipes (especially if the pipes are old). Don't worry, the lead is not from the water source itself. It's usually from old pipes that are corroding, and hot water makes it much easier (so more likely) to leach water from the pipes.
You can also stir fry the noodles separately. This will give you a stir-fried or slightly oilier texture – what you'd get at restaurants. Additionally, if you are using sugar, add a tablespoon of water or broth to the marinade.
This would horrify the low-carb devotees, but I serve this noodle dish over steamed rice. I love carbs. It gives me a fuzzy feeling inside. 🙂
For a vegan or vegetarian version, try Vegetable Japchae.