Easy Peasy Kimchi Jjigae (Kimchi Stew)
I didn't cook much as a college student. It was mostly dorm food, cheap takeout, or whatever was on sale – preferably instant – at the market. But there was one thing I made that I was proud of: Kimchi Jjigae (Kimchi Stew). Truthfully, the end result had very little to do with my limited skills at the time. It's really difficult to mess up Kimchi Jjigae. As long as you have some decent kimchi that is slightly beyond its prime (sour kimchi), the simmering does all of the work in bringing the flavors together. Nevertheless, I felt like a great cook whenever I made this and lapped up all the praise that came my way.
My cooking skills have much improved, and my culinary repertoire has considerably expanded over the years. However, I still like my recipes simple, quick, and/or delicious even when reheated. This is especially important during the weekdays when dinners go by like a blur. I can't cook anything that takes more than 20-30 minutes. This would be a problem for someone like me – someone who could survive on slowly simmered stews or braises alone in the winter. Luckily, stews generally keep well, and many taste even better when reheated. I just cook up a big pot of stew on the weekend and enjoy the leftovers during the week. This is one of the reasons why I still make Kimchi Jjigae often.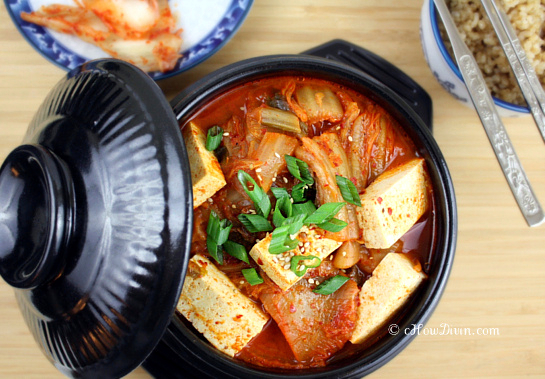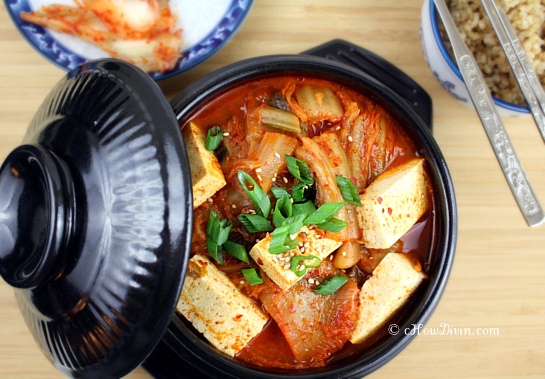 Kimchi Jjigae is one of the easiest stews you can make. Of course, you can always complicate it; BUT WHY? Just throw in all of the ingredients together (except for tofu) and simmer. Seriously, it is THAT easy. And believe me, it will taste better than your typical restaurant's version of Kimchi Jjigae. Added bonus: you won't have to drink buckets of water afterwards. I don't know why, but restaurant-bought stews and soups are generally so salty! The extra salt doesn't make the stew taste any better. And I always regret ordering it soon after.
An added benefit to kimchi jjigae is that it actually tastes better when reheated. I NEVER toss leftover kimchi jjigae, even if I only have a small amount left. I just add a little bit of water and gochujang, along with some extra kimchi if you'd like. Just reheat it and enjoy. It's great just with some steamed rice; and if you have some time and/or energy, fry up an egg and plop it on the rice. The runny yolk tastes so good with the stew. My mouth is watering just thinking about it.
Kimchi Jjigae (Kimchi Stew) Recipe
Serves 4 people
Ingredients
1/2 lb beef or pork cubed
3 cups napa cabbage kimchi
2 cups water
1 heaping TB gochujang (Korean chili pepper paste)*
8 oz tofu sliced into rectangles or cubed
< 1 tsp sugar (optional) 1 TB mirin (optional) 1/2 - 1 TB canola or grapeseed oil
Place a pot on moderately high heat. Spread the oil and meat at the bottom of the pot. Add napa cabbage kimchi, water, gochujang, and sugar. Bring the ingredients to a boil and turn down the heat to simmer. Simmer for at least 45 minutes. Leave the lid tilted or leave the vent of the lid open. You want the stew to thicken up a bit. You can always add more water if needed. Add tofu and mirin (if using) towards the end of cooking.

Serve with some steamed rice. Garnish with a chopped green onions if desired.
Cook's Note:
You can sear the meat with oil before adding the other ingredients. I usually skip this step in the interest of time (translation: I'm usually lazy). Besides, the flavor of the stew isn't at all sacrificed.
Add the oil even if you are not searing the meat. It makes a difference in taste, especially if you are using a leaner cut of meat. Cuts with a bit of fat are better for the stew.
I don't use the kimchi juice, because I find that the taste is "cleaner" without it. If you choose to add it, be mindful that it will make the stew saltier; so reduce the amount of gochujang. *BUT if you don't have any gochujang, add some kimchi juice and make sure you add the sugar. I use light brown sugar or sucanat.
If you have any sliced tteok (Korean rice cakes), throw in a handful with about 5 minutes left of cooking. They are VERY very good in the stew!