Bibim Guksu (Korean Sweet and Spicy Cold Noodles)
I call this my lazy hot Sunday noodles. "Lazy" because it is very easy and quick to make. And "hot," well, it's a bit of a misnomer since the dish itself is cold. But I usually crave it during "hot" summer days. And "Sunday" because that's when I usually make it.
Bibim Guksu is perfect for those hot summer days because it's made with COLD noodles and mostly cold ingredients. And it's very easy to make. It's as easy as making a salad. Hence the "lazy."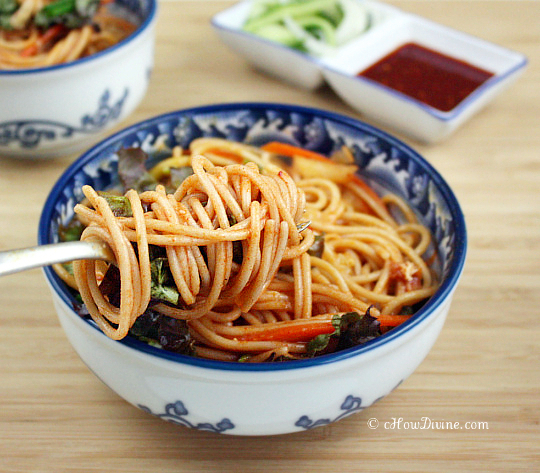 If you are feeling a little more ambitious than I usually do when the weather/heat is stewing everything in its path (FOURTH heatwave of the summer, can you believe that?!!!), you can stir-fry or sauté one or two of the items for a difference in texture. I've been just crazy about zucchinis lately. So I sauté it for literally a minute to wilt it a little with a pinch of salt. But really, all of the veggies can just be thrown into the noodles raw, just sliced thinly or julienned.
But I do like to add some instant pickles made of cucumbers and/or daikons. It's so easy, if you have the ingredients, you really should give it a try. It takes – maybe a minute extra, if that – of active "cooking" time.
Additionally, I love to add scrambled eggs to the noodles. Usually, half of a boiled egg is added to each bowl of noodles. But I don't really see the point of this. Do I eat it at the end? Do I crush it up and mix it with the noodles? I do neither because it doesn't do much for the taste. But fluffy scrambled eggs on top added at the end? Yum! The contrast in temperature and texture is really heavenly. But don't take my word for it. Try both and see which you prefer!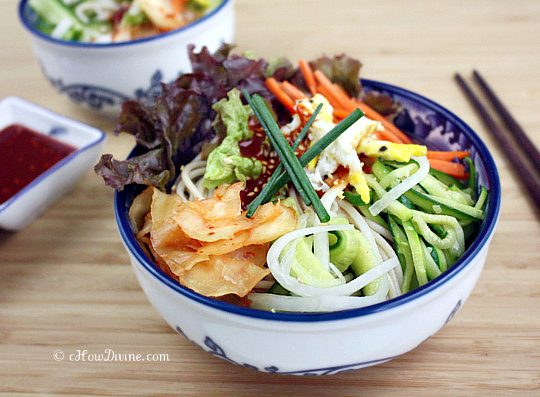 Bibim Guksu Recipe
Serves 2 people
Ingredients
8 oz. noodles or pasta (Korean somyeon/somen, soba noodles, or spaghetti)
Choice of Toppings/Stir-ins*
2 leaves, red leaf or green leaf lettuce, shredded or thinly sliced
1/2 carrot, shredded or julienned
1/2 small zucchini, julienned
1 small kirby or persian cucumbers, julienned
1/4 cup cabbage kimchi, thinly sliced
1/4 cup pickled cucumbers and/or daikons*
1/4 Asian pear, julienned
chives, cut into 2 inch pieces
1 egg, boiled, scrambled or cooked into a crepe and sliced thinly
Sauce
3 TB gochujang (Korean red chili pepper paste)
1 TB low-sodium tamari (gluten-free soy sauce)
1 TB rice vinegar
1.5 TB agave nectar or honey
1 TB toasted sesame oil
1 TB toasted sesame seeds
If you choose to use pickled cucumbers, prepare them in accordance with the instructions below.
Stir together all of the ingredients for the sauce.
Prepare the noodles according to instructions. Once cooked, rinse the noodles in cold water until the noodles are cold. Drain. A few ice cubes can be added to the colander to keep noodles cold.
Divide the noodles into two bowls. Divide the toppings of your choice between the two bowls. Mix well. If you choose to use scrambled eggs, add them to the bowls and mix gently. Enjoy!!!
*Note: You can pick and choose your toppings. You can use other vegetables as well. Shredded red cabbage and/or julienned jicama are among the possible alternatives. And if you choose to use pickled cucumbers and/or radish, recipe follows immediately below. And as with other recipes, you can adjust the sauce according to your preference by adding more gochujang, tamari, or vinegar. But try the original sauce recipe first before adjusting.
Quick Pickled Cucumbers and/or Daikon Recipe
Ingredients
1 small persion or kirby cucumber, sliced thinly
3″ long piece daikon (about size of cucumber), julienned
1/4 tsp salt
1 TB vinegar
1.5 tsp agave nectar
Add the salt to the cucumber and daikon slices. Toss to distribute the salt. Allow it to sit for five minutes. Stir together vinegar and agave nectar (or honey). Pour the mixture over the cucumber and daikons. Toss well. Cover and place it in the refrigerator until ready to use.

Really! That's it! If you don't have daikons, just use another cucumber. If you use the pickles, you can forgo any additional julienned cucumbers.