Pajeon (Korean Zucchini Scallion Pancakes)
Pajeon (Korean Scallion Pancakes) is probably one of the most popular appetizers in Korean cuisine. Whenever we go to a Korean restaurant, we don't have to look far to spot a Pajeon atop someone's table.
There is a good reason for this. Obviously, Pajeon is delicious. But it's also a "safe" dish for those who are not familiar with Korean cuisine. As much as I LOVE Korean food, I must admit some dishes are an acquired taste. (Once acquired though, they are addictive!) But the scallion pancakes are comforting and familiar regardless of your origin or taste. They are savory and crispy when eaten right out of the skillet and piping hot. And they are savory and chewy when eaten at room temperature. The choice is yours. Ooh~ And don't get me started on the salty, tangy dipping sauce.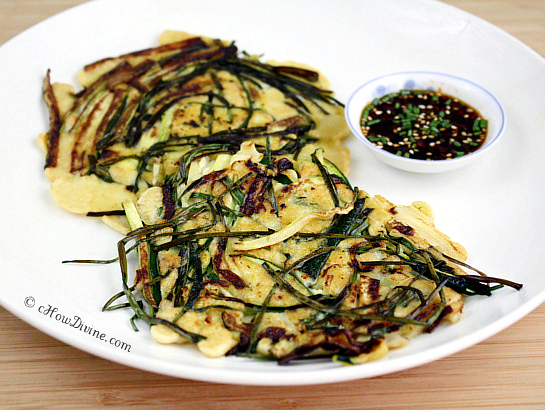 I made gluten-free pajeon using brown rice flour and sweet/glutinous rice flour. But if you don't have any dietary restrictions, go ahead and use all-purpose flour. That's what I grew up on. And I used buchu (Korean chives) for this recipe instead of scallions, because scallions tend to be thicker and tougher in the summer time. But you can still used scallions. Just split the scallion greens in half – length-wise – to make them more manageable. Additionally, I made the dipping sauce lighter, without any oil, because of this oppressive heat we are experiencing this year. But if you want the more traditional dipping sauce, here it is.
It's one of those dishes that are very easy to make in a short amount of time. So impress your family and friends at your next gathering with this tasty and eye-pleasing appetizer/side dish.
Pajeon (Korean Zucchini Scallion Pancakes) Recipe
Makes 4, 5-6 inch pancakes
Ingredients
Pancakes
1 cup gluten-free (rice) flour* or all-purpose flour
1 bunch spring onions, green parts only or buchu (Korean chives)
1 small zucchini, cut into matchsticks
1/2 tsp sea salt + 4 small pinches
3/4 cup ice-cold water + more as needed
1 egg, beaten
canola oil
Dipping Sauce
1 TB rice vinegar
2 TB tamari
1 small garlic, minced
toasted sesame seeds
gochugaru (Korean chili pepper flakes) or
2 or 3 pickled jalapeño, cut into rings
1/2 tsp agave nectar or honey: optional
*Note: I used my own gluten-free mix (3/4 cup brown rice flour + 1/4 cup sweet or glutinous rice flour). You can experiment with your own blend. Brown rice flour and tapioca flour also work well together. If you are using all-purpose flour, replacing 1/4 of the all-purpose flour with glutinous rice flour will improve the texture. For vegan pancakes, skip the egg and increase the amount of water to 1 cup instead of 3/4 cup.
Make the base of the dipping sauce by stirring together vinegar, tamari, minced garlic, and agave (if using). Sprinkle a pinch or two of crushed toasted sesame seeds and gochugaru. You can add pickled jalapeño rings, instead of the sesame seeds and gochugaru, for the spicy zing. Set aside.
Wash and dry the scallions/chives and zucchini. Cut the scallions/chives into 3-4 inch pieces. If you are using scallions, use the green parts only. Cut the zucchini into matchstick-sized pieces.
Whisk together the flour and salt. If you are using all-purpose flour, don't over-mix; you will end up with dense and tough pancakes. Combine the dry ingredients with egg and water. Stir to achieve a batter that is slightly runnier than your regular breakfast pancake batter.
Heat a non-stick pan. Add 1 TB of canola oil. Once the pan is hot, add 1/4 of the zucchini and sauté for about a minute until it starts to wilt. Add 1/4 of the scallions/chives to the zucchini slices. Add a small pinch of salt. Sauté until slightly brown. Shape or spread out the zucchinis and scallions/chives into a size(5-6″)/shape you want the pancakes.
Pour about 1/4 of the batter over the vegetables and smooth it out using your ladle in a circular motion. Cook until the bottom is golden brown, about 3 minutes. Flip over using a spatula and cook for another ~ 3 minutes until the other side is golden brown. Repeat with rest of the batter.

Serve the pancakes hot or at room temperature with the dipping sauce from step 1.
**For additional tips, please read my response to Sarah's comment in the comments section below.
I noticed that many people are using different types of flour and want to know what the consistency of the batter should be. The best way to test it is by combining 1 TB of all-purpose flour with 1 TB of water (with a sprinkle of salt). Make sure you don't pack the flour and make sure that it is a full tablespoon of water (and no more). Mix gently. It may seem a bit runny to you, but this is the way the consistency of the batter should be. And then, pour the batter onto a hot oiled pan. Cook about 2 minutes on each side until golden brown. Bite into it. It should be slightly chewy and crispy around the edges. This is what the texture should be. So when you use a different type of flour, you know exactly what the consistency of the batter and the texture of the finished product should be.