Vegetarian Bibimbap with Gochujang Sauce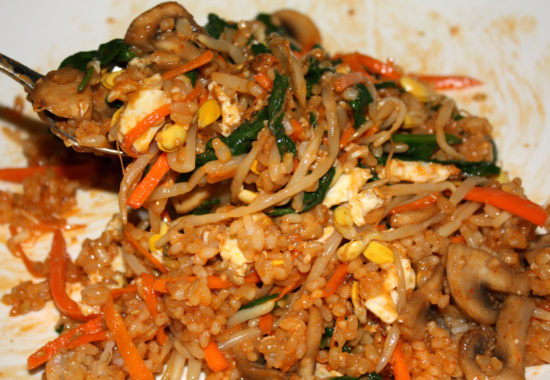 Cooking in a tiny NYC kitchen can be a challenge. Most of the kitchens in the home renovation magazines that are described as tiny are palatial compared to a small NYC kitchen. I guess it's all relative, because some NYCers would say our kitchen is "roomy". We have most of our bowls and plates still packed in boxes, because we just don't have the storage for them. We make due with 3 bowls (my husband broke one), 3 salad plates (ditto on the husband), and 4 dinner plates. So nope; I'm not exaggerating when I say TINY.
When there is a lot of prep work involved, it's a challenge – not only because of the lack of space, but also because my dinnerware often doubles as my prep bowls. I wasn't surprised when I ran out of my bowls prepping for this Bibimbap. So I ended up serving this dish on plates. Bibimbap, which is normally a "rice bowl", ended up being a "rice plate". But it was so satisfying and delicious just the same…

For the past week or so, I've been posting recipes for banchan or side dishes that often go into Bibimbap. Now it is time to put it together.
Bibimbap is a simple dish, but it does require a lot of busy prep work. Unless you are going the no-cook route, the vegetables need to be washed, cut, cooked, seasoned, etc. It's not complicated, but work nonetheless. But as I've mentioned in the past, Korean food is pretty flexible. It can be easily adjusted to personal preference or circumstances.
For this Bibimbap, I decided to make it with Beosut Bokkeum (sautéed mushrooms), Danggeun Bokkeum (sautéed carrots), Kongnamul (seasoned soybean sprouts), Shigumchi Namul (seasoned spinach). I'm providing simplified recipes for them in this post. If you want the detailed recipes, refer to the past posts. And if you don't have the time to prepare all of the vegetables that are on this post, just make a couple and substitute others with whatever raw shredded/sliced vegetables of your choice!
Vegetarian Bibimbap with Gochujang Sauce
Makes 2 servings
Ingredients
4oz. button mushrooms, sliced
1 carrots, cut into matchsticks
6 oz. Soybean Sprouts
6 oz. spinach, cleaned
3-1/2 teaspoon minced garlic
2 teaspoon tamari (gluten-free soy sauce)
1/2 teaspoon agave or sugar
1-2 tablespoon of water
2-1/2 teaspoon (& more to drizzle) toasted sesame seed oil
crushed toasted sesame seed
salt and black pepper
gochugaru (Korean chili pepper flakes): Optional
2-3 cups cooked rice
Gochujang Sauce (Recipe immediately follows)
2 eggs, over easy
canola oil
Note: The vegetables should not be too heavily salted. They should be on the blander side. Gochujang Sauce will add a lot of flavor (including salty flavor) to the dish. Additionally, use as much or as little vegetables as you want. If you have any leftovers, you can have them the next day! Make sure to refrigerate.
Clean off mushrooms with damp paper towel. Slice thin. Heat pan over medium-high heat. Add enough oil to coat pan. Sauté mushrooms and 1 tsp minced garlic. Sauté until mushrooms are golden brown. Stir together 1 tsp tamari, 1/2 tsp agave or sugar, and 1/2 tsp sesame oil and add to pan. Stir until mixture is absorbed into the mushrooms. Add salt and pepper to taste. Set aside.
Heat pan over medium-high heat. Add oil to coat pan. Add 1 tsp of minced garlic. Let it sizzle for a few seconds. Add carrots and sauté until crisp-tender, about 2 minutes. Season with salt. Sprinkle with toasted sesame seeds. Set aside
Heat pan over medium heat. Add just enough oil to coat pan. Add cleaned spinach to the pan in small portions, giving each portion a chance to wilt a bit. Once all of the spinach has been added to the pan, add 1 tablespoon of water to pan. Turn heat up to high. Let the water come to a "boil"and steam/wilt the spinach. Stir until the spinach has JUST wilted and the water has evaporated. This should happen within a minute. DON'T overcook. Add 3/4 tsp of minced garlic, 1/4 tsp salt, 1 tsp tamari, and 1 tsp toasted sesame oil. Sprinkle with toasted sesame seeds. Mix well. Set aside.
Wash soybean sprouts and drain. Steam soybean sprouts for about 15-20 minutes. DON'T lift lid while the sprouts are steaming; they will smell and taste fishy. Once sprouts are done steaming, remove from heat and drain if necessary. Add 3/4 tsp minced garlic, 1/2 tsp salt, 1 tsp toasted sesame oil, 1 tsp of toasted sesame seeds, and 1/2 tsp of gochugaru (if using). Mix well. Set aside.
Divide cooked rice among 2 large bowls.
Arrange the cooked vegetables among 2 bowls – on top of the rice.
Heat pan over medium-low heat. Add oil and spread it around the pan by tilting the pan around or with a spatula. Once pan is hot, crack both eggs into the pan. Add salt and pepper. Once the whites of the eggs are set (the yolks will still be very jiggly), use a spatula to gently flip over the egg taking care not to break the yolk. Cook for another 30seconds to one minutes. Slide each egg on top of the prepared rice and vegetable bowl.
Add at least 1 TB of Gochujang Sauce per Bibimbap. Add a drizzle of toasted sesame seed oil. Mix well. Taste test. Add more Gochujang Sauce if desired. Serve immediately.
Gochujang Sauce
Ingredients
1/4 cup gochuchang
1 small clove garlic
1 teaspoon rice vinegar: Optional
2 teaspoon agave nectar or 3 teaspoon sugar
1 teaspoons toasted sesame oil
1 teaspoon toasted sesame seeds
1 or 2 teaspoons water to thin out the sauce
Combine all ingredients in a small bowl. Mix well.



Related Posts: Beosut Bokkeum and Danggeun Bokkeum (Two Korean Side Dishes: Sautéed Mushrooms & Sautéed Carrots), Shigumchi Namul (Korean Seasoned Spinach), Kongnamul Muchim (Korean Soybean Sprouts Banchan)