Takeout at Home: Mongolian Beef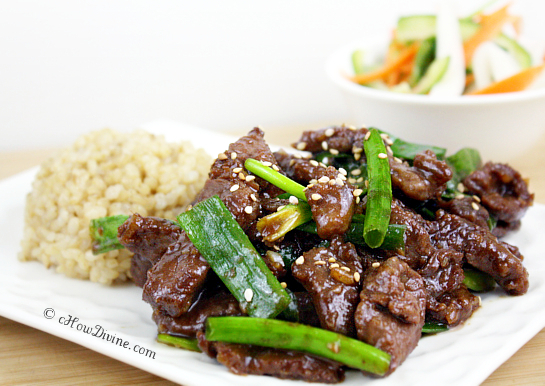 When I was in elementary school, my uncle owned a popular Chinese restaurant in Los Angeles that catered to Americans. My family and I were there quite often and held most of our family celebrations at the restaurant. One of my favorite dishes was Mongolian Beef. It could have been THE favorite, considering I had the dish every time I was there. I even liked the green onions in the dish. And I generally hated green onions at the time.
I still like the taste of it. But the high sodium content prevents me from doing takeouts often (2700 mg of sodium per serving at 3 servings per plate, yikes!). Additionally, the beef is battered with starch and fried in many of the versions of the dish, even though the appearance might belie that fact.
So I make the dish at home. It's become one of our favorites. And the at-home version takes less than 10 minutes of active cooking time. It will take less time than it would take you to get delivery or takeout. It is so easy to make. I still wouldn't call it a traditional health food. But it's A WHOLE LOT healthier than the takeout version. It's lower in fat and sodium. And agave nectar is used instead of sugar. But it tastes like the real deal. It is soooooo delicious. Just thinking about it makes my mouth water.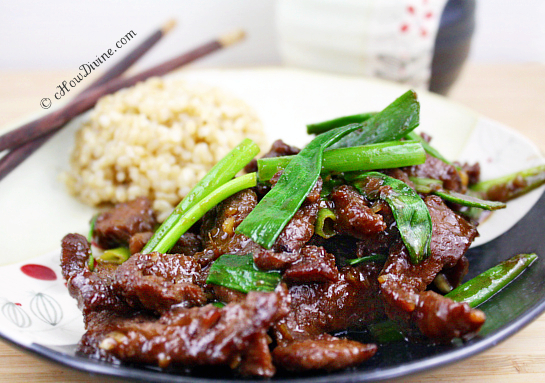 Healthier Mongolian Beef Recipe
Makes 2 servings
Ingredients
1/2 lb beef tenderloin, thinly sliced against the grain
1 TB corn starch (optional)
2 cloves garlic, minced
1/4 tsp ginger, grated
2 1/2 – 3 TB tamari (gluten-free soy sauce)
1 1/2 TB agave nectar (or sugar)
1 tsp Chinese rice wine or dry sherry
2 TB water*
3 green onion, cut into 2-inch pieces (green parts only)
1-2 TB canola oil for the pan
Stir together tamari, agave nectar, water, and Chinese rice wine/dry sherry. Set aside.
Heat oil in a pan over medium-high heat. Make sure the oil completely coats the bottom of the pan. Dredge the beef in corn starch (if using). Shake off any excess starch. Add the beef and quickly sauté until lightly browned.
Add garlic and ginger. Sauté for a few seconds. Add the sauce from step 1. The sauce should quickly come to a boil. Lower the heat a bit and allow it to bubble. Keep stirring. Reduce until it becomes thicker and glazes the beef. It should happen very quickly, within minutes.
Throw in the green onions at the last minute. Mix. Turn off the heat immediately. Serve with steamed rice.
*Cook's Note: The corn starch helps to brown the beef and thicken the sauce once the sauce is added to the pan. But I've made this plenty of times without it; the sauce thickens as it reduces, albeit not as thick. It tastes delicious regardless. And make sure to shake off excess corn starch. It's not a batter, you just want to lightly coat or dust the beef. If you are not using starch, you do not need to add water to the sauce. Additionally, you can use low-sodium tamari (or half/half) to further reduce the sodium content.