Sugar-Free, Gluten-Free Blueberry Muffins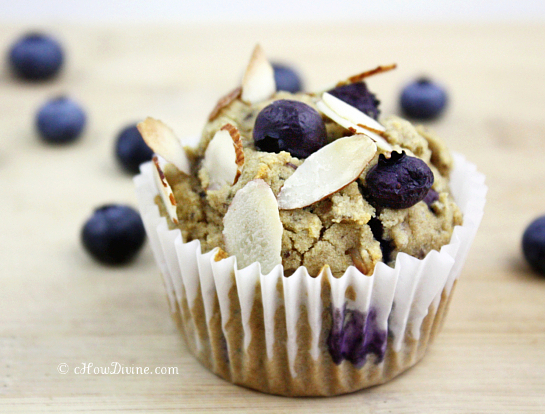 I don't have much of a sweet tooth. I'm more of a carb person. But I do crave sweet stuff occasionally. When I do, I usually make my favorite gluten-free blueberry-lemon muffins. But when I'm doing a detox or a cleanse, I need something a little different. And these date-sweetened, gluten-free blueberry muffins are my go-to "detox" snack. These are truly guilt-free, so moist, and so tasty.
I tend to overindulge quite a bit, simply because I just can't say no to delicious food. So once in a while, I do a short detox or a cleanse. It's nothing too severe. No liquid cleanse or fasting for me. I get way to cranky when I'm hungry. I just cut out animal products, processed foods, and added sweeteners. That's all. I eat everything else that I normally eat.
Keeping in line with my detox, these muffins are not only gluten-free, they are vegan. And ground flax seeds are added for their binding property as well as for their health benefits (omega 3, lignans, and fiber). Moreover, absolutely NO sugar is added: no granulated sugar, no honey, no maple syrup, and not even agave nectar. They are simply sweetened with puréed dates. However, if you prefer your muffins very sweet, you can add a SCANT amount of stevia.
Stevia should not have a negative effect on your glucose levels unlike other sweeteners. I say "SHOULD not", instead of "does not," because I believe more research needs to be done for the finding to be conclusive. It has a reported glycemic index of zero. But be careful. It is up to 300 times sweeter than sugar. And if too much is added, your food will taste bitter. Additionally, make sure your stevia is pure and not cut with fillers like maltodextrin (it's usually derived from rice, corn, or potato starch, but it can also be derived from barley or wheat).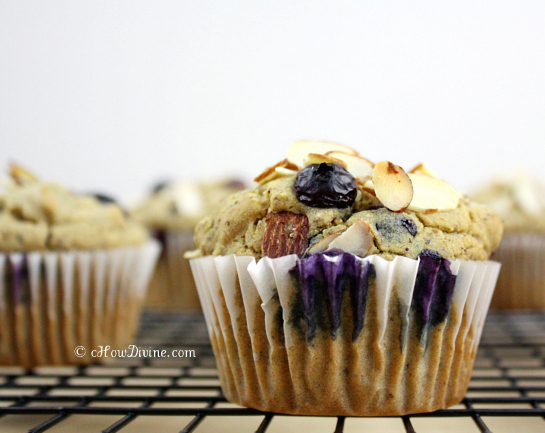 These muffins are great for breakfast. They also make a delicious and healthy snack for kids and adults alike!
Blueberry Almond (Date-Sweetened) Muffins Recipe
Makes 6 muffins
Ingredients
1 cup brown rice flour
1/2 tsp baking soda
1 tsp baking powder
1/4 tsp salt
7-8 large dried dates
~ 1/2 cup almond or soy milk*
1 1/2 TB flax seeds, coarsely ground
1 TB lemon juice & 1-2 tsp zest
1/3 cup applesauce
1/2 tsp vanilla extract
1/2 cup fresh blueberries
1/4 cup sliced almonds, toasted
Preheat oven to 400 degrees. Prepare a muffin pan with liners. Place the dates in a small blender or processor. Pulse until the dates are finely chopped. Add the applesauce to the dates and process or blend until the mixture turns into a smooth paste.

Combine all of the wet ingrdients: mixture from step 1, almond/soy milk, lemon juice + zest, and vanilla extract. Add the ground seed to the wet ingredients. Mix well. Set aside.
Whisk together brown rice flour, baking soda, baking powder, and salt. Add the wet ingredients from step two to the dry ingredients. Mix until the ingredients are just combined. Add the blueberries and almond slices. Stir gently. Using a ice cream or batter scoop, divide the batter into 6 muffins cups/liners. If you'd like, you can sprinkle some raw almond slices on top.
Bake on the center rack for 22-25 minutes until a toothpick comes out clean. Rotate the muffin pan midway to ensure even baking. Remove from oven and allow the muffins to cool in the muffin tin for about 10-15 minutes. Transfer to a cooling rack and allow the muffins to cool completely.

The muffins are yummier when they are allowed to cool completely. Once cooled, you can really taste the sweetness from the dates. They actually taste better the morning after! So enjoy them for breakfast the next day or as a tasty snack. They make great healthy snacks for kids too!
*Cook's Note: I am using Bob's Red Mill Brown Rice Flour. Depending the the type of gluten-free flour, and even different brand of brown rice flour, you may need to adjust the liquid added. The batter should look like really soft, whipped butter. And it should settle nicely into the muffins cups when you give the muffin pan a gentle tap on the side. Additionally, don't skimp on (or skip) the lemon juice and lemon zest!!! They make all the difference in brightening up the flavor. Lastly, don't forget to keep the muffins in an airtight container or saran-wrapped if you are planning to enjoy them the day/morning after!