Myulchi Bokkeum (Stir-Fried Dried Anchovies)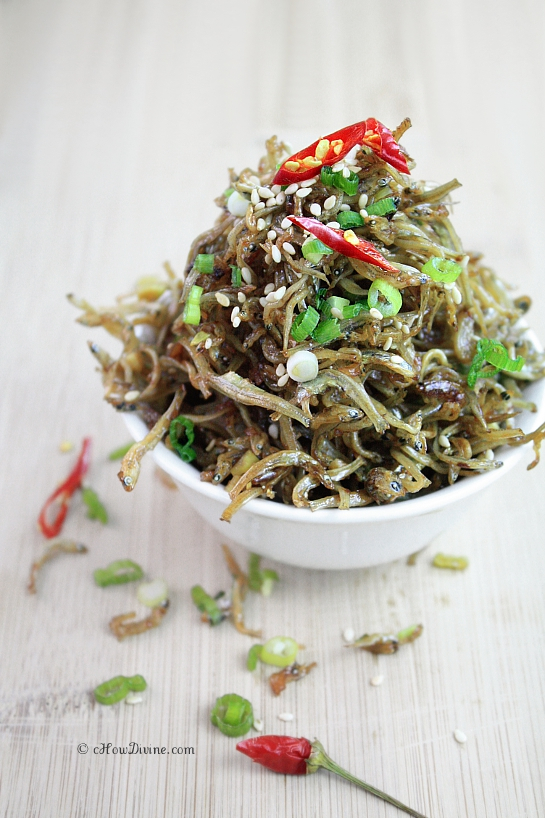 Myulchi Bokkeum is one of the most popular banchan (side dishes) in Korea. It might seem a bit too exotic to some. But everyone that I know who has tried this dish has fallen in love with it. And I really mean everyone. Even my little niece at the age of two couldn't get enough of this delectable side dish. One bite and she was hooked. Luckily, this was one of my aunt's specialties. And when my brother's family moved away to a different state, my aunt used to mail huge batches of myulchi bokkeum to my brother for my little niece.
For those of you who haven't tried this, I'm dying for you to try. So let me make a case for myulchi bokkeum to those who are on the fence: 1) as with the vast majority of the recipes on this site, it's quick and easy to make; 2) if you love those roasted seaweed snacks, you will probably love this even more; 3) it has a great crispy texture; 4) generally, the smaller the fish, the lower the bio-accumulation, which means lower mercury; 5) anchovies provide a chock-full of nutrients including calcium, potassium, selenium, and heart-healthy omega-3; 6) since you are eating the whole fish without wasting any part of the fish, you are being environmentally-responsible; and most importantly 7) the sweet and salty taste of this dish is truly amazing. What do you think? Did I succeed? 😀
Try eating it with some steamed rice. It's unbelievably tasty. You won't be able to stop.
Myulchi Bokkeum (Stir-Fried Dried Anchovies) Recipe
Makes enough for 4-6 as a side dish
Ingredients
1 cup myulchi (dried anchovies)
1 tsp minced garlic
1 TB honey, maple syrup, or sugar
1 tsp tamari (gluten-free soy sauce)
1 TB mirin
1 tsp water
1/2 tsp toasted sesame seed oil
toasted sesame seeds
about 2 tsp canola oil for cooking
1 scallion/green onion, chopped finely
For the sauce, stir together garlic, honey/maple/sugar, tamari, mirin, water, and sesame oil.
Heat a pan over medium heat. Add enough oil to coat the bottom of the pan, about 2 tsp. Once the pan is heated, add the anchovies and stir for about a minute until the anchovies starts to turn golden.
Push the anchovies to one side of the pan away from the heat. Tilt the pan and pour the sauce from step one into the pan so that the sauce is on the side of the pan that is directly over the heat source. Once the sauce starts bubbling and the garlic becomes fragrant, level the pan (flat on the range) and stir the anchovies with the sauce. Mix well until the pan becomes almost dry; this should happen VERY quickly. Remove from heat immediately.

Add chopped scallion and toasted sesame seeds. Stir. Serve with steamed rice.
*Cook's Note
I always taste an anchovy before I cook a batch to make sure that it is fresh and also to check for saltiness. The anchovy should taste like the ocean, slightly salty but not fishy. If you find the anchovy salty enough, you do NOT have to add tamari (soy sauce). 1 tsp of tamari was more than sufficient for my palate.
Most Korean grocers carry these anchovies. These are the smallest dried anchovies available. I've placed them in a tablespoon measuring spoon in the image below to illustrate how tiny these anchovies really are. The bigger ones (about the size of your pinky, not pictured) are used to make broth/stock; they are NOT suitable for this dish.