Quinoa + Oatmeal = Quinoatmeal?!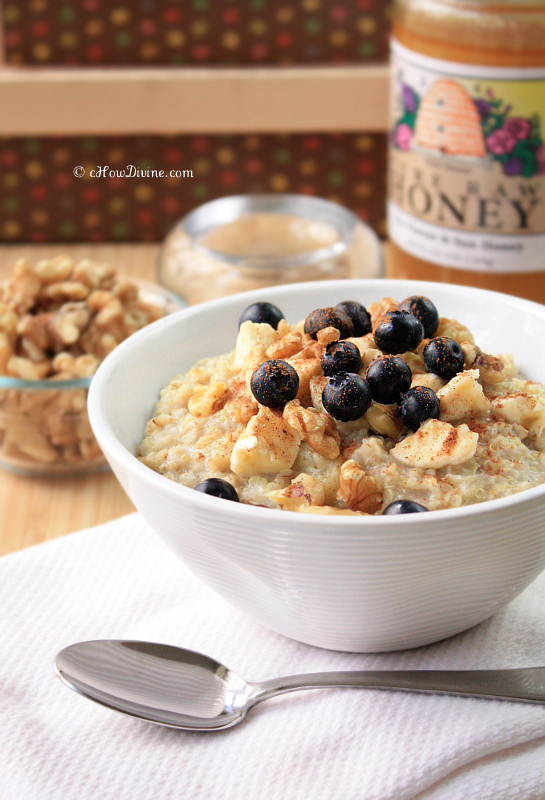 I love hot quinoa for breakfast. My husband likes his oatmeal. What's a girl to do? I guess I could just cook what I want and make him eat it. Or he can cook his own breakfast himself, which he is more than happy to do. But it would just be too much of a hassle in our tiny kitchen. And I hate hassles. So I decided to come up with a happy compromise: the Quinoatmeal. Yes. The Quinoatmeal. (Pronounced keen · oat · meal) 😛
It's creamy like oatmeal, which my hubs loves. And it has the flavor of quinoa, which I love. It can't get better right? Wrong! It's purely sweetened with a ripe banana. No other sweetener needed. If you want a hit of maple syrup, go right ahead. But it's totally unnecessary. It's like eating a quinoa-oatmeal banana bread, but in a comforting hot bowl.
It's just an added bonus that this is super healthy and easy to make. I made mine gluten-free and dairy-free by using gluten-free rolled oats and water. Don't let the "-free" stuff fool you. It's rich, creamy, just the right amount of sweet, and so comforting.
Hey hubby! See? I know how to compromise. And you call me a despot with complete rule over our home. I would like to think that we jointly run our home à la the UN (but with teeth). 😉
The Quinoatmeal Recipe
Makes enough for 2 people
Ingredients
1/4 cup quinoa
3/4 cup gluten-free rolled oats
2 cups water + more as necessary
1 ripe banana, cut into small 1/2″ cubes
1/4 tsp + more to taste salt
cinnamon
walnuts
Other Optional toppings
flax or chia seeds
blueberries
maple syrup or honey
Rinse the quinoa under running water to remove any saponin (this gives unwashed quinoa a bitter taste). Drain well.
Add quinoa, rolled oats, water, and 1/4 tsp salt to a pot. Bring it to boil. Lower the heat and allow the contents to simmer for about 7-9 minutes while stirring occasionally. Add the cut bananas* to the pot and stir. Close the lid and allow the contents to simmer for another 3-5 minutes until the quinoa and oats are cooked. Remove from heat and leave covered for 1 minute. Stir and serve hot with a sprinkle of cinnamon and walnuts.
*Cook's Note
To wash off the saponin, run the quinoa under running water in a fine-mesh strainer until the water runs clear. It shouldn't take more than a minute or two. Some brands of packaged quinoa are pre-washed and ready to cook. Read the label.
Add more water if you find that the texture is getting too thick. You can adjust the cooking time depending on your textural preference.
DON'T skip the banana. It adds not only sweetness but also creaminess. You can add the whole banana to the quinoatmeal while cooking. You can also just add half and save the other half as fresh topping when serving. Just keep in mind that your quinoatmeal will be significantly sweeter if you cook the whole banana.
I've made this the night before for breakfast the next day during the weekdays. Just refrigerate and add some boiling/hot water (or warm milk) the morning after. It's pretty yummy even at room or lukewarm temperature. It's a time saver in the morning.