Broiled Halibut with Asian-Style Pineapple Sauce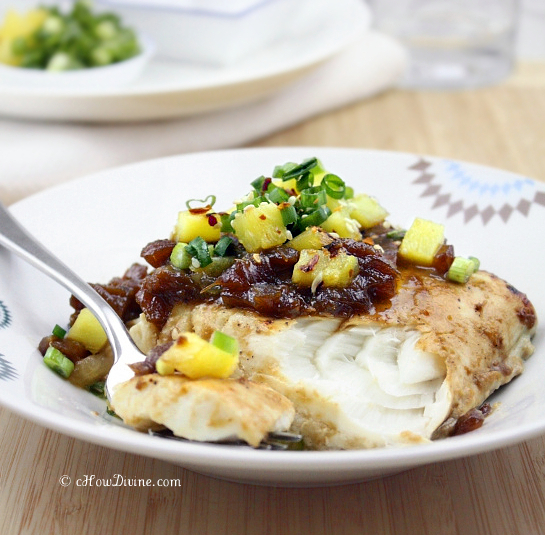 My husband scared the bejesus out of me when we sat down for dinner a few weeks ago. All of a sudden he yelled, "OH MY GOD!!!" I thought he saw a spider or something worse. So I let out a little shriek of my own. But he followed it up with, "THIS IS THE BEST FISH I'VE EVER HAD!!!" After I punched him in the arm and screamed at him for scaring the crap out of me, I took a bite of the halibut on my plate. It really was delicious. It was soft, moist, and so flavorful.
Truthfully, I don't cook fish at home as much as I should. But ever since that dinner, I've made this at least once a week. So I figured I should share the recipe. It goes without saying that it is super quick and easy to make – and healthy! – as with the vast majority of the recipes here. So go pick up some fresh wild halibut and give this a try. We got our wild halibut fillets from Costco the last time we had this. If you have a Costco nearby, I highly recommend it. It's so much cheaper than what you'd pay elsewhere and the difference in quality is negligible.
It's been a particularly busy and stressful summer for me, especially since we're trying to eat the majority of our dinners at home. So having quick and easy recipes like this broiled halibut helped me out significantly. I hope you find it useful as well.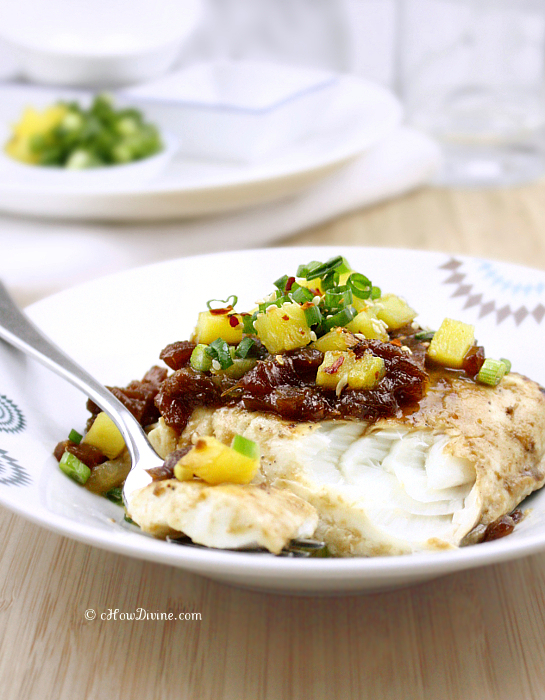 Broiled Halibut with Asian-Style Pineapple Sauce Recipe
Serves 2 people
Ingredients
3/4 – 1 lb halibut fillet (~1″ thickness)
1-2 tsp canola oil
2 tsp lemon juice
2/3 – 3/4 cup chopped pineapples
2 TB tamari (gluten-free soy sauce)
1 – 1 1/2 TB honey or maple syrup
1 TB balsamic vinegar
1 TB mirin
1 TB water + more as needed
1/2 tsp grated ginger
1 tsp toasted sesame oil
salt & pepper
Preheat oven to 400 degrees. Rub the fillet with oil and lemon juice. Set it aside for a few minutes while you get the ingredients together for the sauce. For the sauce, stir together honey, pineapples, tamari, balsamic vinegar, mirin, ginger, water, and toasted sesame oil in a small sauce pan. Bring the contents to a boil. Lower the heat and simmer until the sauce becomes thicker.
Lightly salt and pepper the fish. While the sauce is simmering, bake the halibut for about 9 minutes. Turn the heat up to broil. Brush the halibut with the sauce from step 1. Brush it with enough sauce (liquid part)* to coat the fish. Place the halibut in the broiler and broil for about 3 minutes until the sauce is caramelized and the halibut flakes easily. Remove from heat and let it rest for a couple of minutes.
Top with the sauce from step one. Sprinkle with some fresh chopped pineapples and some scallions. Serve immediately.
*Cook's Note
The sauce will not have completely thickened when you have to glaze the halibut in step 2. That's perfectly fine. Just use the liquid part of the sauce to coat the fish and continue simmering the sauce. Add a splash of water if the sauce becomes too thick.
Make sure you don't overcook the fish. It will become dry. Keep in mind that if you are using a thinner fillet, it should take less time to cook.
If you want the sauce to have the type of thick texture like some of the commercially bottled sauces, you can mix a little bit of corn starch in water and mix it in the sauce. But I prefer my sauce without any starch.