Soy-Mango Glazed Salmon
Who wants to cook in heat of summer? I don't. I try my best to do as little cooking as possible during these warmer months. So you can count on some easy lazy recipes from me for the foreseeable future. Don't worry. Lazy doesn't translate to flavorless or boring. I'm a huge fan of food. And flavor/taste is a must for all of my meals.
One of the dishes I make all the time in the summer, especially when I'm feeling lazy, is my Soy-Mango Glazed Salmon. I want to take every opportunity to enjoy the wild-caught salmon that's available only during these warmer months. It's SO easy to make. The glaze only takes 3 (or 4) common pantry ingredients. It doesn't even need to be mango preserves. Apricot or pineapple preserves or fruit spread will do. Use what you have; that's always my motto when it comes to cooking.
I usually am loathe to turn on the oven when it's so hot outside. But I make an exception for this dish. I just stick the suckers in the oven (Don't over-bake!). Turn on the air conditioner. And sip my glass of white wine while the oven does the work for me. It's just the kind of easy-peasy-lazy-tasty recipe I love for the season.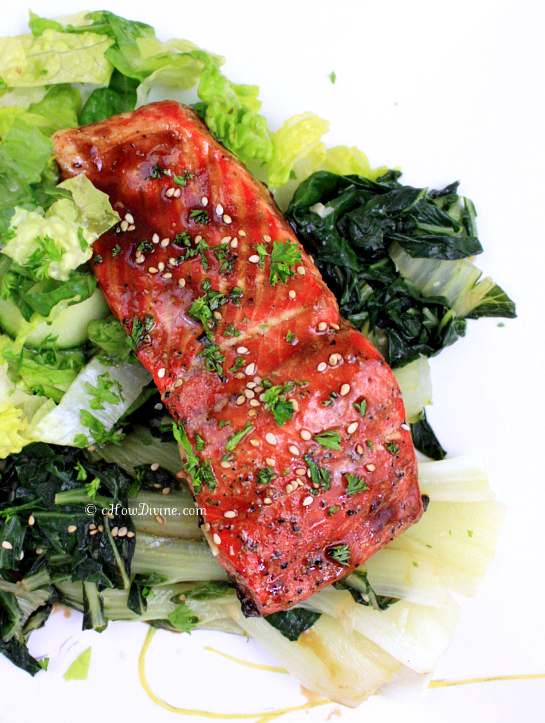 Soy-Mango Glazed Salmon Recipe
Makes enough for 2 people
Ingredients
3/4 lbs fresh salmon fillet (cut into 2 equal pieces)
1 TB tamari (gluten-free soy sauce)
2 tsp mango preserve
1 tsp honey
balsamic vinegar (optional)
salt and pepper
canola oil
Preheat oven to 400 degrees. Prepare a baking pan with parchment paper*. Pat the fillets dry. Place the fillets on the prepared baking pan. Rub the fillets with a little bit of canola oil. 1 tsp of oil per fillet should be sufficient. Sprinkle the fillets with a pinch of salt and pepper. Place the fillets in the preheated oven and bake for 10 minutes.
While the salmon is baking, prepare the glaze. In a small bowl, stir together honey and mango preserves. Make sure the mango preserve/fruit spread is well mixed with the honey and there are no lumps. Add the tamari and a drizzle of balsamic vinegar if using. Mix well until smooth.
After 10 minutes of baking, brush the fillets (generously) with the soy-mango glaze from step 2. Place it back in the oven and broil for about 2-3 minutes or until the internal temperature reaches 145 degrees.* Serve warm with some sautéed vegetables.
Cook's Note*:
You can also use an oven-safe pan for this. And you can also pan-sear the salmon if you'd like. I just prefer the oven-baking method, because it requires less work.
US FDA recommends that salmon be cooked until the internal temperature reaches 145 degrees. I find that the salmon becomes too dry if I bake the salmon until the recommended temperature is reached. I usually take the salmon out of the oven when the internal temperature reaches about 135, and then allow the salmon to sit for a few minutes and finish baking.
You can make more glaze; but I find that it's more than enough for 2 salmon fillets. If you have any glaze/sauce left over, use it on vegetables. It was super delicious on sautéed bok choy.
The sauce can be heated in a small saucepan and allowed to reduce. This will result in a more concentrated flavor.