Korean Beef and Kimchi Tacos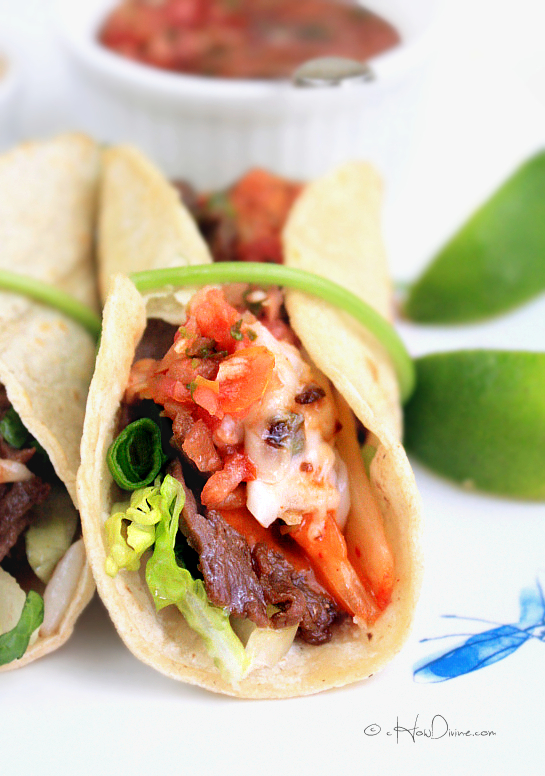 I just got back from Cali last weekend. And like a true dodo head, I left my camera there. I hadn't been feeling all that well for the duration of the trip. I guess it took a toll on my brain in addition to my body. Luckily, I have a loving mom, who immediately shipped the camera to me along with a care package. I will have to post the pics of the package at a later time. But here is a post of the first batch of the photos I uploaded from my just-received camera: Korean-Style Beef Tacos.
It's apropos since I made a variation of these tacos for my mom while I was in Cali. I think it was one of her favorite dishes that I made while in Cali, if not THE favorite. This is made with bulgogi (and I have posted a version of this in the past), but you can also make it with leftover Galbi-jjim (Korean braised short ribs). So so delicious either way.
As with most recipes on this site, you can personalize it to your liking or food sensitivities. I made mine completely dairy-free, but had shredded cheese and sour cream on hand for those who wanted those toppings. Additionally, I served some regular (gochujang-free) sour cream for those who wanted the dish gluten-free.
This dish is so easy to make. Don't let the ingredients intimidate you. Even my mom was so surprised by the simplicity in the preparation of this dish. You should really give this a try.
Beef and Kimchi Tacos Recipe
Makes about 12 soft tacos
Ingredients
1 lb beef rib eye or tenderloin, very thinly sliced
1/4 cups tamari (gluten-free soy sauce)
1 TB sesame oil
1/4 small onion thinly sliced
3 large cloves garlic, finely minced
2 TB sugar or agave nectar
1 TB mirin
1/4+ tsp black pepper
1/8 Asian pear, grated (totally optional)
canola oil for cooking
cabbage kimchi, thinly sliced
romaine lettuce, thinly chopped
12 corn tortillas + more if you want to double up on the tortillas
Optional toppings
pico de gallo
monterey jack or dairy-free cheese by Daiya, shredded*
gochujang sour cream (1/4 cup sour cream + 1 TB gochujang)
sliced avocados or guacamole
Place the beef in the freezer for about an hour or until it is partially frozen. Once it is partially frozen, slice the beef as thinly as possible against the grain. Place the sliced beef in a large bowl or a ziploc for easy cleanup.
Stir together in soy sauce, sesame oil, minced garlic, agave (or sugar), mirin, pepper, and grated pear if using. Mix well. Add the mixture to the sliced beef. Mix well while using your hands to massage the meat. Add sliced onion to the meat. Mix. Cover tightly. Marinate for at least an hour or overnight in the refrigerator. (I usually marinate mine overnight in the refrigerator.)
Place a pan over medium-high heat. Dip the corn tortilla in water and place it on the hot pan. Once it becomes "spotty" (about 30 seconds), flip the tortilla. Repeat the process for all tortillas – stacking the warmed tortillas one on top of the other. Wrap the tortillas in a towel and let them steam for a few minutes.*
Heat a grill pan or a skillet on moderately-high heat. Add canola oil to coat the pan/skillet. Add marinated beef to the pan/skillet and stir until cooked through. Don't overcrowd the pan/skillet. Do it in batches if necessary. Overcrowding will result in lowering of the temperature of the cooking surface; this will result in boiling or steaming of the meat. On moderately high heat, it should take about 3 minutes for the beef to cook through.
Serve the bulgogi in the warmed corn tortillas with kimchi, shredded lettuce, and any other topping of your choice.
Cook's Note*:
I learned this method of heating corn tortillas from Serious Eats. It's a bit more time-consuming then other methods, but it's really worth it. If you don't have the time or the energy, you can always heat them in a damp towel in the microwave!
Gochujang usually has gluten in it. OMIT it, if you want your tacos to be gluten-free. Additionally read the labels of all ingredients carefully as manufacturers' practices vary.