Sautéed Green Beans with Spicy Korean Chili Pepper Sauce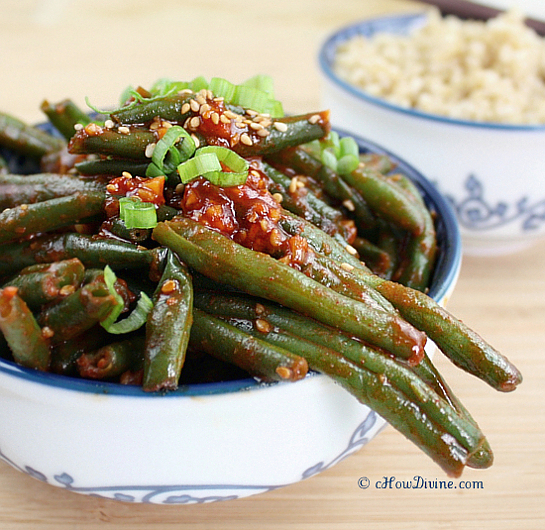 Sautéed Green Beans with Spicy Korean Chili Pepper Sauce (alternatively, Sautéed Green Beans with Gochujang Sauce) add a kick of flavor to any meal. And although I can make a meal out of these beans (along with some brown rice), I usually serve them with some pan-fried tofu for the sake of protein.
As with many spicy Korean recipes, this is adaptable to your taste. If you don't like things that spicy, just decrease the amount of chili pepper paste (gochujang) and increase the amount of tamari or salt. And you can use just plain old green/string beans. Or if you can find them, use haricot verts. They are thinner and longer than the American green beans, and work better for this dish. I use frozen green beans or hericot verts when I'm in a pinch. The dish is still delicious.
Sautéed Green Beans with Gochujang Sauce Recipe
Ingredients
1 lb green/string beans or hericot verts
2 garlic cloves, minced
1 scallion/green onion, chopped into thin rings
1 ½ -2 TB gochujang (Korean red chili pepper sauce)
1 tablespoon low-sodium tamari (gluten-free soy sauce)
1-2 teaspoon agave nectar or honey
1 tsp toasted sesame oil
2 tsp toasted sesame seeds, crushed
1 TB canola oil for cooking
salt to taste
Wash and trim the green/string beans. Drain and dry.
Stir together minced garlic, chopped green onions (white part), gochujang, tamari, agave, toasted sesame oil, and toasted sesame seeds. Set aside.
Heat a wok or pan over medium-high heat. Add oil and swirl to coat the pan. Once the oil has been heated, add the string beans and sauté until the beans brown lightly. The surface of the beans will appear whitish with gold brown hue. This should take about 5 minutes. Remove from heat. Remove the beans from the pan.
Heat the pan again on medium heat. Add the sauce from step 2 to the pan. Stir the sauce like you would scrambled eggs – "folding in" the edges with the rubber spatula. Once the sauce starts bubbling and becomes fragrant (it will smell nutty and peppery, yum!), add the reserved beans. Lower the heat and mix well. Remove from heat and stir in the chopped green onion (green part). Mix gently. If necessary, salt to taste. If desired, garnish with additional chopped green onions and whole toasted sesame seeds.
Note: Make sure that you use toasted sesame seeds and oil. Taste will markedly differ. If you'd like, you can toast your own sesame seeds. It's fresher and more flavorful.