Kimchi Fried Rice and Creamy Black Bean Burritos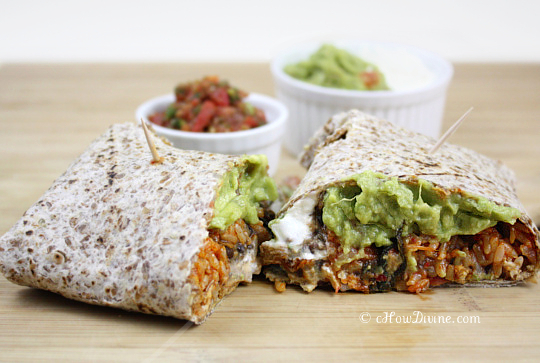 When I make guacamole, I always make a ton. I want to expend the energy once and milk the benefits of my labor for a few days. I'm kind of lazy that way. And when I have leftover guacamole (remember to store it properly), I always make one or more of three dishes. I've already posted two of the dishes: the sweet potato and black bean tacos and the TLT (tempeh, lettuce, and tomato sandwich). And the last of the troika is the kimchi fried rice and creamy black bean burritos.
I usually make this either the day before or the day after I make my sweet potato and black bean tacos. I make a lot of my "un-fried" or creamy black beans and use it for both dishes. I'm kind of lazy that way; this may become the overarching theme for cooking during the warmer months – during which I will constantly strive to be … efficient. 🙂
Don't let the list of ingredients scare you off. This is a super easy recipe. And like the sweet potato and black bean taco, it doesn't take much to make them taste good. Just a dollop of guacamole or sour cream, for non-vegans, will do. Make a big batch of the beans and enjoy it over a few days. That's how I survive the week. Thank goodness for yummy leftovers. Without them, I would be doing a lot more takeout.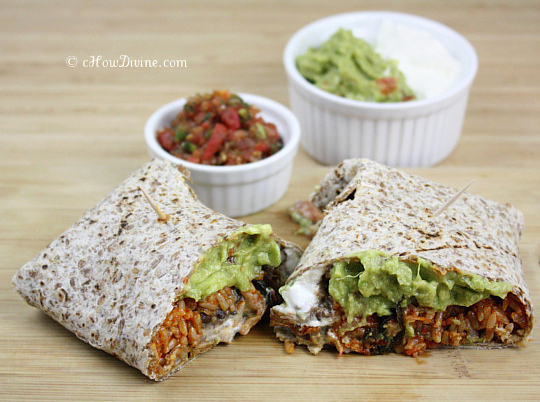 Kimchi Fried Rice and "Unfried" Black Bean Burritos Recipe
Makes 2-4 burritos
Ingredients
1 can, 15-oz. black beans
1 clove garlic, minced
1/3 cup onion, finely chopped
1/4 cup red bell pepper, finely chopped
1 TB low-sodium tamari (gluten-free soy sauce)
1 TB dijon mustard
water as needed, 2-3 TB + 1 TB at a time
1/4 tsp cumin
1/4 tsp cayenne
1 cup napa cabbage kimchi*, drained and sliced
1 TB gochujang (Korean red chili pepper paste)
2 – 2 1/2 cups of cooked/cold/day-old rice
canola or peanut oil
salt & pepper
large, burrito-size tortillas (whole grain, if possible)
Optional Ingredients
dab of butter (<1TB) shredded lettuce guacamole and/or sour cream
salsa fresca
Rinse and drain the beans. Mash the beans using a fork until smooth.

Heat a pan on medium heat. Add just enough oil to coat the bottom of the pan. Add minced garlic and chopped onions to the pan. Sauté until the onions are almost translucent. Add chopped bell peppers to the pan and sauté until the onions are translucent and bell peppers are soft. Add a pinch of salt and stir. Add the mashed beans to the pan and 2-3 TB of water. Stir until heated through. Add tamari, dijon mustard, cumin, and cayenne. Add additional water to thin it out as necessary if the beans become too dry. The texture should be smooth and creamy. Mix well. If necessary, salt to taste.

Place a nonstick pan over medium-high heat. Once heated, add a little bit (~ 2 tsp) of oil and melt a dab of butter (if using) in the oil. Swirl to coat the pan. Add drained kimchi and sauté. Sauté for a few minutes until kimchi becomes transluscent. Add gochujang. Mix well to ensure that the gochujang is well distributed. Once the gochujang is mixed in, immediately add the rice. Gochujang has a tendency to burn; so, make sure to add the rice immediately. Mix well.

Once well combined, thinly spread out the contents. Let it "toast" until the rice starts to turn golden brown and slightly crispy. Mix well. Push the kimchi fried rice to the side and add the beans to the pan. Keep them warm until you are ready to assemble the burritos by keeping the heat on the pan very low. Add water to the beans as necessary to keep them moist. Remove from heat once ready to assemble.

Warm up the tortillas by heating them on a hot pan (~15 seconds on each side). Wrap them in a towel or aluminum foil to keep them warm until ready to assemble the burritos. Depending on how many burritos you are making, scoop about 1/2 or 1/3 of the rice and beans in the center of the tortillas. Add guacamole or sour cream on top (and salsa if using). Top with shredded lettuce if using. Roll up the burrito by folding in the edge nearest to you, followed by folding in the sides, and rolling the burrito away from you. Enjoy with additional guac and/or salsa!

* Many brands of kimchi contain fish sauce or salted shrimp. If you are strictly vegan or vegetarian, look at the label. I get kimchi from Whole Foods sometimes. And they carry vegan kimchi.