Quick and Easy Cucumber Kimchi (Oi Kimchi)
I always have kimchi in my fridge. ALWAYS. I don't eat it everyday, but I need to know that it's within reach. I have to admit, it's often store-bought. But there is nothing like a good homemade kimchi.
Growing up, my grandmother always made sure there was plenty of homemade kimchi in our home. In fact, I didn't even know commercial kimchi exsited until I was a teenager. Don't get me wrong. Commercial kimchi has much improved over the years. But believe me; there's nothing like homemade kimchi. I don't know why I don't make it more often. It's honestly not difficult to make. And there are so many varieties. You can make different types of kimchi depending on what's fresh and seasonal.
I happened upon some fresh cucumbers last week. I knew exactly what I was going to make with them. Oi Kimchi, of course! Kirby cucumbers are normally used – and are best – for this kimchi. But you can use other varieties of cucumbers that are used for pickling as long as they are "seedless."
You are probably familiar with the stuffed cucumber kimchi, where the seasoning/filling is stuffed in the cucumbers. But that requires a little more labor than I have the time for nowadays. I barely have enough time to eat sometimes. I'm sure many of you are in the same boat. So I decided to make a very quick and easy cucumber kimchi. Call it cheater kimchi if you will. No need to stuff the cucumbers one by one. Just cut, blend, and mix! OK. It's a little more work than that, but not that much more.
This quick and easy cucumber kimchi is super delicious, lower in sodium than the commercial kimchi, and rich in gut-healthy probiotics. Additionally, it contains NO sugar or MSG; unless you're paying $10+ for a teeny, tiny bottle of the "healthier" kimchi at Whole Foods, your bottled kimchi will likely contain both sugar AND MSG.
If you love kimchi, you need to try this!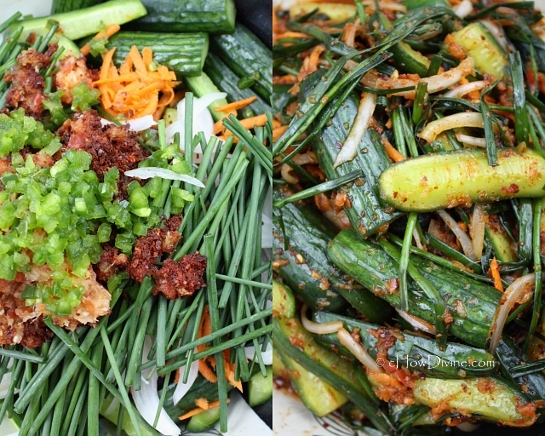 Quick Oi Kimchi Recipe
Ingredients
1 1/2 – 2 lb kirby or other pickling cucumbers
1/4 yellow onion, sliced thinly
1/2 small red bell pepper
1/2 large fuji apple, cored and peeled
3 garlic cloves
1 garlic-sized ginger
1/2 cup carrots, cut into thin matchsticks
1 bunch Korean chives (buchu), cut into 2 inch pieces*
2 – 2 1/2 TB gochugaru (Korean red pepper powder)*
1 tsp honey or agave nectar
~2 TB + ~1 tsp salt
1 TB fish sauce*
1 TB jalapeño, chopped finely or minced (optional)
*See Cook's Notes below for substitution suggestions
Wash the ingredients well. Cut the cucumbers lengthwise into 2 long halves. If the cucumbers are very thick, cut the halves lengthwise again in half (making four long spears). Then cut the length in half to make shorter spears. Sprinkle the cucumbers with about 2 TB salt and mix well. Allow the cucumbers to sit in salt for about 20-30 minutes.
While the cucumbers are sitting in salt, prep your vegetables. In a blender (small handheld one will do), blend loosely chopped apple, garlic, and ginger until smooth. Add loosely chopped red bell pepper to the mixture and blend until the bell pepper pieces become almost smooth. Add honey, about 1 tsp salt, and fish sauce. Stir.
Give the cucumbers a quick wash to rinse off the salt. Give the cucumbers a light squeeze to rid of excess water. Drain well.
To a large mixing bowl, add cucumbers, sliced onion, shredded carrots, chives. To the vegetables, add Korean red pepper flakes, jalapeño (if using), and the mixture from step 2. Using your hands (use food-grade gloves if possible), mix well.
Store in an airtight container. Make sure to pack the cucumbers tightly and to scrape all the seasoning into the container. Place a small piece of saran wrap directly on top of the kimchi to keep it uniformly moist. Store the kimchi in room temperature for about 24 hours. Refrigerate. Serve chilled.

Yup, it's that easy!
*Cook's Note
If you want to make this vegan, just omit the fish sauce; however, you'd need to substitute the fish sauce with about 1/2 tsp of salt.
If you can't find Korean chives (or any bunched chives, not the ones in the small plastic containers), you can use very thin spring onions or green onions. Just chop them in to shorter/smaller rings than you would chives.
If you don't have any Korean red pepper powder, use about 2 tsp of chili pepper flakes. Just pulse them in a spice or coffee grinder before using. It won't taste exactly the same, but it will still be tasty.
Cucumber kimchi sours very easily. So be careful not to leave it out too long, especially if it's hot and humid. I made the mistake of leaving one of my jars out for about 1 1/2 days on a very hot and humid day (90+ degrees with humidity!). It went completely sour. During cooler weather, it can be left out for a longer period of time, but be really careful!