Kimchi Jumuk Bap (Kimchi Rice Balls)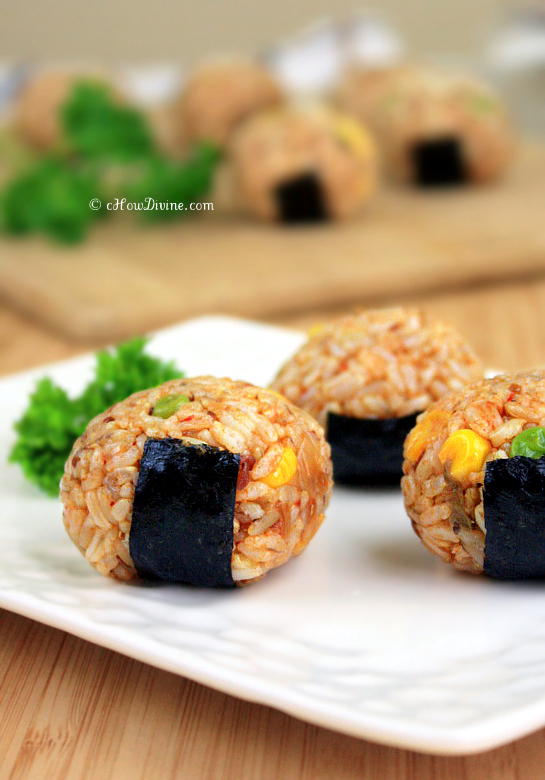 Jumuk + Bap = Fist + Rice
A friend of mine once asked me what jumuk bap meant. I told her that it directly translated to "fist rice." She thought it weird, but I never once questioned the reason behind it. It was always very clear to me. It's usually about the size a small fist. And you have to theoretically make a fist-motion in order to form these suckers. Apparently, that astute observation and explanation didn't convince her. Whatever. No jumuk bap for you little lady!
All kidding aside, jumuk bap has humble beginnings. It was originated due to necessity and convenience for those who had to travel long distances. It was something that was portable and convenient for travelers for sustenance with very little bulk and weight. It was also economical and easy to make. In its original form, it usually just consisted of rice and salt (probably as a preservative). Over the years, it's become more of a casual, but fancier, fare made with ground meats, salmon, vegetables, or other mix-ins and fillings. It's now really re-invented itself into fun finger food. For example, rice balls can be really fun served as appetizers for parties or other gatherings.
That's exactly what I decided to do. I made small, kimchi-rice, bite-sized rice balls to serve as appetizers. And I made them with seaweed strips for easy handling. Your guest can pick them up by the seaweed strip and just pop them in their mouth! They will love these unique appetizers. You can also roll them in toasted sesame seeds. I started to do it, then thought better of it. Did I really want inebriated people carrying around sesame-seed-dusted rice balls on a tiny appetizer plate? Not unless I wanted to spend the next few weeks picking up sesame seeds from the sofa cushions and the rug. 😉
You can always make them bigger, if you want to serve them as a meal; process is the same. Just use more of the rice mixture. They are enjoyable all the same.

Kimchi Jumuk Bap (Kimchi Rice Balls) Recipe
Makes about a dozen appetizer-sized rice balls
Ingredients
1/4 cup chopped kimchi
1 tsp gochujang (Korean red chili pepper paste)
1/4 cup frozen corn or combination of corn and sweet peas
2-3 cups steamed short-grain rice
2 tsp flax seeds, ground
1 sheet toasted seaweed
1 tsp rice vinegar (optional)
toasted sesame seeds (optional)
salt
While the steamed rice is still warm, add ground flax seeds and vinegar to the rice (if using). Mix well. Allow to cool enough to handle.
Heat a pan over medium heat. Add oil to coat the bottom of pan. Add kimchi to the pan and saute. Once the kimchi starts to turn translucent, add gochujang. Stir. Add frozen corn (or corn and peas). Stir to combine. Remove from heat and allow to cool a bit.
Add the kimchi mixture to the rice. Mix well. Salt to taste if necessary. Wet your hands with water. Scoop up about 2-3 TB of the rice mixture and form into a ball. Repeat with the rest of the rice balls. If you are using brown rice, it will be more difficult to shape them due to their tendency to separate. If you're using brown rice, rip a strip of saran wrap. Add about 2-3 TB of the mixture to the saran wrap. Pull the saran wrap around the rice mixture. Shape them into balls. Twist the excess saran wrap to close. Repeat with rest of rice mixture. Allow them to sit for about 15-20 minutes in the fridge.
Cut the seaweed into thin long strips. It should easily stick. If desired roll them in toasted sesame seeds. Enjoy!
Cook's Note*:
I use ground flax seeds – totally optional – for their health benefits (omega-3 and fiber) as well their binding qualities.
Short-grain rice or sushi rice should be used. They are stickier in nature and easier to shape. If you are using brown rice, make sure to use short grain and/or brown sweet rice.
If you want a gluten-free option, skip the gochujang.
Gomo