Chickpea Fries with Parsley Garlic Flakes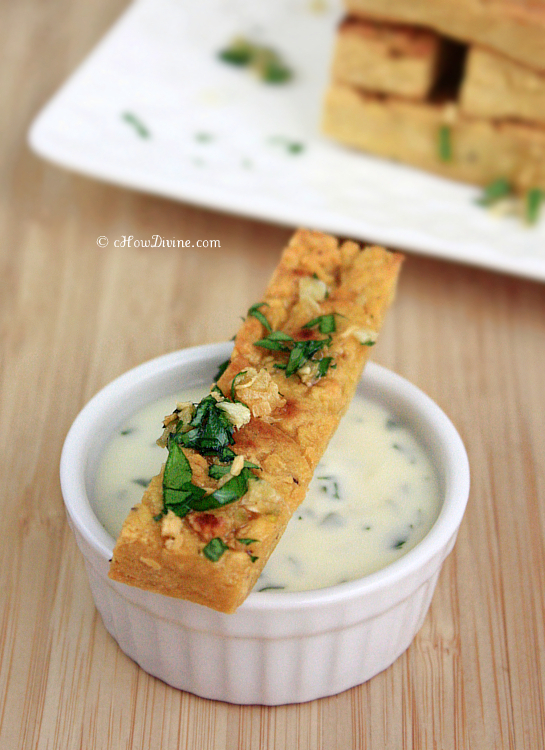 I've been eating clean for the past week or so. No processed foods, no sugar, no red meat, no gluten, and no fried foods. I know. It sounds like a party. 😛 It's actually not too bad. I don't crave sweets (except for dark chocolate). I don't crave anything really, except for french fries. French Fries are my biggest weakness. I would seriously knock an old lady down to get to the last fry in the room.
You'd think this would create problems during my "cleanse/detox." Nope. A while ago, I found a perfect, healthy alternative to my fry addiction – chickpea fries. I first tried chickpea fries or garbanzo bean fries when Peacefood Cafe in NYC first opened. I didn't expect much when I ordered it. For one, I'm not crazy about baked goods made with chickpea flour, but mostly because french fries are my thing. Nothing can compete with that right? Wrong. I was pleasantly surprised by the taste and the texture of it: a crispy thin layer on the outside with a soft, potato-like, "meat" in the inside.
I usually add some cumin or garlic powder to the flour for the extra flavor. But that is completely optional. This time, I also added some slowly-simmered garlic flakes in oil. Unbelievably delicious! Added bonus: the aroma of slowly-simmered garlic wafting through your home is absolutely heavenly.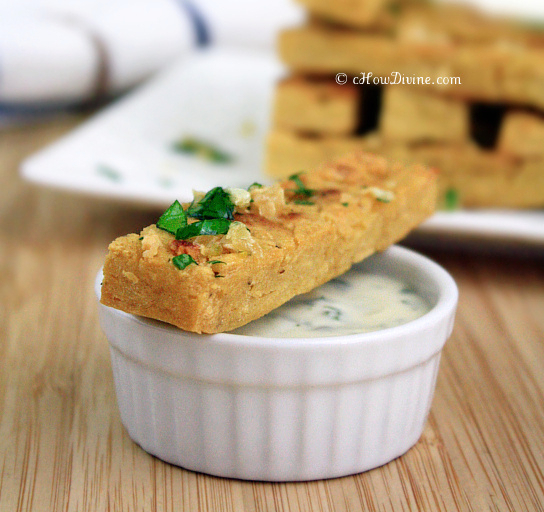 Chickpea/Garbanzo Bean Fries with Parsley Garlic Flakes Recipe
Ingredients
2 cups water
1 tsp sea salt
1 tsp freshly ground black pepper
1/4 cup extra-virgin olive oil or canola oil
1 1/2 cups chickpea flour or garbanzo Bean flour
cumin and/or garlic powder (totally optional)
2 small cloves garlic, chopped
1-2 tsp parsley, chopped
canola or grapeseed oil for baking/cooking
Prepare a 9″ x 9″ pan with parchment paper by creating a "sling."
Add water, salt, pepper, and 1/4 cup of oil to a pot or a deep pan. Bring the contents almost to a boil. While the contents are simmering, gradually add the flour while constantly whisking. Add a few shakes of cumin and garlic powder if using. Whisk just until the lumps are almost dissolved. Remove from heat immediately and transfer the contents to the prepared pan. Smooth out the mixture using a flat spatula. If necessary, smooth it out using your hands with parchment or wax paper on top of the mixture. Refrigerate for at least 3 hours until the mixture becomes hard enough to cut. You can refrigerate the mixture overnight.
Preheat the oven 425 degrees. Prepare a baking sheet/pan with parchment paper. Take the chickpea dough from the refrigerator. Pull out the dough by pulling on the parchment paper. Cut them into thick fries. Transfer the fries on to the prepared baking sheet. Brush or spray the fries with canola or grapeseed oil on both sides. Bakes for about 25 minutes. Turn them over once halfway through baking when the bottom of the fries turn golden brown. Remove from heat once the other side becomes golden brown.
While the fries are baking, heat a small saucepan over medium heat. Add 1-2 TB of canola, grapeseed, or olive oil into the pan. Add chopped garlic to the oil and lower the heat to simmer. Allow the garlic to simmer for at least 10 minutes, making sure the heat is low enough to prevent burning. Once the garlic turns golden, remove from heat and stir in the parsley. Serve warm with garlic parsley drizzle, and ketchup or aïoli if desired.
Cook's Note:
You can create a "sling" just leave some parchment paper hanging on two sides. It will be easier to pull out the dough later.
It is important to transfer the dough to the prepared pan immediately once it's removed from heat. If not, the dough will start to harden, and it will be difficult to smooth it out completely. Truthfully, the ones in the pictures above are not as smooth as it could be, because I attempted to take pictures of the dough before transferring it to the pan. 😛
I made mine with canola oil, because I'm not too crazy about cooking with olive oil. I prefer very neutral oils.
Chickpea fries are delicious on their own even without the parsley garlic flakes. You can dip them in ketchup, aïoli, yogurt sauce, tahini, or whatever condiment you'd like.