Green "Goddess" Smoothie
A girl can't live on meat and potatoes alone. Well, I can't anyway. I've been running ragged for the past month or so. I'm naturally a healthy eater, because I generally gravitate towards healthier foods. But when I'm running ragged and stressed out, my palate desires nothing short of comfort food. Let me just tell you what I had for dinner this past week: prime rib with a side of mashed potatoes last Friday; buffalo chicken "salad" with a tub of fries last Saturday; fish and chips on Sunday; the greasiest burger you can imagine with a tub of fries on Monday; and two giant chocolate peanut butter cupcakes with soy ice cream on Tuesday. And for that buffalo chicken "salad?" "Salad" is euphemism for batter and creamy dressing with a couple of lettuce leaves. It would be an understatement to say that I feel sluggish.
When I'm feeling this sluggish, I try my best to go through a cleanse of sorts. I say "of sorts," because a strict cleanse only leads to an epic fail for me. I need latitude and options when it comes to food. I just try to cut out all processed foods and red meat. One constant during this period is my Green "Goddess" Smoothie. What's up with the "Goddess?!" Self-absorbed, obnoxious narcissist perhaps? NAH, I'm way too painfully aware of my own limitations for that. 😛 It just makes me feel better in my time of need.
But ladies (and gents, just in case you care), let me tell you. This will change your skin; it does mine. Whenever I drink this on a regular basis, I get rave reviews on the state of my skin – even from strangers. The lady who was bagging my groceries at the Korean market asked me what I was doing to my skin! That should be incentive enough for me to make this smoothie every single day for the rest of my life… if not for my pesky laziness.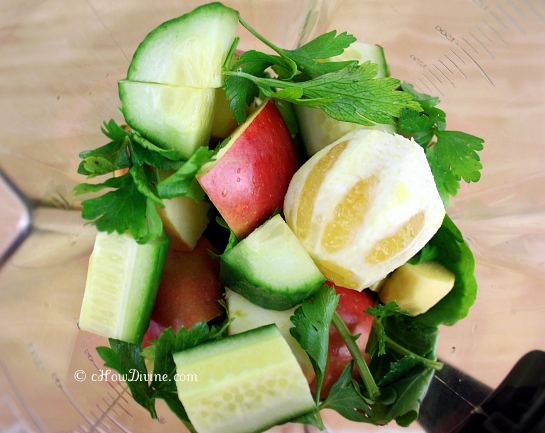 Green "Goddess" Smoothie Recipe
Serves 1 person as a meal replacement or
Serves 2 people as part of a meal
Ingredients
3-5 romaine lettuce leaves
1 BIG handful of baby kale
~5 sprigs of parsley
1/2 large lemon or 1 small lemon
1 small fuji apple
1 small banana
2 TB ground flax seeds (or combination of flax and chia seeds)
~1 cup of water
~5 ice cubes
1/16 tsp of stevia (optional)
1/2″ ginger (optional)
1/2 – 1″ cucumber cylinder (optional)
Add romaine, kale, parsley, lemon, apple, ginger, cucumber, and water to the vitamix or blender. Close the lid tightly. Slowly turn up the variable up to 10. This should just break down the contents. It will look slightly lumpy. It should only take about 10 seconds using the variable knob for the contents to break down in a vitamix.
Add rest of the ingredients to the vitamix or blender. Turn the vitamix or blender on. If using a vitamix, turn the variable knob to 10, then to high. Blend on high for about 45 seconds – 1 minute until completely smooth. If you are using a different blender, it may take longer.
Cook's Note*:
If you plan to drink this on a regular basis. Try to change the ingredients from time to time. For example, use spinach in place of kale, skip the banana, or use a pear in place of an apple. Using a few chunks of frozen pineapples really gives this a tropical flavor. I usually cut up 2 or 3 pineapples and freeze it in freezer bags for smoothies. I find that this smoothie is most effective (for your skin) when the banana is not used, but that will affect the taste and texture. It will be healthy either way. 😀
I use a vitamix for this smoothie. If you don't have one, use a powerful blender. Kale leaves will be difficult to pulverize if the blender isn't powerful enough, and the texture of the smoothie will be less than desirable.
Don't blend for too long. The smoothie will get warm.
If you are a newbie to green smoothies, it may be easier to drink if the consistency is thinner. You can adjust the water to make it thinner (or thicker) depending on your preference.
I use KAL stevia. It is the best stevia I've used. Stevia, if used too much, will have a bitter taste. KAL is pure stevia with less of a bitter taste when compare with other brands. If used in moderation, especially in fruity drinks, you won't really taste the difference between this and other types of sweeteners (e.g., sugar or agave nectar).