Roasted Sweet and Spicy Chickpeas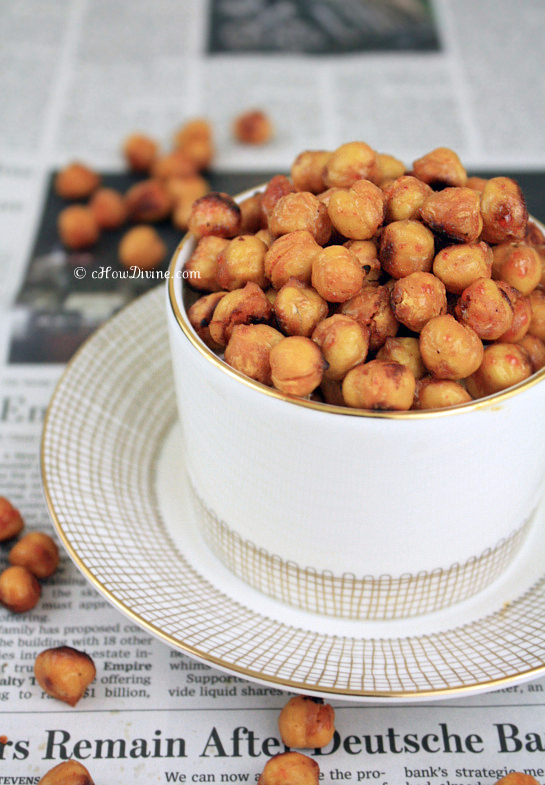 I have chickpeas on the brain. I kind of blame it on Amazon. Among other things, I'm addicted to Amazon. I bought 12 cans of garbanzo beans on subscribe and save. That's a crap load of beans for a tiny family of two. Now why did I do this? Because among other things, I can't pass up a seemingly good deal. I'm still feeling the high of getting a stainless steel handheld blender at Costco for only $19.99. I probably didn't even need it. Yes, I have issues.
Luckily, I love garbanzo beans. And I will finish every last bean. One of my very favorite things to do to garbanzo beans is to simply roast them. I was introduced to roasted chickpeas by Zooey Deschanel. Really! I was reading an article on Zooey in some magazine while in a waiting room of my dentist's office. And that article included a recipe for one of her favorite snacks, roasted garbanzo beans. I've made it numerous times since reading that article. I've also made many variations of it.
My favorite has to be the Roasted Sweet and Spicy Chickpeas. They satisfy all my cravings at once: sweet, spicy, salty, AND Korean. It is unbelievably easy to make. Just mix with the sauce. Bake for about 30 minutes. Voilà.
I don't make too much at once, because my husband doesn't know when to stop eating them. It doesn't matter how much I make, he'll chomp on them until they disappear. It's that good. So I usually only make about a cup or two at a time.
I made about a cup for this post. Predictably, they were all gone by the time I uploaded these photos onto my hard drive.

Roasted Sweet and Spicy Chickpeas Recipe
Ingredients
1 cup cooked chickpeas
1 TB olive oil or canola oil
1 tsp gochujang (Korean red chili pepper paste) or sriracha
1 tsp agave nectar or honey
sea salt
Preheat oven to 375 degrees. Prepare a baking sheet or pan with parchment paper.
Rinse and drain chickpeas. Pat them dry. Stir together oil, gochujang, agave nectar, and a pinch of salt. In a large bowl, gently mix the chickpeas and the sauce until very well coated.
Spread them out on the prepared baking sheet. Try not to overcrowd them. Bake for about 25-27 minutes, until the chickpeas become golden brown. Shake the pan or toss the chickpeas about halfway through to ensure even baking.
Remove from heat. Add a sprinkle of sea salt if desired. Shake the pan. Enjoy!
Cook's Note*: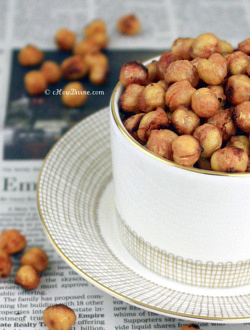 The longer you bake, the thicker and crunchier the "shell" of the garbanzo bean gets. If you prefer the beans on the slightly softer side, bake for about 22-23 minutes.
Gochujang usually has gluten in it. If you want a gluten-free version, use a gluten-free sriracha.
You can brush the beans with additional sauce with about 5 minutes of baking left for extra flavor if desired. You can also dredge the beans in the sauce after baking, kind of like buffalo wings preparation. But keep in mind, it will result in messy hands!
Gomo