Prosciutto Kimchi Fried Rice
Kimchi fried rice is one of the most popular Korean dishes. It also is one of the easiest dishes to whip up, which is the reason why it is so popular as a midnight snack.
I had my share of kimchi fried rice as a college student in Northern California. After a night out or during an all-nighter studying for the finals, it was the perfect meal or snack. It also had the benefit of being cheap – important for a starving student!
You can make it as bare or as complicated as you want. If your refrigerator is almost empty and the only thing you have in there is cabbage kimchi, you can make a very simple variation with just kimchi and rice. Stir fry kimchi in a little bit of oil and add rice. If you happen to have any salty, smoked, or cured meats, just chop them up and sauté for an extra bit of flavor. I usually make it with bacon or pancetta, whichever I have on hand; but I used to get creative in college, even making it once with Oscar Meyer cold cuts! Good days. 🙂
We saw "The Book of Mormon" last weekend. It was THE funniest musical I've ever seen. If you are living in or are visiting NYC, I highly recommend that you see it. Anyhow. When we got home, we were both craving a midnight snack. Kimchi fried rice perfectly fit the bill. I didn't have any bacon or pancetta on hand; but I did have some prosciutto in the fridge. So I decided to make some prosciutto kimchi fried rice. Can I just tell you how delicious it was? It was absolutely delectable!
Enjoy it with a pale ale or a dry white wine. If you are having it with beer, don't forget to put you beer mug/glass/chalice in the freezer for about 30 minutes to an hour before serving! In my opinion, a frosty drinking receptacle is a must for a pale ale.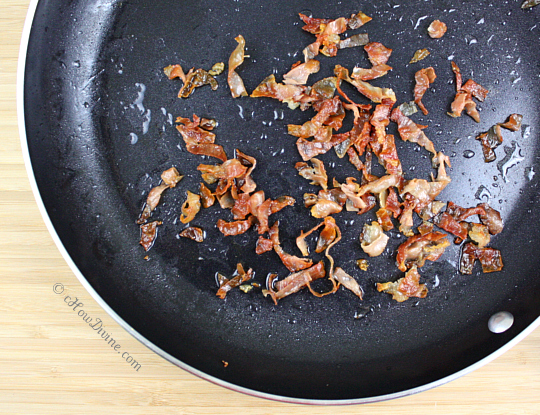 An amazing musical. Best seats in the house. Absolutely delicious midnight snack. It was a perfect night!
Prosciutto Kimchi Fried Rice Recipe
Makes 4 servings (or 2 servings for hungry people!)
Ingredients
1 1/2 cups napa cabbage kimchi, drained and sliced
1-2 TB gochujang (Korean red chili pepper paste)
3 slices prosciutto*, chopped
dab (< 1 TB) butter 3-4 cups of cooked/cold/day-old rice canola or peanut oil scallion, chopped for garnish eggs (1 per person): optional salt & pepper *Note: Bacon, pancetta, Canadian bacon/ham, or other types of hams can be substituted for prosciutto. You can get creative with this dish!
Chop prosciutto into small pieces. Heat a non-stick or a cast iron pan on medium-high heat. Add a little bit of oil (~ 1 tsp, just enough to get things started). Once the pan is hot, add the chopped prosciutto and some fresh black pepper to the pan (I add the black pepper to mitigate the odor/taste of prosciutto that doesn't fit the palate of some Koreans). Sauté until crispy. This should happen very quickly. Remove from pan and set aside.
In the same pan, melt a dab of butter and sauté the drained kimchi. Sauté for a few minutes (until transluscent). Add gochujang. Mix well to ensure that the gochujang is well distributed. Once the gochujang is mixed in, immediatey add the rice. Gochujang has a tendency to burn; so, make sure to add the rice immediately. Add back the prosciutto. Mix well.
Once well combined, thinly spread out the contents. Let it "toast" until the rice starts to turn golden brown and slightly crispy. Mix well.
If you choose to add eggs to your fried rice, pan-fry one egg per person. The egg should be cooked sunny-side up or over-easy depending on your preference. Don't forget to add a dash of salt and pepper.
Divide up the rice among 2-4 plates. Sprinkle with chopped scallions and top with a pan-fried egg. Serve while hot. The creaminess of the egg yolk and the salty/spiciness of the prosciutto-kimchi fried rice are divine together.