Mixed Vegetables and Beef Bibimbap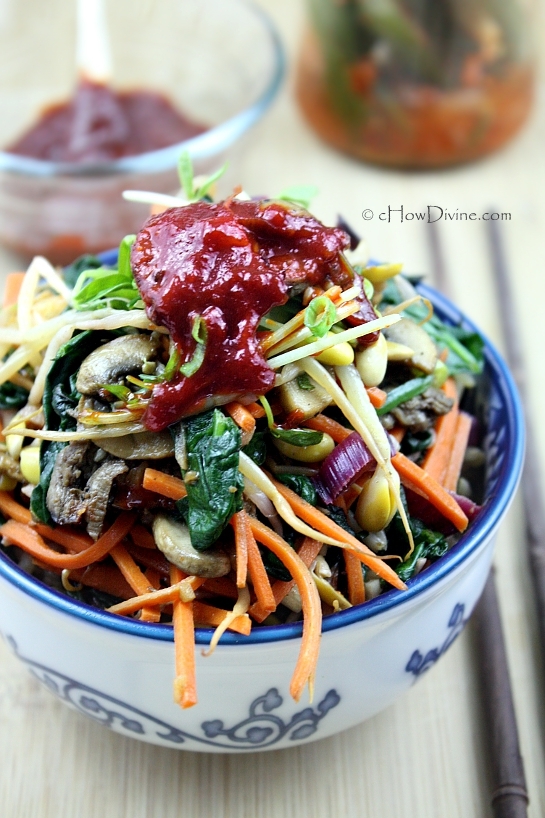 I wasn't kidding when I said I love rice bowls. There are so many possible variations that my taste buds never tire of them. As much as I love bibimbap, it's somewhat ironic that I rarely make the traditional bibimbap. It's probably because it's more labor intensive than the variations that I often make.
This easy peasy bibimbap is one variation I make often. I don't have to have different pots and pans going to prepare each of the toppings. Only one skillet is needed for this dish. Less dishes at the end of a meal is always a positive in my book. And unless you have the time and the energy to make a bibimbap sauce, you can just use the store-bought gochujang right on the bibimbap. I know I've said this before. But really. Commercial gochujang is already sweetened and flavored. It's pretty good right out of the container. I, however, like to add a little bit of water to dilute it to decrease the sodium content.
This easy peasy bibimbap is also adaptable depending on what you have on hand. You can use mung bean sprouts instead of soybean sprouts. You can use spinach or other greens instead of swiss chard. You can use shiitake or other types of mushrooms instead of button mushrooms. Additionally, if you are a vegetarian, omit the beef and use a sunny-side up egg instead. If you are vegan use, walnut pieces instead.
On a side note, I will be taking a vacation of sorts from everything over the holidays. I will still post, but not as regularly. If you want to receive an email newsletter when I post a new recipe, sign up via the button on the left sidebar or here.
Mixed Vegetables and Beef Bibimbap Recipe
Serves 2 people
Ingredients
3 cups steamed rice (used wild and brown rice)
1 medium carrot, cut into matchsticks
1 heaping cup kongnamul (soybean sprouts)
3-4 leaves swiss chard, sliced thinly
4-5 button mushrooms, sliced thinly
4 oz. tenderloin or sirloin steak (beef), sliced thinly
3-4 garlic cloves, minced
1 TB tamari
1 tsp agave nectar or honey
toasted sesame seeds and oil
gochujang
salt and pepper
neutral oil for cooking
Heat a skillet over moderately-high heat. Add enough oil to coat the bottom of the skillet. Add 1/2 of the garlic. Once the garlic starts to bubble in the oil, add the carrots. Add a pinch of salt and pepper. Stir. Then add the kongnamul. Sauté for about 2-3 minutes. Add the swiss chard and stir. Once the swiss chard becomes bright green, but the stem is still crisp-tender, remove from heat. Add a pinch of salt and pepper. Stir and set aside on a plate.
Wipe the skillet clean. Heat the skillet over high heat. Add enough oil to cover the bottom of the pan. Add rest of the garlic, mushroom, and beef. Stir until beef is almost cooked through. Add the tamari, agave nectar or honey, and 1/2 tsp toasted sesame oil. Mix well until the tamari is absorbed into the beef and mushrooms. Remove from heat. Add black pepper and stir.
Divide the rice, the vegetables, and beef between 2 bowls. Add gochujang* to each bowl. Start with 1 TB per bowl and add more if necessary. Serve immediately while hot.
Cook's Note*
If you are watching your sodium intake, dilute the gochujang with a little bit of water. Add about 1 – 1 1/2 TB of water to 3 TB of gochujang.
If you want a very simple seasoned gochujang, stir together 3 TB of gochujang, 1 TB of water, 1-2 tsp of dark sesame oil, and 1-2 tsp of agave nectar or honey. Vinegar is traditionally not used for bibimbap, unlike the sauce for bibimguksu (mixed noodles).
For a vegetarian option, add an over-easy or a sunny-side up egg in lieu of the sliced beef. For a vegan option, add walnut or cashew pieces in lieu of the sliced beef. And of course, a fried egg can be added in addition to the beef.