How to Keep Guacamole from Turning Brown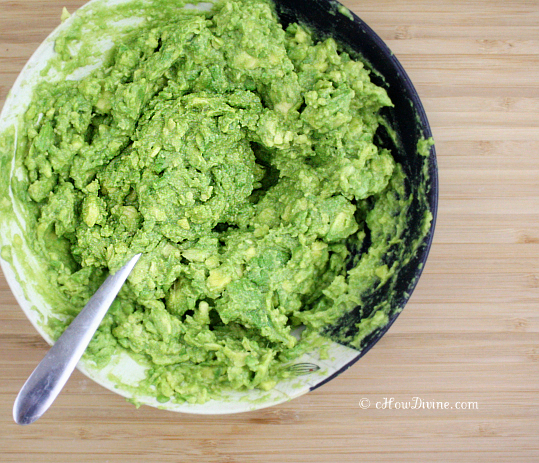 The darkening of the guacamole or avocado is due to the process of oxidation – reaction with oxygen in the air. The skin of the fruit, whether apples or avocados, provides protection from this process until it's broken.
Before I go on, I will start off by saying that I was a chemistry major in college. So I find things like this quite fun. Yes fun. I am a major nerd. So if you want to skip over the next few paragraphs and right into the instructions, I will not be offended; it's because you are probably much cooler than I am. And believe me, that wasn't an attempt at self-deprecation or sarcasm. It's highly likely a statement of fact. 😛
I will be very brief. But I believe that a basic understanding of the process comes in handy. And knowing WHY you are doing what you are doing will help you do it correctly.
The change in color occurs through a process called enzymatic browning. Polyphenol oxidase, which is present in avocados as well as other fruits/plants, is an enzyme that catalyzes this process. When Polyphenol oxidase is exposed to air, it combines with the oxygen and catalyzes the oxidation of phenolic substrates (phenols that the enzyme acts upon) endogenous in avocados into quinones, which undergoes further polymerization reactions to yield melanin. And melanin is the cause of this dark color.
So, in order to retard or slow down this process we need to restrict the amount of oxygen from the exposed flesh of the fruit. But remember, once this reaction starts or is in motion, subsequent reactions occur spontaneously – meaning deprivation of oxygen will not halt it. Thus, it's important to implement measures to prevent browning soon after the guacamole is prepared – or more importantly once the avocado skin is broken (meaning that you should not leave cut or mashed avocados sitting around too long exposed to air).
Another way to retard oxidation is to add lime/lemon juice to the guacamole. Enzymatic browning occurs between the pH of 5-7 (don't hold me to the exact number) in warmer temperatures (not freezing). So it is the citric acid in the juice that retards the enzymatic activity of the polyphenol oxidase by lowering the pH. This is the reason why people add lemon juice to avocados and often times apples to keep them from browning.
This is a very basic, short and simple explanation. I will not go further into this, since I can already feel your eyes glazing over. So the best thing to do in order to keep your guacamole green is to do both – restrict air exposure and lower the pH by adding lime/lemon juice.
I've kept mine in the refrigerator, in an airtight container with some lime juice, for five days. It was still perfectly green! I – in no way – recommend this. So do not attempt it at home! I just wanted to see if it turned dark (or if anything grew). I used to love watching things progress – especially in a petri dish – when I was young. I probably still do.
Try to eat it within a couple of days – EVEN IF you can keep it longer. Avocados, especially organic ones, are expensive. You don't want to waste them!
Added 5/1/2012. I thought the following would be implicit in this post. But maybe they are not. So at the risk of being way too obvious, here are the assumptions I've made. First, I'm assuming you will not be consuming the guacamole within a few hours and that you want to store it for at least a day. Second, you don't own a vacuum sealer. If you did, you don't need to bother with anything else. Suck out the air, and you are done. Third, your aim is to keep it GREEN if possible – not greenish with brownish spots on top – although there is no foolproof method. Wow. I feel like I'm publishing a research paper, laying out my assumptions and limitations!
Keep in mind that although there are different means, the aim is the same: to restrict air exposure and lower the pH.
HOW TO KEEP GUACAMOLE FROM TURNING BROWN
In order to keep your guacamole from turning brown, you would need to suffocate the air out of it (so to speak) to restrict exposure to air. Transfer the portion of guacamole that you will not consume immediately to an air-tight container. Glass/Pyrex-type of container with a locking lid is best. Don't just plop it in there – fluffy with air. Try to really pack it in there. If you look in the image below, you will not see any big air bubbles on the side.

Squirt some lemon or lime juice on top. Just in case it wasn't clear: just a squirt people! Your guacamole will likely already have some lime or lemon juice in it. This extra squirt is meant only for the surface on top that may come in contact with air. Pour any excess juice out or dab it off. Cut a square of saran wrap that will cover the entire surface of the guacamole on top. Place the saran wrap on the top surface of the guacamole. Try to get it as taut as possible, pushing out any air bubbles. Alternatively, you can add a layer of sour cream or bean dip instead of saran wrap. It works in the same manner. This is the reason why in a layered dip, guacamole is never on top.


Although I used a bigger container in the images, you should use an air-tight container that JUST fits the guacamole. You want the lid to just touch the saran wrap pushing down on the guacamole and squishing out any air that is present on top. This is the reason why stores that sell fresh guacamole has it packed all the way to the top. (But even if you don't, it works. You just have to be more mindful about packing it in and covering it with saran wrap.) I apologize in advance for stating the obvious; but refrigerate this portion you want to store immediately.

The image below was taken about a day and half after preparation – not a speck of brown.
* On a side note, leaving the pit in the guacamole ONLY helps insofar as it decreases the surface area that is exposed to air. The surface area of the guacamole that is covered by the pit will stay green, but not much else. So if you want to leave it in as a decorative measure, go ahead. But it will do very little in keeping the exposed areas of the guacamole green unless you will be consuming it within a few hours. Your guac should stay green (pit or no pit) for a few hours due to the lime juice that is likely in your recipe, provided it was added before the oxidation reaction (quinone formation) began.