Sweet Potato and "Un-Fried" Bean Tacos

I love Mexican food. I partly "blame" or "credit" this affinity to my aunt. My aunt was a big part of my life growing up. And we spent a lot of time together when I was little.
When she became pregnant with her first child, the only dish she craved for a short period was rice and beans. I'm not kidding you. The only craving of this pregnant Korean woman was rice and beans. And she would take me along to various Mexican restaurants. It was at this time I realized how much I LOVED Mexican food. And not unlike my aunt, I am crazy about refried beans. I love everything about it: the creaminess, the slight saltiness, the richness … Yum.
Over the years, my love for Mexican food intersected and fused with my love of Asian food.
Although it's not traditional, I've been enjoying my creamy beans with a little bit of Asian ingredient sprinkled in. I usually use black beans – sometimes out of the can, sometimes cooked from dried beans. I've always been partial to them. But you can use pinto beans as well. As part of the seasoning, I use gluten-free soy sauce and dijon mustard. I know. It sounds very unconventional. But you should really give it a try. Through my kitchen experimentation, I found that soy sauce and dijon mustard or balsamic vinegar go really well together when cooked (heated to boiling or near boiling). It's purely anecdotal, of course. I'm not a trained cook or chef, but I do know what tastes good – to me (my family & friends included), at least.
It's so easy to make. And it doesn't take much to make them taste great. The sweetness of the sweet potatoes and the saltiness of the beans complement and balance each other so nicely that not much else is needed. I just eat these "tacos" with squirts of hot sauce. I currently have two HUGE bottles of Frank's RedHot. So that's what I use. And when I have some guacamole or queso fresco (chèvre for me), I use them. But they're not really necessary for these to taste delicious. They are delicious just in their simple, creamy glory.
They make a very attractive appetizer for a get together. Or you can serve them as a healthy main dish.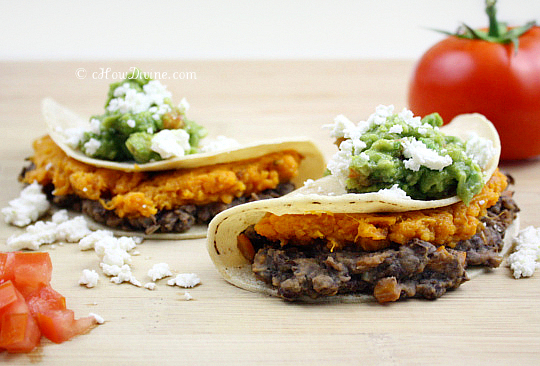 These tacos have become a staple in our home. We have this dish, at the very least, on a bi-weekly basis. It's so easy to make, so healthy for you, and so very delicious.
Added 5/7/2012: Wow! The Huffington Post featured two of cHow Divine's recipes – Bulgogi Kimchi Tacos and Filet Mignon with Sautéed Kimchi – in their "6 Foods Begging To Be Topped With Kimchi!" So excited. Thank you!
Sweet Potato and "Un-Fried" Bean Tacos Recipe
Makes 6-8 small tacos
Ingredients
1 can, 15-oz. pinto or black beans
1 clove garlic, minced
1/3 cup onion, finely chopped
1/4 cup red bell pepper, finely chopped
1 TB low-sodium tamari (gluten-free soy sauce)
1 TB dijon mustard
water as needed, 2-3 TB + 1 TB at a time
1/4 tsp cumin
1/4 tsp cayenne
2 medium-sized sweet potatoes, baked until very soft*
gluten-free corn tortillas
salt to taste
canola oil for the pan
hot sauce: optional
*Note: For this recipe, the sweet potatoes should be baked until it's very soft and the sugars start to caramelize. I bake them for a little over an hour at 400-425 degrees. If you under-cook or bake until just soft, the potatoes will not be as sweet. Give the chance for the sugars from the sweet potatoes to start oozing a bit and caramelize. You want them to be as naturally sweet as possible without having to add any sweeteners.
Rinse and drain the beans. Mash the beans using a masher or a fork until smooth. In a separate bowl, peel and mash the cooked sweet potatoes. Cover the mashed sweet potatoes and keep them warm.

Heat a pan on medium heat. Add just enough oil to coat the bottom of the pan. Add minced garlic and chopped onions to the pan. Saute until the onions are almost translucent. Add chopped bell peppers to the pan and saute until the onions are translucent and bell peppers are soft. Add a pinch of salt and stir. Add the mashed beans to the pan and 2-3 TB of water. Stir until heated through. Add tamari, dijon mustard, cumin, and cayenne. Add additional water to thin it out as necessary if the beans become too dry. The texture should be smooth and creamy. Mix well. If necessary, salt to taste.

Push the beans to the side and add mashed sweet potatoes to the pan. Lower the heat to very low. This is just to keep them warm while you heat the tortilla. You can add a tablespoon or two of water to keep them moist. One by one, dunk or moisten the corn tortillas in water and warm on a non-stick pan. Once heated, wrap them in a towel to keep them moist and warm, or assemble the tacos immediately.

Wrap equal amounts (or different ratio of your choice) of beans and sweet potatoes in a warmed corned tortilla. Squirt some hot sauce and enjoy! Or you can serve with other condiments of your choice!