Bulgogi with Wilted Spinach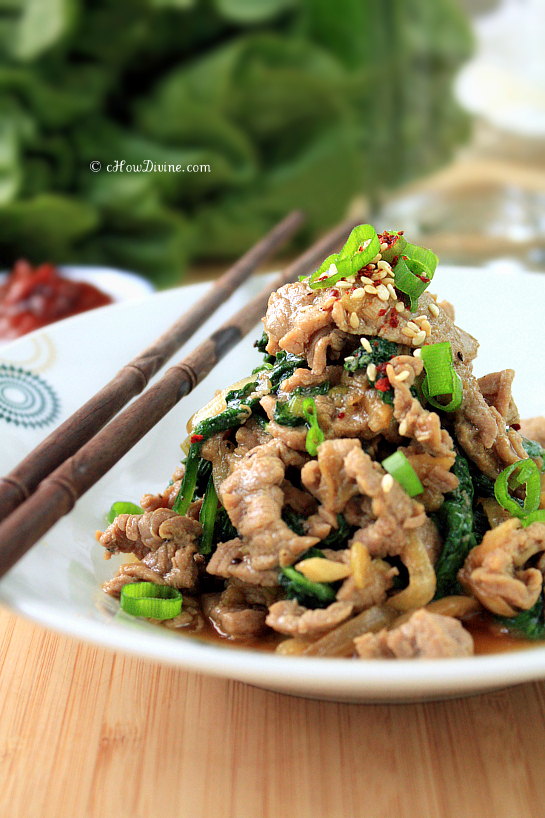 I decided to cook some red meat this week. I'm one of those people who need some animal protein – red meat in particular – to feel "all-there." My body just doesn't seem to absorb iron from plants efficiently. Whatever the reason, I get horribly iron-deficient. Dark under-eye circles. Fatigue. Headaches. Muscle aches. A whole gamut of symptoms I won't bore you with. I just eat a little of red meat once a week for a few weeks. And voilà. Symptoms gone.
To ease the symptoms, I made some bulgogi with wilted spinach this week. I felt bad, because my husband is on a strict eating program for the next two months for his psoriasis. I knew he wouldn't be able to resist taking a nibble or two… or ten. So I tried to make it as lean and healthy as possible. For starters, I decided to add some spinach. And I bought grass-fed beef since it is much higher in beneficial omega-3 fats than its grain-fed counterpart. Additionally, I bought the leanest cut the butcher had available – the eye round. The butcher warned me when I got it that "it will turn tough as leather if [I didn't] eat it pretty rare or braised." I know. 🙂 I've made bulgogi with this cut plenty of times. No worries.
You just have to make sure that the meat is cut as thin as possible against the grain. Partially freezing the meat goes a long way in achieving a paper-thin cut. Additionally, I add a small amount of kiwi to the marinade. Kiwi is rich in a protein-dissolving enzyme called actinidin, which helps tenderize the meat.
I make bulgogi often, because it's one of my favorite beef dishes. And there is a lot of flexibility with bulgogi. You can use just about any cut of meat you want: rib eye, tenderloin, new york strip, sirloin, eye round, etc. I'm partial to tenderloin, but if I want a very lean cut of meat, I go for eye round. As long as it's prepared correctly, eye round makes a perfectly tender bulgogi. You can see that in the photos. And that's no photo trickery! 😀
Bulgogi with Wilted Spinach Recipe
Makes 4 servings
Ingredients
1 pound eye round, very thinly sliced
1/4 cups tamari (gluten-free soy sauce)
1 TB sesame oil
1/2 onion, thinly sliced
3 large cloves garlic, finely minced
2-3 TB agave nectar, honey, or sugar
1 TB mirin
1/4 tsp black pepper
1/2 kiwi fruit, blended or processed until liquified
spinach
canola oil for cooking
Place the beef in the freezer for about 1-2 hours until the beef is partially frozen. Once partially frozen, slice the beef against the grain as thin as possible.
Add tamari, sesame oil, minced garlic, agave nectar (honey or sugar), mirin, and pepper into a bowl. Mix well. Add the blended kiwi to the mixture. Mix well.
Add the thinly-sliced beef into a large mixing bowl. Pour the prepared marinade from step 2 over the beef. Mix well using your hands to massage the meat. Add sliced onion to the meat. Mix. Cover tightly. Marinate for at least 1 hour (up to 12 hours) in the refrigerator.
Heat a pan or a skillet on moderately high heat. Add just enough oil to coat the pan/skillet. 1-2 tsp of oil will do. Add the marinated beef to the pan/skillet and stir-fry. Don't overcrowd the pan. Cook in batches if necessary. On moderately high heat, the meat should cook very quickly within a minute or two.
Once the beef is cooked through, add a BIG handful of spinach into the pan. Stir quickly. Remove from heat. The spinch will wilt from the heat of the pan. Garnish with chopped scallions and/or toasted sesame seeds if desired. Serve hot with rice.
Cook's Note
You don't want to completely freeze the meat. If you do, you will end up with a powdery mess when attempting to get a super-thin slice.
Do NOT marinate this more than the recommended time. You probably can get away with refrigerating it for a day, but it will turn into a GRAINY MUSH if you leave it longer. I did a little experiment and left it for about 3 days in the fridge. Wow. It turned into a grainy mess. You may not see it when it's raw. But when you try to cook it, it will just break down into mush. Kiwi is very effective in dissolving proteins!
If you are using a tender cut of meat, like rib eye or tenderloin, do NOT use kiwi.
For this dish, you are NOT trying to brown the meat. Cook it until it's JUST cooked through. You will end up drying out the beef due to the lean cut and the thinness of the beef. There will be some broth that will form in your pan. That is fine. That broth is delicious when poured over rice.