Australia: More than Outback and Yellow Tail
When I (and many Americans) think of Australian food and wine, two things come straight to mind: Outback Steakhouse and Yellow Tail wine. Wonderful, both. But not exactly the paragons of culinary excellence.
I recently attended a luncheon sponsored by Tourism Australia and had the chance to sample some delectable dishes and wines from the country. Barramundi (fish native to the region), Oysters "Kilpatrick" (image below), and even Asian-influenced dishes like Steamed Buns with Wild Mushrooms were among the dishes served during the occasion.
I was floored. Who knew about the breadth, the quality, the sophistication of Australian food and wine? Combine that with fabulous weather, pristine nature, and the relaxed cheerfulness of Australians in general and you've got a winning combination. And what's most intriguing, I learned, is where Australians stand on the organic, locally grown, farm-to-table trend proliferating in this country. We Americans feel like we've cornered the market on this, that we're the innovators. But what constitutes a trend in the U.S. is simply the norm in Australia. Taking local ingredients and products and then creating simple yet creative dishes is simply the way Aussies eat (along with a beer/wine and a smile). And given the bounty of Australian nature, we shouldn't find this surprising.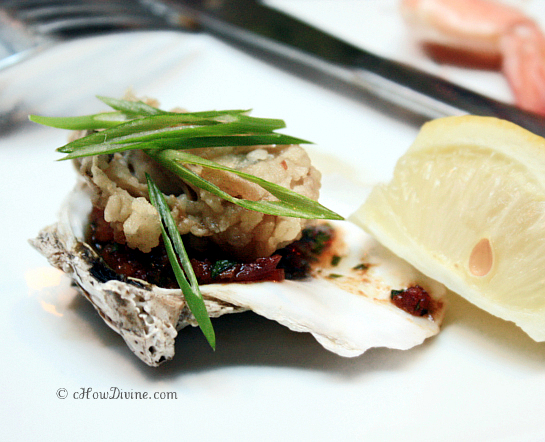 I learned that no matter where you go in Australia, you'll find this love of fresh, local food and wine. In cities like Sydney and Melbourne, you'll find world-class restaurants with some of the most innovative, creative chefs anywhere in the world. Cruise to Western Australia and you'll find local chefs absorbing the culture and food of aborigines to create cutting-edge local fare. Head to the world-famous beaches of New South and South Australia and you'll experience the joys of dining al fresco, likely right on the beach, perhaps on a meal caught that day, right out of the ocean, or harvested from a local farm. And if you want natural? Head to Tasmania, proven to have the world's cleanest air and water.
Just imagine how fresh and vibrant the food scene must be in the region. And the beauty of Australian fare is that it's one of the world's melting pots. Want superb Asian and South Asian food? Australia's proximity to the continent brings the brightest culinary talent of Asia to its shores. And from those in the know – i.e., indigenous Asians – the best Chinese and South Asian food outside of China and South Asia is in, well, Australia. Care for Middle Eastern/Mediterranean? You'll find some of the best in Australia too. And of course, if you want a rare steak or shrimp on a "barbie," well, where better than Australia?
And let's not forget about the wine. This is not your father's Yellow Tail. Australia's winemakers are embracing regionality and quality, with a focus on the potential of each region. They're passionate about the right locations, with the right dirt and weather. The result: Australian winemakers are making a wider diversity of quality, award-winning wines.
To sum: The wonders of Australia's food and wine scene are rooted in individuality, locality, and simplicity. It's about exceptional local ingredients, fused with innovative chefs, to create culinary experiences that reflect the country's diverse mix of cultures. So if you want the experience of amazing food and world-class wine, combined with the wonders of nature, all in the company of good-natured Aussies, Australia is the place to go. I know that I will soon.