Easy Baked Chicken Breast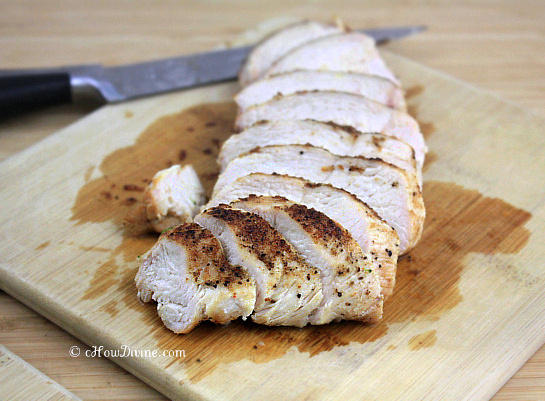 In many of my recipes, I call for baked chicken. Throw some in, I say, as if most people have baked chicken waiting for them in their fridge. Well, this is because I DO have baked chicken in my fridge at least a couple of days out of the week. Still, it's wrong of me to assume that you do too. So here is a very easy baked chicken recipe. Now you too can have baked chicken lying around in your fridge. 😉
I'm always running late or running out of time it seems. It would be so much easier to eat out every night. But a few years ago, when I first moved to New York, I ate out every single meal for a whole month. No exaggeration. Every. Single. Meal. Let me tell you, I felt like crap. And because so many restaurants use similar methods to make their dishes taste "better," all of my meals started to taste oddly similar. From that point on, I decided (or try) to eat at home at least 4-5 times a week. I don't always succeed, but I do OK most of the time.
I'm able to do OK, because I always have something I can just heat up or quickly throw together. With leftover baked chicken breasts, you can make delicious stir-fries, fried rice, pasta, noodles, etc., with a good dose of healthy protein. Just slice or cube them, and throw them in whatever you are cooking.
Just make sure you don't overcook them. If you sear the chicken breasts first, they shouldn't take more than about 20 minutes to bake. They will be super juicy. Just look at the image below. They are wonderful just out of the oven (with sauce if you'd like), but surprisingly good even when reheated. When reheating, add about a tablespoon of mirin to the cubed or sliced chicken and mix. Let the mixture sit for a few minutes before you throw them into whatever you are cooking. This will rid the reheated chicken of any gamey taste/smell if any exists.
Easy Baked Chicken Breast Recipe
Ingredients
chicken breasts
salt
black pepper
onion powder
garlic powder
paprika*
canola or grapeseed oil
Preheat oven to 375 degrees. Mix two parts garlic powder to one part each salt, pepper, onion powder, and paprika. For 2 large chicken breasts, I use about 1 tsp garlic powder and 1/2 tsp each of everything else. Evenly sprinkle the chicken breasts with the seasoning mixture.
Heat a oven-safe pan/skillet on moderately high heat. Add about 1-2 TB spoon of oil to the pan. Once heated, place the chicken in the pan. Cook until golden brown on each side – about 3 minutes (no more!) on each side.
Transfer the pan to the oven. Bake in preheated oven, on the top rack (away from the heat source), for about 20 minutes, until the internal temperature of the chicken breast reaches 165 degrees and juices run clear.
Remove from heat. Allow the chicken breasts to sit for about 5 minutes to allow the juices to redistribute. Serve as desired. Store leftovers in an airtight container in the refrigerator.
Cook's Note*:
If I don't have some of the spices, I use Old Bay Seasoning. It's a good all-around seasoning for fish and chicken.
I don't use olive oil for this, because the smoke point is too low.
If I plan to make veggies or sauce for the chicken, I make it right on the pan that the chicken breasts were cooked in. The bits left on the pan really adds to the flavor of the veggies or the sauce.
As stated above, if you are reheating the chicken, mirin really does the trick in ridding it of any gamey smell/taste if any exists. Cut the chicken breast as you'd like, and add about a TB of mirin and a healthy dose of black pepper. Mix and allow the chicken to sit for a few minutes (can be as little as 3 minutes!) before reheating.