Roasted Yams and Carrots
Roasted Yams are one of my sister-in-law's specialties. She made them twice over the course of the week our families were together for Thanksgiving. Each time was delicious. They were kind of like Lay's potato chips: you couldn't just have one. I was nibbling on those tasty wedges over the course of the entire day.
I couldn't spend Christmas with my family. So I decided to make dishes that reminded me of our family get-togethers. Roasted yams was one of the side dishes I decided on. But I decided to add some carrots. I also added some honey and orange juice to the veggies to make them a bit sweeter and more festive.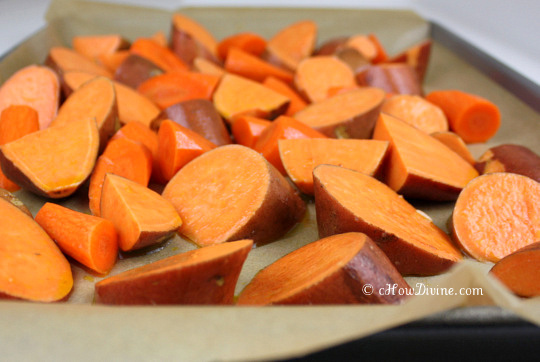 You should really try this delicious side dish. It is easy to make, healthy, and so comforting.
Roasted Yams and Carrots Recipe
Ingredients
3-4 medium yams
3 carrots
2 TB olive oil
1/2 tsp sea salt
1 TB fresh orange juice
1 TB honey
Preheat oven to 375 degrees. Scrub and cut potatoes into 1 1/2 -2 inch wedges. You can peel the skin or leave the skin intact. Peel and cut carrots into 1 1/2 – 2 inch cylinders or wedges.
In a large bowl, mix together yams, carrots, olive oil, sea salt, orange juice, and honey.
Line a large baking sheet with parchment paper. Spread yams and carrots in a single layer on the prepared baking sheet. Bake for 40-45 minutes until golden brown. You can toss the yams and carrot pieces half way through the roasting process to ensure even browning.
Remove from the oven and give it a good stir. Serve hot or at room temperature.