Dubu Jjigae (Tofu Soup)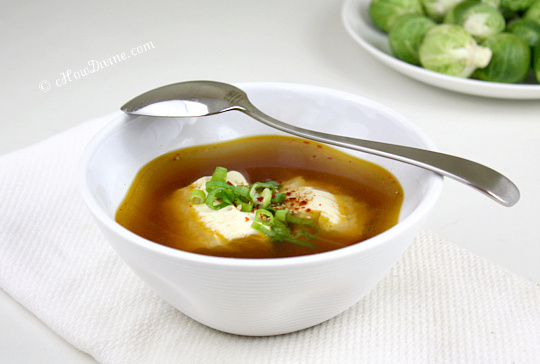 Seriously. I can eat tofu everyday for the entire month. It's such a versatile ingredient. There are so many possibilities that I know my palate won't get bored. Alas. Anything taken to an excess can't be good for you. Everything in moderation right?
BUT one more day of tofu won't hurt, no?
I was feeling extra lazy and really cold. I didn't have the energy to cook something elaborate, and a cold salad wouldn't have cut it. And that got me thinking… My mom used to make this very simple, yet comforting, tofu soup for us when she didn't have much time or ingredients on hand. Additionally, the ingredients for this soup consisted mostly of the same ingredients for the tofu dish from the night before. Fuss-free and satisfying. What more can you ask for?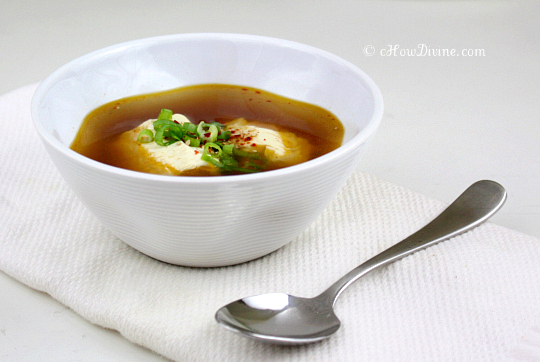 Unlike other tofu-containing Korean soups that are hearty and/or spicy, this tofu soup is very light and subtle in taste. It was just what I was craving.

Dubu Jjigae (Korean Tofu Soup) Recipe
Makes 4 servings as an appetizer or a side dish
Makes 2-4 servings as a main dish when served with rice
Ingredients
4-5 cups anchovy-dashima stock
15 or 16 oz tofu (silken tofu used)
2 TB tamari (gluten-free soy sauce)
1-2 tsp TOASTED sesame seed oil + more to finish
1/4 tsp gochugaru + more for garnish
1 garlic clove (finely minced)
mushrooms, sliced: optional
TOASTED sesame seeds
1 scallion, chopped into thin rings (separate white & green parts)
salt to taste
Heat anchovy-dashima stock until it comes to a boil. Add tofu, tamari, 1-2 tsp toasted sesame oil, 1/4 tsp gochugaru, white part of the scallion, and minced garlic. (When using silken tofu, I like to leave the tofu in big pieces that I carefully scoop out using a ladle when serving. It's up to you what type of tofu to use and how to slice it.) You can also add sliced mushrooms if you are using them.
Once the mixture comes to a boil, lower the heat and simmer for about 10-15 minutes to allow the flavors to come together.
Stir and add salt. Add 1/4 tsp at a time. Taste test. Add more salt to taste. Remove from heat. Divide the soup among 2-4 bowls and garnish with toasted (crushed) sesame seeds, chopped scallions (green part), gochugaru, and a short drizzle of toasted sesame oil. This extra shot of sesame oil makes a big difference in taste; so, don't neglect it. Serve immediately while hot.