Dubu Jorim (Soy-Braised Tofu)
I've been suffering from a meat and alcohol-induced walking coma since I got back from Missouri. The Missouri I experienced was sort of a meatopia with free-flowing wine. By no means am I a vegan nor do I abstain completely from imbibing. I eat meat and enjoy wine occasionally; but for the most part, I'm a vegan-leaning teetotaler. So needless to say, my body is in a bit of a shock.
So to give my body a break, I decided to make a bunch of vegan side dishes. Dubu jorim (soy-braised tofu) was on the top of my list, because my husband absolutely loves this dish. He really immersed himself in the meat-and-wine lifestyle while we were in Missouri; so he is due for a little vegan protein.
Dubu jorim is easy to make. And it's delicious hot, warm, cold, or at room temperature. If I have any left over, I eat it the next day – cold, right out of the fridge – with some steamed rice, kimchi, and a side of gochujang for extra heat; I'm a hardcore Korean that way!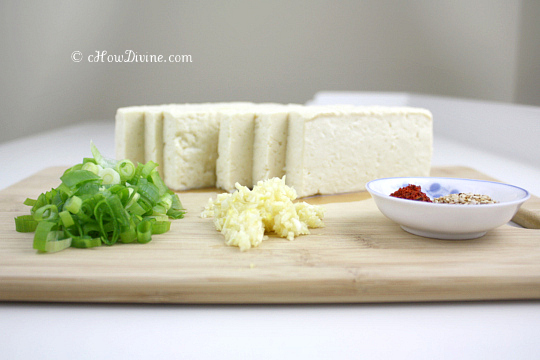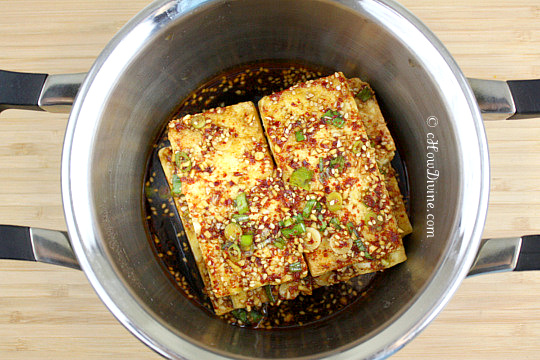 Dubu Jorim (Soy-Braised Tofu) Recipe
Ingredients
15 or 16 oz. tofu
3 TB tamari (gluten-free soy sauce)
2 TB water*
1 TB toasted sesame oil
1 clove garlic (finely minced)
2 scallions (chopped into thin rings)
1 1/2 tsp toasted sesame seeds + more for garnish/topping
1 1/2 tsp gohcugaru
canola oil
Note: Anchovy-dashima stock can be used in place of water for a non-vegan version of this dish.
Combine tamari, water, toasted sesame oil, garlic, half of the chopped scallion, and gochugaru. Set it aside.
Slice the tofu into thick (about 1/2 inch) pieces. Preheat a pan on medium-high heat. Once heated, add enough canola oil to coat the bottom of the pan. Add the sliced tofu to the pan and sear the tofu on both sides until golden brown.
Place the seared tofu in a pot or a pan with a lid. Evenly pour all of the sauce from step one over the seared tofu. If you are using a smaller pot like I did, do it in layers; place a layer of tofu, add a drizzle of the sauce, place another layer, add some more sauce, and so on.
Cover the pot and let it come to a boil. Lower the heat and let it simmer for 15-20 minutes.
Remove from heat. Arrange tofu on a plate. Pour any remaining sauce in the pot over the tofu. Top with remaining half of the chopped scallions and sesame seeds. Serve with steamed rice and some kimchi.