Oi Sangche (Seasoned Sliced Cucumbers)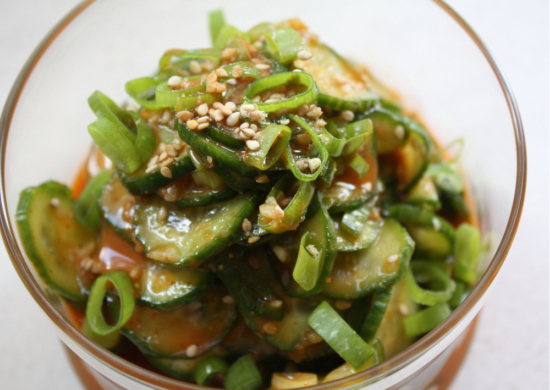 I grew up in a traditional Korean household where a "proper" Korean meal was served every night at dinner.  This consisted of a main dish, usually animal protein, and many side dishes, referred to as banchan.  One of my favorite banchan was Oi Sangche – seasoned sliced cucumbers.  Oi Sangche is also commonly referred to as Oi Moochim.  But my grandmother always called it Oi Sangche.  So Oi Sangche it is.
Things are quite different now.  There isn't enough time in a day to prepare a complete spread. I'm lucky if I can make a main dish, let alone any type of banchan. But if I do afford myself the luxury of a side dish, Oi Sangche is among my favorites – especially on a hot summery day.  It is sweet, tangy, and spicy.  And, mmm…  So crunchy. Think instant cucumber pickle.

The secret to the extra crunchiness comes from the extraction of water from the cucumbers. Additionally, if you don't extract/squeeze out the liquid, it WILL come out once you add the cucumbers to the seasoning. You know – Osmosis. Water will travel from a medium that is lower in solute concentration to one that is higher; in other words, water in the cucumber will move into the seasoning – the saltier medium. (Sorry, science nerd rears its head!) Cucumbers consist mostly of water. So that will not be pretty. The cucumber slices will be swimming in liquid. And it will dilute the seasoning/sauce.

Don't worry though. Cucumber slices will still have plenty of juice left over in them. And it will impart the most deliciously fresh flavor to the sauce.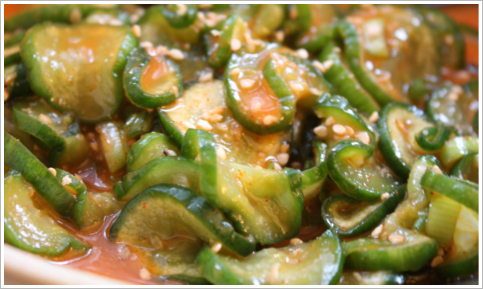 You can serve Oi Sangche with warm rice or any meat dish. You can also drizzle the sauce over rice. It's heavenly…
Oi Sangche (Seasoned Sliced Cucumbers)
Ingredients
1 tablespoon rice vinegar
2 teaspoons agave nectar or granulated sugar
2 tablespoon gochujang
1 teaspoon toasted sesame oil
6 Korean or Persian cucumbers (or other seedless variety), thinly sliced
1 green onion, sliced
1 teaspoon sesame seeds, toasted
Slice the cucumber thinly.  Place sliced cucumbers in a mixing bowl. Sprinkle 2 teaspoon of salt on the cucumbers and mix. Let it sit about 15 minutes. Water in the cucumbers will be drawn out by the salt in the mixture.
Once the cucumbers are pliable, rinse the mixture and drain the water. Just rinse it once. You want to rinse away the excess salt, but leave a bit of saltiness in the cucumber.
Once drained, squeeze out the water from the cucumbers using your hands. Cheese cloth or paper towels may help.
Mix vinegar, agave, gochujang, sesame oil, green onion, and sesame seeds in a bowl. Add the cucumbers from step 3.
Mix and chill for about 30 minutes. Garnish with extra green onion and toasted sesame seed if desired.