No-Cook Vegan Bibimbap

It's been so sweltering hot in NYC lately. I just can't bear to cook anything over a hot stove top. Hmm… I look in my fridge and see that I have carrots, leftover Oi Sangche, romaine, and avocado. And I always have my go-to Korean hot chili pepper paste, Gochujang, in the pantry. Same goes for cooked rice in my rice cooker – a reason you should really think about investing in one if you don't have one. Perfect for a simple Bibimbap.
I'm not a fan of complicated recipes with a list of 20 ingredients I've never heard of or will never use again. It's a fun read, but not really practical in execution. I try to make my cooking as simple as possible so that I am more likely to cook – instead of just thinking that I should. No-cook bibimbap is a perfect example. Not only is it easy, it's healthy. AND I am using up ingredients that may go bad in a few days. Simple and economical, it's my kind of dish.
This isn't the most traditional version of bibimbap tho. Traditional bibimbap – a simple meal if you've already prepped the vegetables – is time consuming if you have to start from scratch. And the prep involves a hot stove top. That is not an option in 90+ degree weather. In that same vein, this version also forgoes the sunny side up egg that always comes with the traditional bibimbap. Instead, a ripe avocado is used to achieve the creaminess. Seriously. It's really simple. Shred some carrots. Cut up some romaine lettuce leaves. Use up the leftover Oi Sangche (in my case) or slice up a cucumber. It's like making a simple salad with rice, and using seasoned Gochujang as your dressing.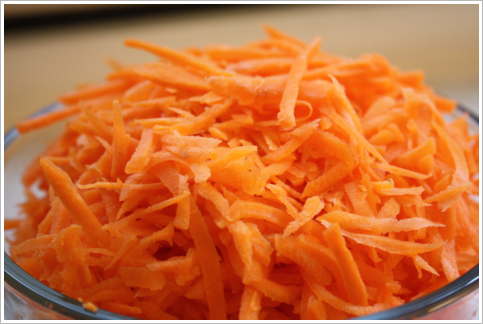 Simple and healthy Rice Bowl. Perfect meal for a hot summer day or just about any kind of day…
No-Cook Bibimbap
Makes 2 servings
Ingredients
1 avocado, cubed or mashed
1/2 cup carrots, shredded
1/3 cup Oi Sangche* or 1 Korean or Kirby cucumber, thinly sliced
5 outer leaves romaine lettuce
2 cups prepared/cooked brown rice
2 tablespoon (add more if desired) Seasoned Gochujang*
1 teaspoon toasted sesame oil
toasted sesame seeds
Place avocado, carrots, Oi Sangche (or thinly sliced cucumbers), shredded romaine, and Seasoned Gochujang on top of rice in a large bowl. (Start with 1 tablespoon of Seasoned Gochujang if your tolerance for spicy foods are low. Taste test and add more if desired.)
Add toasted sesame oil and crushed toasted sesame seeds on top.
Mix well. Serve immediately.
* Click on the hyperlink for simple recipe from my older post.