Gluten-Free Dark Chocolate Chunk and Walnut Banana Bread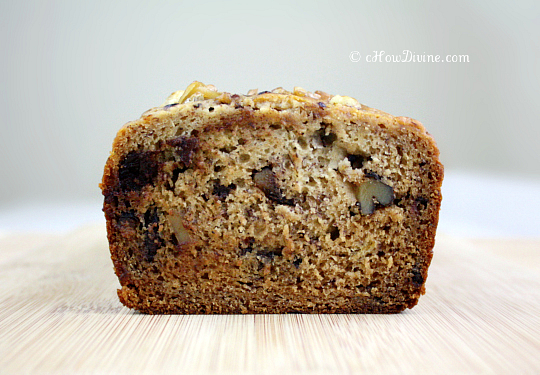 Banana bread is a staple in our household. It's like a food group all onto itself. I love the smell, the texture, the taste, and the versatility of the humble banana bread. I've made it in many different shapes and with many different stir-ins. But my favorite is the Dark Chocolate Chunk and Walnut Banana Bread.
I love dark chocolate. And I love nuts. I eat both EVERY single day. It's a safe bet you will find them in my pantry on any given day. And it's also a safe bet that one or both will end up in my baked goods. So it's only natural that this would be my favorite.
Not only that, it's a very simple recipe. No stand mixer – or any electric mixer – is required for this recipe. Just a little elbow grease is all you need.
It's also healthier than the traditional banana bread. The obvious benefits are less sugar and less fat. But dark chocolate (>70% cacao content) and walnuts have a whole host of benefits of their own. I'm sure you've read research upon research that shows dark chocolate is beneficial to the heart, your mood, and from more recent research, your waist line. An added benefit of adding dark chocolate is that you can decrease the amount of sweetener (sugar) used, because chocolate – even dark – adds sweetness to the bread. I'm actually going to try less sugar next time I bake this banana bread. It was plenty sweet even with 1/2 of the sugar compared to many traditional recipes. And I'm sure I don't have to expound the benefits of walnuts.
Lucky for us this banana bread has so many health benefits. My husband and I can eat the whole loaf in one sitting. We probably would if it just sat in front of us. That's why I usually wrap up half of the loaf very tightly with saran wrap and stick it in the fridge before we start digging in. I look forward to eating it later, because it is unbelievably good right out of the fridge. I may actually prefer it. It's so moist and the morsels just seem to melt in your mouth even when cold.
So delicious. I know I will be making it again soon. I'm just waiting for the bananas on my counter to ripen.

GF DARK CHOCOLATE CHUNK AND WALNUT BANANA BREAD RECIPE
Makes 1 loaf
Ingredients
2 cups gluten-free flour*
2 tsp baking powder
1 tsp baking soda
1/4 teaspoon ground cinnamon
1/2 teaspoon salt
1/4 cup sugar
1/4 cup agave nectar
2 large eggs, lightly beaten
1/3 cup canola oil
1/3 cup applesauce
3 very ripe bananas
1 tsp vanilla extract
1/2 – 2/3 cup walnuts, toasted and chopped
1/2 cup dark chocolate (>70%), chips or chopped
*Note: I used a brown rice (1 1/4 cup), sweet rice (1/2 cup), and tapioca (1/4 cup) flour blend of my own. Sweet rice flour and tapioca flour are useful in gluten-free baking, because they are good binders.
Directions
Preheat oven to 350 degrees. Prepare a loaf pan with parchment paper. I used a 8 1/2″ x 4 1/2″ pan. In a large bowl, sift or whisk together the dry ingredients, EXCEPT for the sugar: flour, baking powder, baking soda, cinnamon, and salt.
In another large bowl, add ripe bananas and mash well with a fork. Add sugar to the mashed bananas and mash the sugar into the bananas. Make sure that the bananas are as well blended into a puree, and there are no visible large lumps. The grittiness of the sugar should help the process along.
Add rest of the wet ingredients: agave nectar, eggs, canola oil, applesauce, and vanilla extract. Mix well. Stir in the dry ingredients from step 1 in 2 batches. Once the dry ingredients are incorporated, add the toasted nuts and dark chocolate chunks. Mix gently.
Pour the batter into a loaf pan. Fill only up to 1/2 of the pan.** Bake for 45 minutes to 1 hour, until a toothpick comes out clean. Cool for about 15 minutes in the pan. After 15 minutes, cool on a cooling rack. When cooled, but still slightly warm, wrap tightly in saran wrap. It's best if eaten a day after.

**If you have any left over batter, thinly spread the batter on a prepared cookie sheet or brownie pan. Bake for about 20 minutes for fun snack bars.