Bulgogi Ddukbokki (Non-Spicy Sautéed Korean Rice Cakes)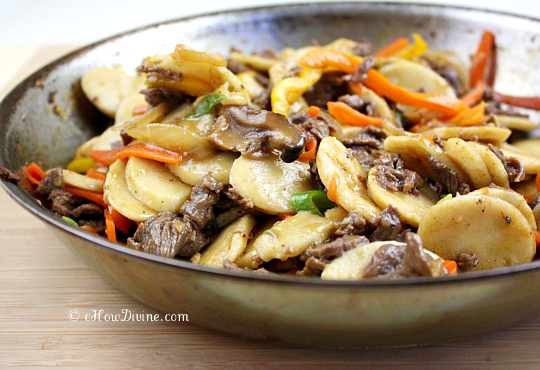 I'm not a huge meat eater. But I've been eating red meat more often lately.
I'm not crazy about cooking and handling raw meat. I'm a bit of a germaphobe. But more importantly, I really liked the idea of having a positive impact on the environment by curtailing my meat consumption.
I've also been aware for over a decade that I'm iron deficient, which is pretty common for women of child-bearing age. I thought I could get enough iron by eating greens, tofu, herbs, and multivitamins. I know of many women who are perfectly healthy leading a vegetarian or vegan lifestyle. So why not me?
But after a year of barely any red meat (or any meat for that matter), I was wrecked by constant fatigue, frequent headaches, dark circles under the eyes, among other symptoms. Apparently, I'm one of those people who need heme iron source (iron from meat) in their diet. Although I feel some guilt over my failure as a vegetarian/vegan, I feel a million times better physically.
Even now, I don't have beef that often – maybe once a week or so. And I try to stick to organic grass-fed beef. But when I do have it, bulgogi (grilled or sauteed marinated sliced beef) or galbi (grilled marinated ribs) is at the top of the list. Just the right amount of salty and sweet. Mmm… So delicious.
I also love ddukbokki (or tteokbokki, depending on who you ask). And bulgogi and ddukbokki together is just heavenly. The flavorful meat, the soft and chewy rice cakes, and the thick sauce that coats all of the ingredients are just three of many reasons to try this dish. It is also pretty easy to make. And the actual cooking time is very short due to the thinness of all of the ingredients that comprise the dish.
And the taste? Wow. It was even better than I expected.
Bulgogi Ddukbokki (Non-Spicy Sautéed Korean Rice Cakes) Recipe
Makes 4 servings
Ingredients
~ 1/2 lb beef (tenderloin or rib eye, partially frozen)
1/4 small onion, thinly sliced
1 lb dduk or tteok (Korean rice cakes)*
3 TB tamari (gluten-free soy sauce)
1 1/2 TB agave nectar, honey, or sugar
1 TB toasted sesame oil
2 cloves garlic, minced
2 green onions, chopped (separate white & green parts)
1/2 tsp black pepper
1/2+ cup water
3-5 shiitake or button mushrooms, sliced thinly
1/4 cup carrots, sliced very thinly
1/4 cup other vegetables (bell peppers, zucchini, etc), sliced very thinly
toasted sesame seeds
canola oil
salt to taste
*Note: I am using sliced dduk for this recipe instead of the tubular/cylindrical dduk, which is traditionally used in ddukbokki. They soften considerably quicker than the tubular ones – within a few minutes.
In a small bowl, stir together tamari, agave nectar or sugar, toasted sesame oil, minced garlic, white parts of green onion, and black pepper. Set the marinade aside.
Slice the beef very thin – close to paper thin. This will be much easier if the beef is partially frozen. The meat should be appear frozen, but give slightly when pushed with a finger. Add about 1/2 of the marinade from step 1 and sliced onions to the sliced beef. Marinate for about an hour. You can marinate in a ziploc bag for an easy cleanup.

While the beef is marinating, soak dduk in cold water for at least 20 minutes. Drain well. You can also prep the vegetables during this time.

Heat a pan over medium heat. Once heated, add just enough canola oil to coat the pan. Sauté the beef until JUST cooked. This should happen very quickly because of the thinness of the beef. Add mushrooms and sauté for about a minute. Add the carrots and other vegetables and sauté for about another minute or two.
Add about 1/2 cup of water to the leftover marinade. Add this diluted marinade and dduk (rice cakes) to the pan. Stir until the dduk softens, sauce thickens, and a shiny glaze covers the dduk. Don't overcook; the dduk will become mushy and release too much starch into the sauce. If the sauce becomes too thick, add more water to thin it out. Stir in the chopped green onions (the green parts) just before the heat is turned off. Sprinkle on some toasted sesame seeds and serve immediately while hot.