Caramelized Apple Slices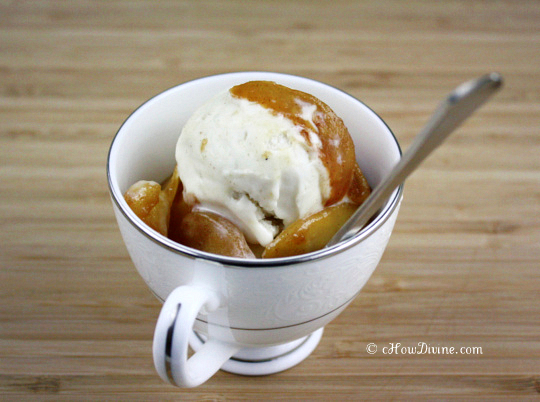 My husband always NEEDS to have something sweet. If I let him, he would finish a gallon of ice cream in a single sitting. Usually, I have to close the carton and put it away for him to stop. So I'm always looking for ways to reduce his intake of sweets or, at the very least, make healthier versions of them.
My caramelized apple slices are one of my attempts to "healthify" my husband's sweet tooth. No butter. No granulated sugar. But they taste so sweet, rich, and decadent. These caramelized apple slices are husband-friendly and kid-friendly. For adults, you can add liqueurs or liquors to spice up the flavor.
They are also super easy to make and versatile. You can use them as toppings on desserts, bake them into baked goods, use them as a part of a sandwich, eat them with slices of hard aged cheese, etc. The possibilities are endless! AND you can make these in under 15 minutes!
I simply top my husband's ice cream with a scoop of these apple slices. Not only do these apple slices decrease his ice cream consumption by replacing at least a third of the ice cream, they also provide him with a healthy dose of fiber.
It's healthy, and it tastes just like eating ice cream with apple pie. Just what I had in mind…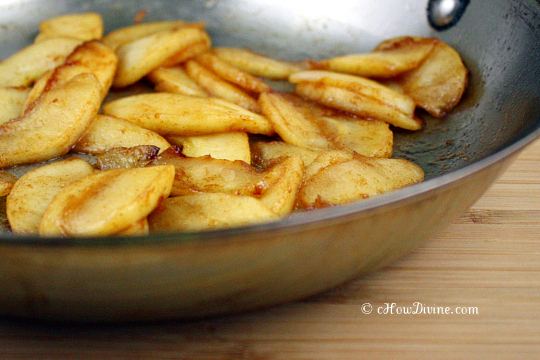 Caramelized Apple Slices Recipe
Ingredients
2 apples, peeled and cored
1 1/2 TB maple syrup (or sugar)
1/4 tsp cinnamon
1/2 cup apple juice/cider*
1 TB canola oil
*Note: In the spirit of Saint Patrick's Day, I substituted half of the apple juice with 1/4 cup of Irish beer – Smithwick's to be exact. However, it will NOT be gluten-free if you make the beer substitution. It was a delicious substitution nonetheless!
Slice apples thinly – 1/4 inch slices or thinner. Heat about a tablespoon of canola oil over medium heat. Swirl to coat pan evenly. Add sliced apples to the pan and sauté. When the apples start to soften (2-3 minutes), add maple syrup and cinnamon. Stir until the apples are softened, another 2-3 minutes.
Add apple juice or liquid of your choice and let it come to a boil. Stir until it reduces to a syrupy consistency, making sure to scrape all of the sugar stuck to the pan from the apples. Once syrupy, remove from heat.

Enjoy!