Ham, Cheddar, and Caramelized Apple Sandwich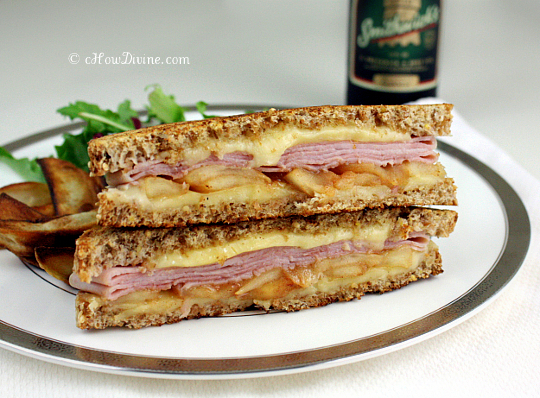 My mom declared ham, cheddar, and apple sandwich her favorite sandwich ever.
That's saying a lot. I grew up near Pasadena, arguably the cute café capital of Southern California. During my teenage years, my mom and I used to visit various cafés to partake in the atmosphere and gourmet sandwiches. It was our mother and daughter weekend routine. I felt so sophisticated sipping cappuccinos and nibbling on pretty sandwiches. Little did I know, my mom didn't really like the sandwiches. She just liked our time together.
I had no idea about her aversion to sandwiches until last Thanksgiving in Missouri. My husband and I took my mom to a little café called The Buzz my brother recommended. It was a really unassuming place – nudged in between a gas station and a hair salon. But when we walked in – whoa! – it was completely packed.
It was there that my mom disclosed her general aversion to sandwiches as she ate her ham, cheddar, and roasted apple sandwich. But it wasn't because she hated the sandwich. Au contraire mon cheri. It was because she loved it! She was shocked that she loved the sandwich – or any sandwich – so much. And the owner was such a darling. She came over to our table to apologize profusely for the wait and explained that she had a huge order to fulfill for lunch in addition to the crowd at the restaurant. Such friendly service! And good food to boot!
So for St. Patty's day, I decided to make a sandwich in the spirit of The Buzz's ham, cheddar, and roasted apple sandwich. Fortunately, Trader Joe's had Dubliner Irish cheese which can nicely be substituted for American cheddar. I was also happy that Dubliner Irish cheese comes from grass-fed cows. Healthy cows means healthy cheese, right? And I bought some Irish beer – Schmidick's, one of my husband's favorite beers – to put in my caramelized apples. I thought about getting Guinness, but it's too thick for my taste. I prefer not to have to chew my beers for it to go down! 🙂
The combination was a total success. I can't wait to make it for my mom next time I see her!
Ham, Cheddar, and Caramelized Apple Sandwich Recipe
Serves 2 people
Ingredients
2 apples, peeled and cored
1 TB canola oil
1 1/2 TB maple syrup or sugar
1/4 tsp cinnamon
1/4 cup apple juice
1/4 cup Irish beer
4 thick slices of cheddar (sandwich-size)
ham, 3-5 thin slices per sandwich
4 slices of bread
Slice apples thinly – 1/4 inch slices or thinner. Heat about a tablespoon of canola oil over medium heat. Swirl to coat pan evenly. Add sliced apples to the pan and sauté. When the apples start to soften (2-3 minutes), add maple syrup and cinnamon. Stir until the apples are softened, another 2-3 minutes.
Add apple juice and beer. Let it come to a boil. Stir until it reduces to a syrupy consistency, making sure to scrape all of the sugar stuck to the pan from the apples. Once syrupy, remove from heat. Set Aside.
Heat a clean pan on low-medium heat. Place two slices of bread on the pan. If you'd like, you can spread a dab of butter on one side of the bread; place the buttered side down. Add layer of cheddar, caramelized apples, ham, and another layer of cheddar, in that order. Top with another slice of bread. Press down with a wide spatula. Cover the pan with a lid with its vent open. Let it sit in the pan for about 4-5 minutes on one side until the bread is golden brown. Flip the sandwich. Press down again with a wide spatula. Put the lid back on with its vent open. Let it sit for another 4-5 minutes until the other side becomes golden brown and the cheese is melted. Remove the lid.

The bread should have nice crisp crust on the outside but still soft in the inside. Serve warm with a side salad or fries. If you have any caramelized apple slices left over, you should have them for dessert with some ice cream!