"Bulgogi" Tempeh with Sautéed Onions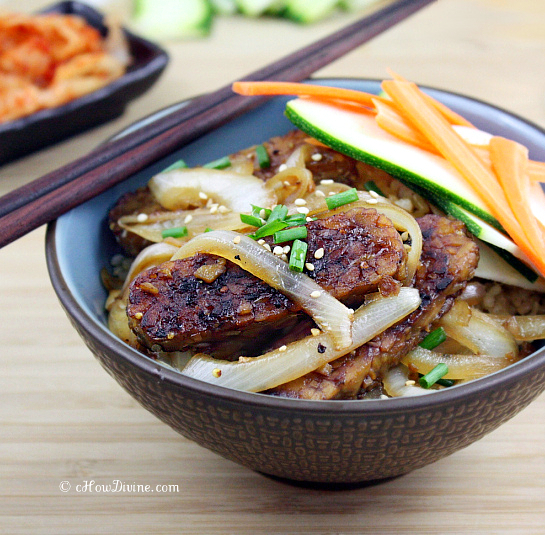 I indulged a little too much over the weekend. I don't know about you. But I can't say no to soft shell crab, especially the battered and fried ones dipped in aïoli. I can't pass up fresh sea urchin either – even if those yummy morsels come nestled in cheese smothered pasta. I'm terribly lactose intolerant and gluten-sensitive. Yes. This would be a problem. And who can pass up a prosecco bar? I can't. So I imbibed a bit.
So like a reasonable person, I planned to forgo dessert. But my plan was thwarted by a complimentary tray of desserts that came to our table. And I can't let any dessert go untouched. But not only did I "touch" them, I polished them off. To make matters worse, we got a bottle of champagne, a mini chocolate cake, AND a mini carrot cake on our way home. At the end of the night, nothing was left.
Clearly, I have issues with restraint. I know this. I'm nothing if not self-aware.
If any of you have any food sensitivities, you know what happens after you eat foods on "that" list. OUCH! Despite the fact that I took some digestive enzymes prior to my exercise in gluttony, it was a horrible, painful night. And Monday was definitely not a funday. I was basically useless for the day.
So I've been apologizing to my body this week by eating healthfully and drinking tons of water. And "Bulgogi" Tempeh with Sautéed Onions was one of the dishes I prepared this week. It is vegan, dairy-free, gluten-free, not too high in sodium, really tasty, and easy to make. And with its flavors of Korean barbecue, this dish is perfect for the tempeh newbie.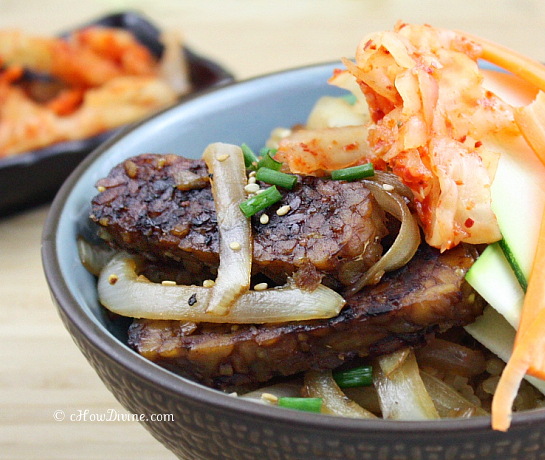 Make sure the tempeh is free of any gluten-containing ingredients if you need to stick to a strict gluten-free diet. Additionally, you can use low-sodium tamari if you are watching your sodium intake. You may need to add a pinch more salt if you choose to go that route.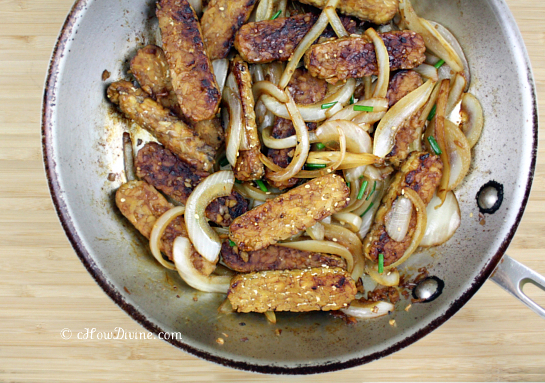 "Bulgogi" Tempeh with Sautéed Onions Recipe
Serves 2 people
Ingredients
8 oz. package tempeh, sliced into thin pieces
2 TB tamari (gluten-free soy sauce)
2 tsp toasted sesame seed oil
1 TB agave nectar (or honey)
1 TB mirin
1/2 onion, sliced thinly
1 clove garlic, minced
salt and pepper
Stir together tamari, toasted sesame oil, agave nectar, mirin, and 1/4 tsp black pepper. Reserve about 1 TB of the marinade. Set aside for later use. Place the tempeh on a plate. Pour rest of the marinade over the tempeh. Make sure the marinade has coated every piece by rotating/turning each piece. Refrigerate and allow the tempeh slices to marinate for 30 minutes – 1 hour.
Heat a pan over medium heat. Add about a tablespoon of oil into the pan. Add the tempeh slices to the pan. Do NOT discard the marinade left (if any) on the plate. LOWER the heat. Allow them to lightly brown. It should take about 3-4 minutes on each side. Remove from pan and place it back on to the plate. Set aside.
In the same pan (wipe it out with a paper towel if necessary), add just enough oil to coat the bottom of the pan. Add the minced garlic and heat over medium heat. Once the garlic becomes fragrant, add onion slices and sauté until they just start to soften. Add a pinch of salt. Don't wait until they become translucent. You still want a little bit of bite to them. Pour about 2 tsp of reserved marinade from step 1 to the onion slices. Stir until the sauce is absorbed.
Add the tempeh along with the marinade left over on the plate back into the pan. Pour rest of the reserved sauce to the pan and stir gently. Allow the mixture to heat through. Serve with steamed veggies and/or kimchi over steamed rice.