Vegetable Lo Mein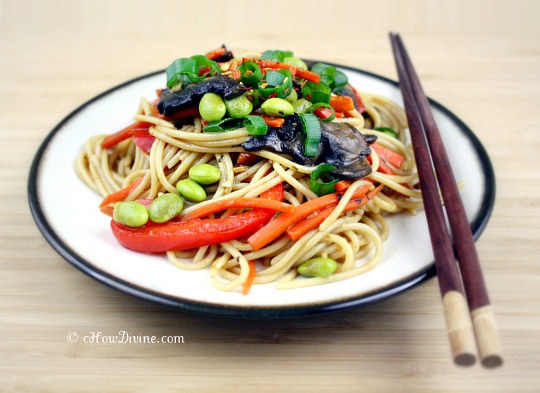 When I was living in Los Angeles, I use to frequent this tiny hole-in-the-wall restaurant where they served the most amazing vegetable lo mein. I have yet to find a place here in New York City that serves up lo mein that gets me as excited.
I'm still searching. In fact, we went to Chinatown to grab lunch today. Sure enough. Not it. But as my search continues, I make due by making my own lo mein at home. It's actually more than just making due. It's pretty damn good. My husband says it's much better than takeout; but my husband is TOTALLY partial. 🙂
I love the flexibility of a homemade lo mein. It's quite easy actually. You can use whatever proteins or veggies you have on hand. It's a nice way to use up your veggies and tidy up your refrigerator in the process. Go ahead, use up the carrots or broccoli that's been sitting in the refrigerator for a week! You know they will go bad in a few days. If you have any chicken left over from last night's dinner, chop it up and throw it in. You have tofu? Cut it into cubes. Pan-fry or saute them and throw them in. Even the sauce is adaptable.
It's so tasty and so much healthier than the – often greasy – restaurant version. And it's super easy to make.
Vegetable Lo Mein Recipe
Serves 2 people
Ingredients
2 large portobello mushroom caps, sliced thinly
1 large carrot, cut into matchsticks
1 medium red bell pepper, sliced thinly
1/2-2/3 cup edamame, cooked
3 garlic cloves, minced
1 scallion, chopped into thin rings
8 oz. rice spaghetti*
3 TB gluten-free hoisin sauce*
2 TB tamari (I used low-sodium tamari/soy sauce)*
1 TB toasted sesame seed oil
canola oil
salt & pepper
*Note: This is an adaptable recipe. If you do not have hoisin sauce, just replace it with oyster sauce or just increase the amount of soy sauce. However, add a little bit of starch (potato or corn) and some sweetener (agave nectar or sugar) if you are using only soy sauce. And of course, you can use other types of pasta – especially if you are not gluten-sensitive.
Cook pasta/noodles according to package directions. While the water is boiling/pasta is cooking, heat pan on medium-high heat. Add 1/2 of garlic and white part of scallion to oiled pan. Let it heat until fragrant, but don't let it burn. Add sliced mushrooms. Sauté mushrooms on high heat. Once lightly browned, add pinch of salt and 1 tsp soy sauce. Mix well. Set aside.
Wipe down pan if necessary. Heat pan on medium-high heat. Add rest of garlic & white part of scallion on oiled pan. Allow it to become fragrant. Add carrots. Sauté for about a minute. Add red bell pepper to pan, sauté until crisp tender – for about 2 minutes longer. Add back mushrooms and edamame. Mix well. Allow the mixture to heat through.
Add cooked pasta. Stir until well combined. Combine hoisin, tamari, and sesame oil. Add to pan. Stir until heated through. Add green parts of scallion at the last minute and stir well. Add salt and pepper to taste. Serve.