Gluten-Free Blueberry-Lemon Muffins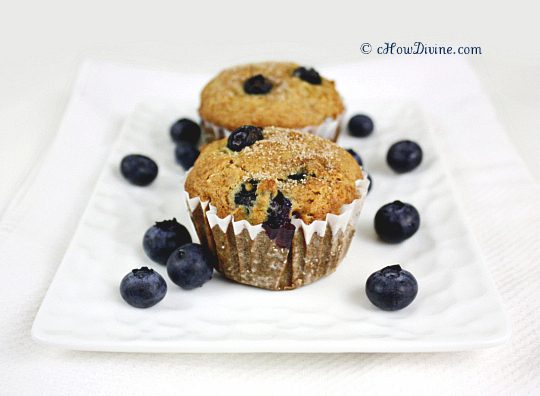 I've recently gotten into baking. And I've been experimenting a lot with different types of flour, fats, sweeteners, binders, etc. So far, this is what I've learned from my experimentation. They may seem very obvious to an experienced baker, but novel to a novice like me.
Gluten-free flour absorbs liquid differently than regular flour. So, you need to – at the very least – change the amount of liquid added if following a recipe that's not gluten-free. This is especially true if you use a mix with xanthan gum. That sucker is thirsty!
You shouldn't follow a recipe to a tee. Depending on the humidity level, type of flour, type of fruit being used, etc., you may need to adjust the amount of liquid being used (usually by a tablespoon or two). So, always check the consistency of the batter.
Ingredients should be at room temperature (unless you are making something that requires ice cold butter for something crumbly or flaky). This really makes a difference.
In some recipes, all of the butter can be substituted for its healthier counterpart – canola oil or olive oil. But just a tablespoon or two of butter makes a big difference in many recipes. Call me weird, but I like a little bit of butter in my pastries rather than a lot of butter. The smell and the taste of more than 2-3 tablespoons of butter overwhelms me (well, most of the time).
I also like to replace some of the fat with applesauce, especially pancakes. Applesauce yields super fluffy and moist pancakes.
Even though I don't like tapioca pudding, I like tapioca starch in my baked goods. It's tasteless and makes my gluten-free goods springy and/or crispy when necessary.
I really don't like xanthan gum. I especially don't like xanthan gum when baked with agave as the only sweetener. However, my teeny tiny bag of xanthan gum cost me close to $15. Needless to say, I will be using up that sucker. So, I will be experimenting with it some more.
But I really like eggs in my baked goods. I led a vegan existence for about two years and tried many different binders. Out of all of the binders I've experimented with, nothing holds a candle to a simple, free-range, organic egg.
If you are using fresh fruit in your baked goods, you should dredge them in a little bit of dry batter first. If not, the fruit may not bind to the baked good.
Preheat the oven 20-25 degrees below recommended oven temperature. And right before you put your batter in, turn the temperature up to the recommended temperature. This is because oven heat turns on and off to maintain the temperature; and you may end up putting in your batter during the off cycle. By turning it up right before you put in the batter, you are ensured that it's at an on cycle. I learned this from Alton Brown, my fellow geek!
Don't pack your flour when measuring your ingredients. You will end up with dense baked goods.
Over-beating a batter isn't as much of a concern with gluten-free flour when it comes to hard or over-dense end-product. Even though you don't have to worry about a hard or dense end-product, don't beat more than you need to; the batter won't rise as much.
Especially in gluten-free baking, you should let the finished product cool in the pan for at least 5 minutes before transferring it to a cooling rack to let it cool completely. If you don't, it may crumble. And that would be a sad thing after all that hard work. 🙁
By far, this is my favorite blueberry muffin recipe. Lower in sugar. Lower in fat. But you won't miss a thing.
Gluten-Free Blueberry-Lemon Muffins Recipe
Makes 12 muffins
Ingredients
2 cups gluten-free flour (1 1/2 cup brown rice, 1/4 cup millet, and 1/4 cup tapioca flour used for this recipe)
2 tsp baking powder
1 tsp baking soda
1/2 tsp salt
1 cup fresh blueberries
2 eggs
2 TB room temperature butter
1/4 cup + 1 TB sugar
2 TB canola oil
1/4 cup agave
1/2 cup + 2 TB apple sauce
1 TB fresh lemon juice
1 TB lemon zest
~ 1/4 cup almond milk
1 tsp vanilla extract
cinnamon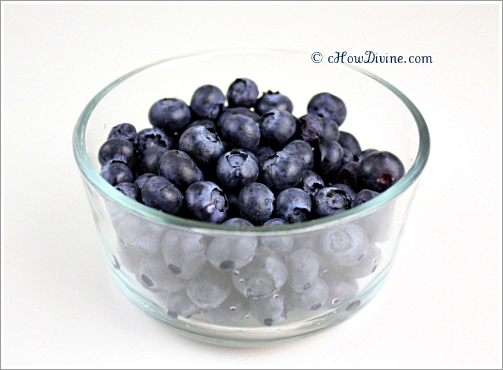 Preheat oven to 400 degrees. Grease a muffin pan with an oiled brush or a canola oil cooking spray. You can also line the pan with muffin cups.
In a large bowl, mix (using a whisk) together dry ingredients: brown rice flour, millet flour, tapioca flour/starch, baking powder/soda, and salt. In a smaller bowl, whisk together 1/4 cup sugar, butter, and eggs. The room temperature butter may look a bit curdled. It's OK – no need for it complete blend. Once they are well combined, add canola oil, agave, applesauce, lemon juice, lemon zest, almond milk, and vanilla extract. Whisk well.
In a small bowl, dredge the blueberries with a little bit (~ 2 tsp) of dry batter mix. In another small bowl, mix together 1 tablespoon of sugar and cinnamon. A few sprinkles of cinnamon – just enough to taste – will do.
Add the whisked liquid ingredients to the dry ingredients. Mix to combine. Add the blueberries and mix gently.
Pour the mixture into the greased/lined muffin pan. Sprinkle with cinnamon-sugar mixture.
Bake for 18-20 minutes, until a toothpick comes out clean. Rotate 180 degrees midway through baking to ensure even baking.
Let the muffins rest for a few minutes in the pan. After about 5-10 minutes, remove the muffins from the pan and let them cool completely on a wire rack.