Flourless Chocolatey Black Bean Brownies
As I've stated many times in the past, I don't bake much. I'm not a very patient person by nature. I would like to be. But for now, I'm not. Precisely measuring all the ingredients, beating egg whites until they peak, mixing the batter just right, waiting for it to bake, then waiting again for it to cool; it's just too much for my teeny tiny shallow pool of patience. It's compounded by the fact that I have a type-A, totally obsessive personality. So it takes twice as long as it normally would. It just makes for an untenable situation.
But as a person with lactose intolerance and gluten sensitivity, I just don't have a lot of choices at the local bakeries. And it gets very difficult when my monthly chocolate cravings hit. It's usually the kind of craving where I want to swim in a vat of chocolate with an IV of chocolate stuck to me. So when a craving hits, I must bake…
When I do bake on those rare occasions, I try to make it as simple as possible – even if that means I'm doing things that go against all things right in baking. With these brownies, I did everything in one bowl. Well, more accurately, one blender/large food processor. The preparation took minutes. Really, minutes. It was ridiculously simple. I didn't use flour, so I didn't have to be too careful about measuring out the dry ingredients or over-mixing. And because I didn't use flour, I had a little more leeway in getting the type of texture I wanted even if my measurements were to be a little off.
So master bakers out there, please don't tell me I'm doing this all wrong (especially since it worked out perfectly!). Besides, as long as it satisfies my cravings, I'm good. And these brownies? They more than satisfied my cravings. They tasted soooooooo good and SOOOOOOOOO chocolatey. They were just the right amount of sweet, right amount of chocolatey, and the right amount of richness. And the black beans, might you ask? Couldn't even tell they were there.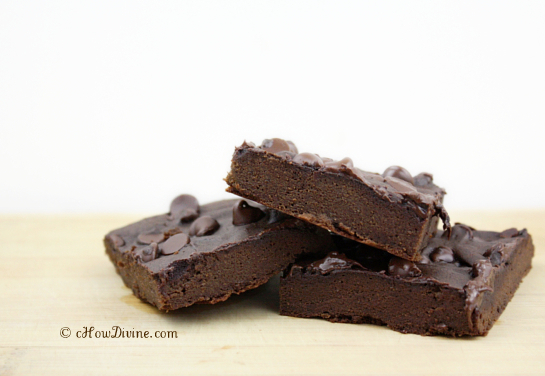 These brownies taste so rich. And they are perfectly dense, thanks to the puréed black beans. You would never know these are so much healthier than your regular brownies.
Flourless Double Chocolate Black Bean Brownies Recipe
Ingrdients
1 1/2 cups cooked black beans
1/4 cup canola oil
3 eggs
1 tsp vanilla extract
1/2 cup unsweetened cocoa powder
1/2 cup sucanat or light brown sugar
1 tsp instant coffee
1/4 + 1/4 cup dark or semi-sweet chocolate chips*
1/2 tsp baking powder
1/2 tsp salt
1 – 2 TB powdered/confectioner's sugar for dusting (Optional)
Preheat the oven to 350 degrees F. Prepare a 9″ x 9″ (8″ x 8″ works too) baking pan by lining it with parchment paper. Leave enough parchment paper on the sides to create a sling. This will make it easier when you lift out the end product.
Add all of the wet ingredients – beans, oil, eggs, and vanilla – together in a blender. Pulse a few times to get the ingredients to come together. Then blend until the mixture is smooth. Add the dry ingredients – cocoa, sugar, coffee, and baking powder to the blender. Pulse a few times again and blend until the mixture is smooth. Add half of the chocolate chips. Pulse a few times again and blend until the mixture is smooth. The chocolate chips do not have to completely disintegrate.
Add the other half of the chocolate chips to the mixture. Mix, NOT blend. You want these to be whole. Alternatively, reserve the chips to sprinkle on top before baking. Pour the batter to a prepared pan. If you chose to reserved the chips, sprinkle them on now. Bake for about 20-23 minutes, until the center is set. Don't overbake.
Allow the brownie to cool in the pan for about 15 minutes. Cool completely on a cooling rack. Dust with powdered sugar if desired. Cut them into squares and enjoy them with a glass of milk or a scoop of your favorite ice cream.
Cook's Note: It's important that you don't over-bake these brownies. Due to the nature of the ingredients, the brownies will become powdery or cakey if you over-bake them. Just bake until the center sets.
Sucanat is a type of sugar that has been minimally processed; thus, the vitamins, minerals, and molasses are intact. If you can't find it, it is perfectly acceptable to use light brown sugar. And dairy-free chocolate chips were used for this recipe.*