Bulgogi Kimchi Taco à la Korilla BBQ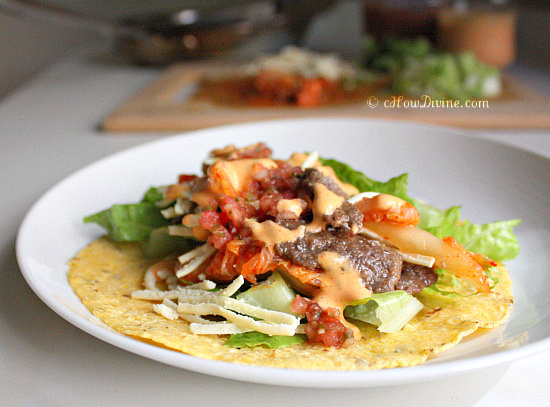 I don't know one Korean who doesn't like Mexican food. (OK, I'm sure there is at least one; I just personally don't know one.) Even my mom who isn't crazy about non-Asian cuisines loves Mexican food. There is just something about the cuisine that suits the Korean palate. I guess pico de gallo, salsa, and pickled jalapenos are akin to the Korean kimchi; and they balance out the richness that may be overwhelming for some.
But have you tried Korean-infused Mexican food? It's truly delectable! Top your burrito or taco with some gochujang sour cream or guacamole; add some kimchi and bulgogi to burritos, tacos, or quesadillas; stir in some sautéed kimchi in some Mexican rice; and so on. Exceptionally delicious!
I used to make kimchi fried rice burritos and bulgogi kimchi tacos often when I was in law school. It was an easy way to get all of the food groups into a single dish. And more importantly, I could eat them on the run. But I haven't made either the kimchi burritos or the tacos since graduating – that is until the Korilla BBQ's "ribeye of the tiger" inspired me to make it again.
I love those guys who run the Korilla BBQ truck. Not only do they serve good food, they seem so enthusiastic. And according to their bio from Food Network, the business was started by bunch of young guys who have been friends since high school during an economic downturn. It's hard not to root for them. By the way, I'm still upset about their unceremonious elimination from Food Network's The Great Food Truck Race. There has to be more to it than meets the eye, no? Non-disclosure clause notwithstanding, I would like to know what REALLY happened in their sudden ouster.
Added 5/5/2012: cHow Divine's Bulgogi Kimchi Taco is featured as one of Yummly's "Flavorful Tacos Everyone will Taco-Bout!" Thanks Yummly!
Added 5/7/2012: Wow! The Huffington Post featured two of cHow Divine's recipes – Bulgogi Kimchi Tacos and Filet Mignon with Sautéed Kimchi – in their "6 Foods Begging To Be Topped With Kimchi!" So excited. Thank you!
I usually use a very lean cut of beef when I make bulgogi, but I used a fattier/naturally softer cut of beef for this dish; you want to make sure that your teeth can easily cut into the meat when you bite into the taco. And I learned the "right" way to warm corn tortillas from Serious Eats. It's easy (refer to step 4 below). And it does the job.
BULGOGI KIMCHI TACO
Makes about 12 soft tacos
Ingredients
1 lb top sirloin (or rib eye), very thinly sliced
1/4 cups tamari (gluten-free soy sauce)
1 TB sesame oil
1/4 small onion, loosely chopped + 1/2 small onion, thinly sliced
1/8 Asian pear, peeled and loosely chopped
3 large cloves garlic, finely minced
1 TB agave or honey
1 TB sugar
1 TB mirin
1/4 tsp black pepper
canola oil for cooking
12 corn tortillas + more if you want to double up on the tortillas
large bowl of water
pico de gallo
romaine lettuce, thinly chopped
cabbage kimchi, thinly sliced
dairy-free cheese by Daiya, shredded (or monterey jack, shredded)*
gochujang aïoli (recipe immediately follows)
Place the sirloin in the freezer for about an hour or until it is partially frozen. Once it is partially frozen, slice the sirloin as thinly as possible against the grain. Place the sliced sirloin in a large bowl.
Place loosely chopped onion and Asian pear in a food processor or blender and liquify. Pour into a bowl. Stir in soy sauce, sesame oil, minced garlic, agave (or honey), sugar, mirin, and pepper. Mix well until the sugar is well dissolved. Add the mixture to the sliced beef. Mix well while using your hands to massage the meat.

Add sliced onion to the meat. Mix. Cover tightly. Marinate for at least an hour or overnight in the refrigerator. (I marinated mine overnight in the refrigerator.)

Place a nonstick pan over medium-high heat. Dip the corn tortilla in a bowl of water and place it on the hot pan. Let it heat and soften all the way through – about 30 seconds. The tortilla will toast from contact with the hot surface and develop browned spots. Once it's spotty, flip the tortilla. Repeat the process for all tortillas – stacking the warmed tortillas one on top of the other. Wrap the tortillas in a towel and let them steam for about 5 minutes.
Heat a grill pan or a skillet on high heat. Add canola oil to coat the pan/skillet. Add marinated beef to the pan/skillet and cook until cooked through. Don't overcrowd the pan/skillet. Overcrowding will result in lowering of the temperature of the cooking surface; this will result in boiling or steaming of the meat. On high heat, the meat should brown very quickly – within minutes.
Serve the bulgogi in corn tortillas with kimchi, shredded lettuce, shredded cheese, pico de gallo, and gochujang aïoli. Everyone can build their own taco to their liking!

* If you don't have any dairy-sensitivities, you can use shredded monterey jack cheese instead.
Gochujang Aïoli Sauce
1/4 cup mayonnaise
1/4 cup silken tofu (or sour cream)**
1 1/2 TB gochujang
1 large clove or 2 small cloves garlic
1 tsp fajita or taco seasoning
1 1/2 TB lemon or lime juice
Add all ingredients to a food processor or blender. Process or blend until smooth.

** If you are not sensitive to dairy, by all means use sour cream instead of silken tofu.