Bulgogi – Guest Post at Justasdelish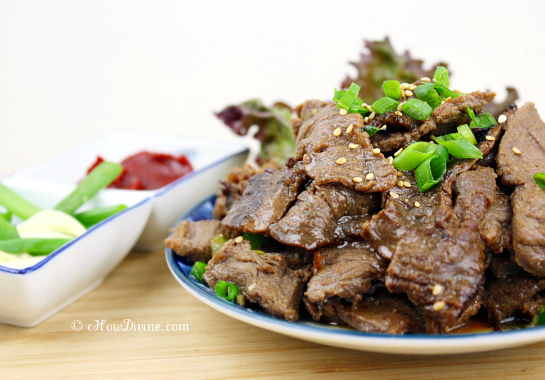 I am doing a guest post over at Justasdelish today, a blog started by the lovely Shannon Lim.
When Shannon asked me to do the guest post, she had two requests. She asked that the recipe be simple and that it be something Korean. It makes perfect sense since I run a blog dedicated to healthy food, particularly Korean food. It would be silly for me to do the post about anything else!
So as my first ever guest post, let me write about one of the most popular and, in my opinion, most delicious Korean dishes: bulgogi. Bulgogi is a sliced beef dish that is marinated and commonly cooked over fire, hence the name bul ("fire") gogi ("meat"). But it can also be sautéed in a pan for a softer and juicier version of the dish. Either way, it's delicious.
Per Shannon's request, I will make this a very simple recipe. You can add puréed Korean pears, onions, Sprite, and more. But seriously? This simple recipe is just as delicious. It will take you minutes to prepare the meat. The longest part of the preparation is waiting for the meat to marinate in the refrigerator. You can enjoy a glass of wine, entertain friends, watch your favorite TV show, or surf the net while the meat is getting delicious in the fridge. You can handle that right?
What I love about bulgogi – besides the taste – is its versatility. You can eat it by itself with rice. You can put it on top of bread for a delicious sandwich. You can make a rice bowl with some sautéed veggies. You can wrap it in a leaf of Romaine lettuce for a fantastic and healthy wrap. Or just use your imagination. No matter what you choose to do, bulgogi will make any dish delicious.
If this sounds appetizing, head on over to Justasdelish to check out the recipe and her great blog!