Takeout at Home: Thai Basil Chicken
A few times every month, we do "takeout" at home. It usually consists of healthier versions of my favorite takeout foods. There is one requirement tho: it has to take less time than it would for me to grab takeout or get it delivered.
This week I made Thai basil chicken. I absolutely L.O.V.E. Thai food. It's usually spicy and so full of flavor. But it can get super salty at times. Last time we had Thai at a restaurant, we ended up bringing home one of the dishes untouched because it was so salty. We reheated it with additional vegetables, and it was still very flavorful. So I decided to make Thai at home this week instead of going out.
I know it's called "Thai basil" chicken; but you can make it with regular basil. It still tastes delicious. I may actually prefer it. But if you like things spicy, you should really try to get Thai chilis or bird's eye chilis. They are seriously spicy.
If you decide to use the Thai chilis, make sure to avoid touching any and all orifices until you wash your hands. Really. I'm serious. Remember the last time you put fire in your eye? Exactly. Don't start now. I made the mistake of using my finger nail to scrape out the seeds once. Oh my. My fingers were burning like crazy for a few hours. So this is fair warning.
If you like things on the milder side, just use chili pepper flakes that you can get at just about any grocer. They give slight heat and good flavor.
This dish is so full of flavor, but with less sodium than the restaurant version. It's just the right amount of sweet, salty, and spicy. And the best part? It is unbelievably easy to make and takes less than 10 minutes of active cooking time.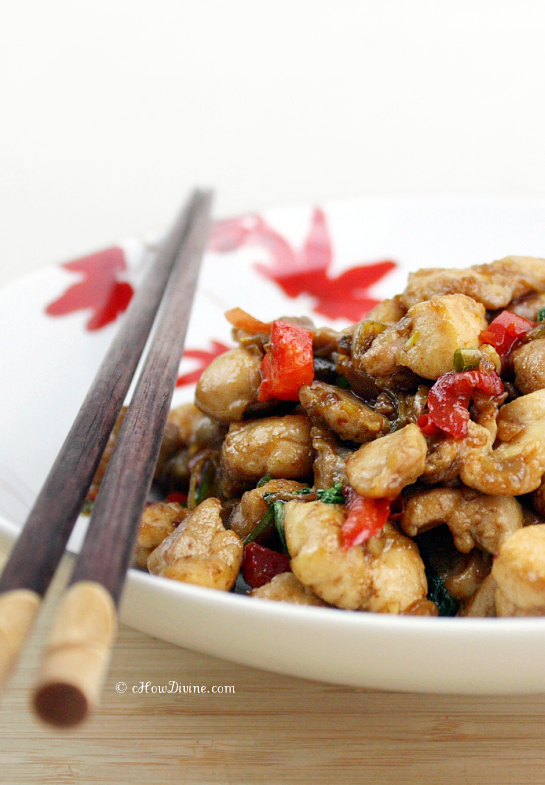 Thai Basil Chicken Recipe
Serves 2 people
Ingredients*
3/4 lb chicken boneless skinless thighs (cut into 1/2″ bite-sized cubes)
3-5 thai chili or bird's eye chili (seeded and sliced thinly)
1 shallot, thinly sliced
3 garlic cloves, chopped
1/4 red bell pepper, cut into thin 1″ pieces
1 1/2 TB fish sauce
1 tsp tamari (gluten-free soy sauce)
1 TB brown sugar (packed) or agave nectar
1/4 tsp black pepper
1/2-2/3 cup basil (lightly packed) OR ~12 large leaves Thai basil
canola oil for the pan
Make the sauce by stirring together fish sauce, tamari, brown sugar/agave, 1-2 tsp mirin (if using), and black pepper. Set it aside.
Heat a cast iron skillet (or other heavy-bottomed pan) over medium-high heat. Add about 1 TB of canola oil to the pan. Once the pan becomes hot, add shallots to the pan. Sauté for about a minute. Add garlic and chili to the pan. Continue stirring until shallots are lightly brown. Add chicken to the pan. Sauté for about 2 minutes until the chicken is almost cooked through. Add the red bell pepper pieces to the pan. Continue to stir until the chicken is cooked through.
Add the sauce to the pan. Mix well to ensure that the sauce is well distributed. Turn the heat off once the pan is dry. Add the basil and mix. The basil should wilt nicely from the residual heat from the pan. Serve with steamed brown rice. You can also serve topped with a fried egg made over easy.
*Cook's Note: If you are in a pinch, you can make substitutions. You can substitute chili pepper flakes in place of Thai chilis. Use 1/2 tsp or more depending on your taste. You can also use soy sauce instead of fish sauce. Although the taste would not have as much depth, it's a serviceable substitution. Additionally, you can use sucanat in place of brown sugar. It is less processed, and thus has a bit more nutrients/minerals than brown sugar. It also has a stronger flavor of molasses, which makes it quite suitable for this dish.
I use mirin whenever I cook chicken or fish. Just add 1-2 tsp to the sauce in step 1. It rids the chicken/fish of the gamey/fishy smell and enhances the flavor a bit. But it is completely optional.