Crispy Baked Buffalo "Wings"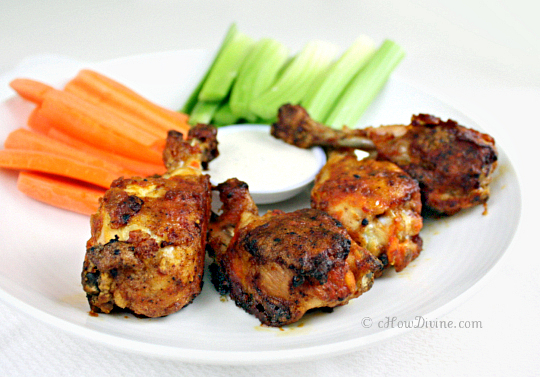 Ours will be a house divided come Super Bowl Sunday.
I hate to be labeled a conventional or a typical woman, but I love Tom Brady. Not only is he a hottie, he is a great quarterback. My husband who is a New Yorker through and through is rooting for the Giants. S*!t-talking has officially begun. He refers to the Patriots as the "evil empire." This is coming from a Yankees and Duke basketball fan! Pot meet kettle, right? And it took Tom Brady winning 3 Super Bowls for my husband to reluctantly admit that he is a great quarterback.
He is especially upset that I'm a fan of the arch-nemesis of his beloved New York football teams (especially the Jets!). He says I'm not truly a Pats' fan, because my loyalty is player-specific (Tom Brady, yay!) and not team-specific. Well, this is true. I've just recently become a fan of football – in the past 5 years or so. And I grew up in L.A. – a city where football teams seem to just migrate through; the Rams and Raiders were mere blips in my childhood. So I don't have a local team from my childhood. But does this make me less of a fan? Hells, no!
With this backdrop, it's only appropriate that I make two different types of chicken "wings" for the occasion: one for the Giants and the other for the Pats.
Last night, I made buffalo "wings" – for the New York Giants. I used skinless drumsticks to make it healthier; but there was enough fat from the drumsticks to make it flavorful. So, no butter was needed. And wow. These "wings" were absolutely flavorful and sooooooooo unbelievably crispy. The skin was not missed at all. Even my husband – he who gives a low-decibel, but surely audible, grunt whenever he sees me taking the skin off – didn't miss the skin. I credit the tapioca starch for the crispness. I guess other types of starch would work the same way, but I haven't experimented with others.
Tomorrow I will be making sweet and spicy Korean chicken "wings" – a little international flavor for the Pats. Brady is married to a Brazilian supermodel after all!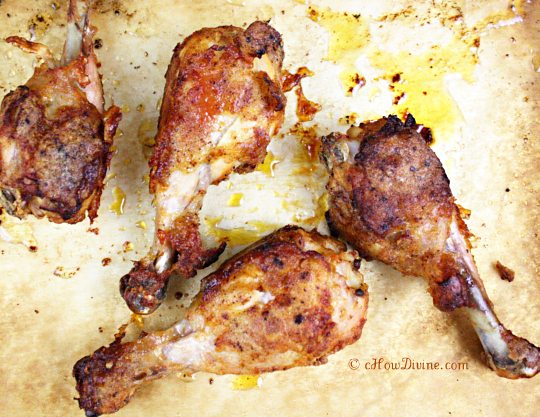 Crispy Baked Buffalo "Wings" Recipe
Makes about 10-12 drumsticks
Ingredients
2 lbs skinless chicken drumsticks
2 TB "buttermilk" (2TB almond milk + 1 tsp lemon juice)
1 TB Mirin
2 TB + 1/3 cup Hot Sauce
3 TB Brown Rice Flour
3 TB Tapioca Starch
2 tsp taco seasoning
1/4 tsp salt
canola oil
Cook's Note: I used Frank's RedHot hot sauce for this recipe. There is more of a cayenne flavor to it than Tobasco, although I do wish it was a bit spicier. And I use Mirin whenever I cook fish or chicken to eliminate or greatly reduce any fishy or gamey odor. If you don't have any on hand, you can use other cooking wines (e.g. soju, sake, sherry, etc.). Lastly, I avoid dairy products because of my intolerance to most dairy products. So, please go ahead and substitute with corresponding dairy products if you would like.
Instructions
In a ziploc plastic bag, place chicken drumsticks. Stir together "buttermilk," 2 TB hot sauce, and 1 TB mirin. Pour the "buttermilk" mixture into the ziploc. Marinate the chicken for up to an hour.
Preheat the oven to 500 degrees. Prepare a baking sheet with parchment paper.
In a large plate, mix together brown rice flour, tapioca starch, taco seasoning, and salt. Toss chicken drumsticks in the flour mixture to coat well.
Heat a pan on medium-high heat. Coat the bottom of the pan with canola oil (just 1-2 tsp should do). Once heated, place the coated drumsticks on the pan. Don't overcrowd the pan. Work in batches if necessary. Sear the chicken on all sides until golden. This should only take about a minute or two. Once golden, place the drumsticks on the prepared baking sheet. Bake for about 30-35 minutes (periodically flip the chicken for even cooking/crispness*), until the chicken is cooked through. In a large bowl, gently toss the drumsticks in hot sauce to coat. A basting brush can also be used. Place the drumsticks back on the baking sheet and bake for an additional 3-5 minutes.
Serve while hot with some carrot sticks, celery sticks, and dipping sauce of your choice. I used a homemade barbecue sauce for dipping, while my husband used a dairy-free "ranch" dressing.
*If you have a baking rack, use it. This will allow the heat to aerate for even cooking without having to flip the drumsticks.