Jaht Jook (Pine Nut Porridge)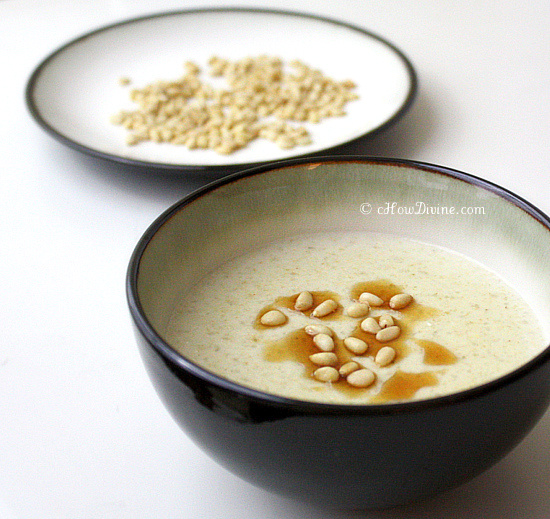 My husband had some kind of a stomach bug. And he hadn't been able to eat much of anything. I remembered whenever I had a stomach ache, my grandmother used to make me jook (porridge). I had some pine nuts on hand. And pine nuts are gluten-free and rich in nutrients; the hubs was really in need of some nutrients after 2 days of very little food. So I decided to make some jaht jook – pine nut porridge – a delicious, gluten-free, vegan dish.
Jaht (pine nuts) jook (porridge) is a wonderfully savory and nutritious dish that is easy on an ailing stomach – that is, as long as you aren't allergic to pine nuts. It is a little labor-intensive because you have to stir throughout the cooking process. But the end result is so worth it. Even if you aren't suffering from a stomach ache or indigestion, jaht jook makes for a delicious, creamy but light, dinner. But if you'd prefer, you can add a spoonful of brown sugar or maple syrup and enjoy jaht jook as a hearty breakfast.
Jaht Jook Recipe
Makes 4 servings
Ingredients
1/2 cup brown rice
1/2 cup brown sweet rice
1 cup pine nuts
5 cups filtered water
1/2 tsp salt + more to taste
brown sugar or maple syrup: optional
Wash and sort rice. Soak rice in water for at least 5-6 hours. After soaking, rinse and drain rice.

Combine 1 cup of water and the drained rice in a blender or a processor. Secure the lid and process until the rice is evenly and COARSELY ground. Make sure you don't over-process; you don't want a smooth or a pasty consistency. (As a reference point, I used a Vitamix. Using the variable speed, I slowly turned the dial up to 10 and turned it back down to 1. Voilà. It was done in less than a minute.) Pour the processed rice in a heavy-bottomed pot and set aside.
Combine 1 cup of water and pine nuts in the same blender or processor. Secure the lid and process until pine nuts are coarsely ground. Add to the pot along with the processed rice.
Add the rest of the water (3 cups) to the same blender or processor. Swirl the water in the blender/processor or turn it on at the lowest setting – with the lid securely on, of course! – to loosen any rice and pine nut residue that may be stuck to the pitcher/bowl. Pour the water and the loosened rice and pine nut bits into the pot along with the processed rice and pine nuts.
Stir in 1/2 tsp of salt. Bring the contents of the pot to a boil over medium heat stirring constantly. Cook over medium heat for about 15-20 minutes stirring constantly to prevent rice from sticking to the bottom of the pot. After 15-20 minutes, lower the heat to simmer. Simmer for about 5-10 minutes (Still stirring!). IF the porridge becomes too thick, add water – small amount at a time. The consistency should be that of a thick chowder. Total cooking time should be about 25-30 minutes.
Remove from heat. Serve hot. Add salt to taste (Personally, I didn't need any extra salt; it was savory and delicious the way it was. So taste test first). Serve by itself or top with additional pine nuts and honey(if you are not a vegan)/maple syrup.

We had this for dinner, but jaht jook can be served as an appetizer or a soup course. And if you have any left over, just reheat it in the morning with a little bit of water over low heat until it is just heated through. Top it with a little brown sugar or a drizzle of maple syrup and enjoy jaht jook as a hearty breakfast.